You need to login
to edit this page



Eurocopter EC models

EC 120 Colibri :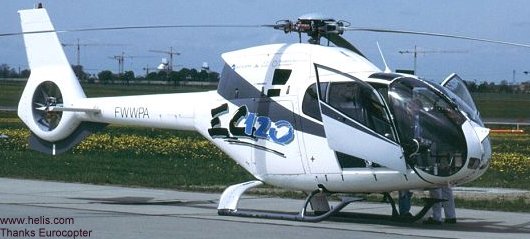 Result of the cooperation between Eurocopter, Chineses CATIC & Harbin and Singapore Technologies Aerospace Ltd (STAero).

Program for a new light single-engine helicopter started in 1992. After some problems with the chinese production line and issues about certifications first deliveries took place on 1998 .

News: 200 units, Delivery of the 100th, 15 for Spanish Air Force, Delivery of the 400th

First Flight: 9jun95 ( F-WWPA )
Crew: 2+4
Engine: 1 Arrius 2F of 504 shp
Weights: empty 960 kg, Max.1800
Cargo: 2.94 m3
Speed: 200 Km/h Max.278
Ceiling: 6096 m
Max Range: 770 km


EC 130 B4 Ecureuil / AStar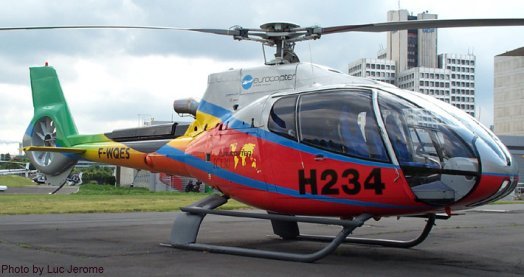 First unveiled at Heli-Expo 2001, the B4 in spite of being the newest member of the AS 350 series is in fact a hybrid aircraft incorporating components of the EC 120B and a fenestron tailrotor identical to that of the EC 135 featuring a larger cabin than previous Ecureuils

News: 100th Ecureuil B3, 3000th Ecureui/AStar

First Flight: 21jun99 ( F-WQES )
Crew: 2+7
Engine: 1 Arriel 2B1 of 847 shp
Weights: empty 1370 kg, Max.2800
Cargo: 3.70 m3
Speed: 150 Km/h Max.287
Ceiling: 7010 m



EC 135 / 635 P1 / T1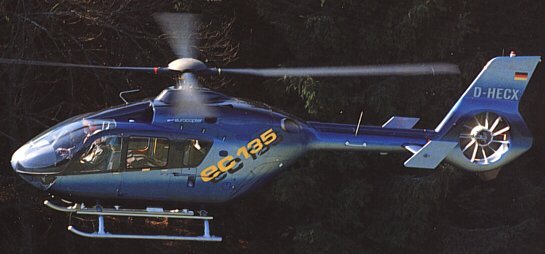 Appeared in 1994, this lightweight twin-engine multi-role helicopter incorporates newest technology like a bearingless main rotor (BMR), high performance main rotor blades and low noise ducted tail rotor (Fenestron).

the EC 635 (16jun01) is the military variant of the EC 135 developed for Portugal

News: LBA IFR certification, 100th EC135, Austria, Swedish Police

First Flight: 15feb94
Crew: 2+7
Engine: T1: 2xArrius 2B1 of 413 shp or P1:2xPratt & Whitney PW206B
Weights: empty 1490 kg, Max.2900
Cargo: 6.10 m3
Speed: 234 Km/h Max.278
Ceiling: 5180 m




Database: Dutch Police


EC 145 Last development of the Kawasaki/MBB BK 117 includes many of the upgrades performed in the EC 135. Stretching the fuselage created a 205-cu-ft cabin volume compared to the 120-cu-ft interior volume of prior versions. In 2006, was selected as the UH-72A by US Army LUH program
First Flight: 12jun99
Crew: 2+7
Engine: 2 Arriel 1E2 of 493 shp
Weights: empty 1800 kg, Max.3585
Cargo: 6.84 m3
Speed: 235 Km/h Max.278
Ceiling: 5400 m


EC 155 The 155 is the upgraded Dauphine



EC 225 / 725 The 725 is an upgraded Super Puma formely known as the AS 332L2 Mk II+ whilest the 225 is the civilian variant.



EC 665 Eurocopter Tiger

Contribution : Luc Jerome

See also:


Eurocopter Production Lists
database
News archives:

100th Eurocopter EC 135 delivered
Jun 15, 1999

9 EC-635 for Portugal
Oct 22, 1999

EC 135 Receives LBA IFR Certification
Dec 10, 1999

Eurocopter delivers the 100th Ecureuil/Astar B3
Dec 14, 1999

11 civilian EC135 order from Austria
Sep 27, 2000

EC 135 for the Swedish Police
Nov 2, 2000

EC120B Colibri reachs 200 units
Nov 16, 2000

Ecureuil / Squirrel / AStar / TwinStar 3000th
Feb 11, 2001

Portugal cancels EC 635 contract
Aug 23, 2002

UH-72A
US Army selects Eurocopter UH-145 for its LUH Requirement
Jun 29, 2006

U.S. Customs and Border Protection
takes Delivery of its first EC120
Jul 14, 2006

Eurocopter delivers 1st Cougar helicopter to Bulgaria
Aug 28, 2006

Eurocopter delivers the 500th EC135 Helicopter
Aug 30, 2006

German Army School clocks up 30,000 Hours with EC135
Sep 8, 2006

Eurocopter delivers the 400th EC120 Helicopter
Sep 13, 2006

Hellenic Eurocopter programs update
Oct 3, 2006

UH-72A
US Army Places Second Production Order For UH-145
Nov 9, 2006

Fourteenth EC 725 delivered to the French Forces
May 10, 2007

First Eurocopter EC635 for Swiss Air Force
May 23, 2007

EC145 is first to be certified for civil NVG ops
Jul 03, 2007