1909 to present

51 34 N - 4 56 E
1nm N of Gilze
ICAO: EHGR
IATA: GLZ
Elevation: 49 feet
Originally opened as Molenheide, this is the oldest airfield in the Netherlands. During World War II, it was occupied as a
Luftwaffe
fighter base. After the war it became a training base but reverted to its fighter role in 1972. In 1995, the Tactische Helikopter Groep (Tactical Helicopter Group) took over the base. It is also the home of the Koninklijke Luchtmacht Historische Vlucht (RNLAF Historic Flight).

News about this location :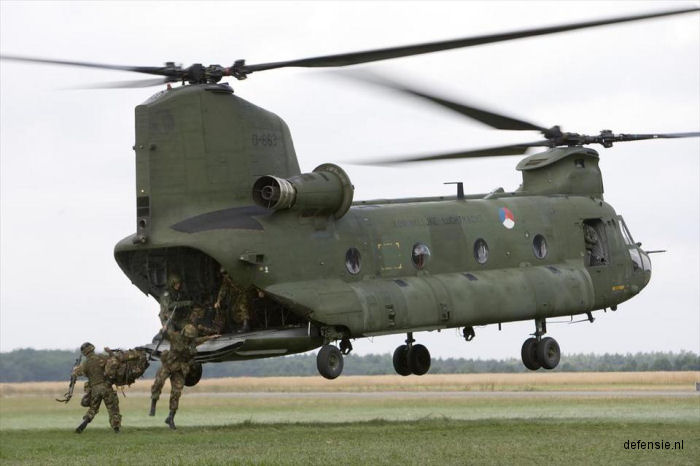 Boeing New Agreements with RNLAF and Fokker, 23-Jun-14 : GILZE-RIJEN AIR BASE, Netherlands – Boeing has signed separate agreements with the Royal Netherlands Air Force (RNLAF) and Fokker Technologies to explore advanced maintenance opportunities for Dutch rotorcraft and expand efforts to make the Netherlands a regional hub for military and civilian aircraft support services.
By Date
|
By Serial
Dates
Org/Type
Unit
1953-feb
Fleet Air Arm
Dragonfly HR.3
WG669
1992-jun-20
SE3160 Alouette III
A-528
1992-jun-20
SE3160 Alouette III
A-177
1997-apr
MD900 Explorer
N9208V
1997-jul-04
Koninklijke Luchtmacht
AH-64A Apache
68983
1997-jul-04
Hæren
AS550C2 Fennec
P-287
1997-jul-04
Koninklijke Luchtmacht
SE3160 Alouette III
A-275
1997-jul-05
bo105cb
B-43
1997-jul-05
Koninklijke Luchtmacht
CH-47D Chinook
D-663
1997-jul-05
Lynx AH9
ZG886
1997-jul-05
MD900 Explorer
N9208V
1997-jul-05
Sea King HAS.1
XV708 / CU-501
1997-jul-05
Sea King HC.4
ZA295 / VM
2000-may-11
AS532U2 Cougar
S-442
2002-jul-06
AB212 ICO
MM81145 / 51-72
2002-jul-06
AH-64D Apache
Q-09
2002-jul-06
AS532U2 Cougar
S-440
2002-jul-06
CH-47D Chinook
D-661
2002-jul-06
CH-47D Chinook
D-667
2002-jul-06
Merlin HM.1
ZH855 / CU-267
2002-jul-06
mi-24d
0220
2002-jul-06
SE3160 Alouette III
A-292
2005-may-09
AH-64D Apache
Q-18
2005-may-11
AH-64D Apache
Q-08
2005-jun-16
AS532UL Cougar
T-337
2005-jun-16
EC135T1
8252
2005-jun-17
A109BA
H38
2005-jun-17
AH-64D Apache
Q-09
2005-jun-17
AS532U2 Cougar
S-457
2005-jun-17
CH-47D Chinook
D-664
2005-jun-17
CH-47D Chinook
D-103
2005-jun-17
Sea King HAS.1
XV707 / 84
2005-jun-18
AH-64D Apache
Q-22
2005-jun-18
AH-64D Apache
Q-10
2005-jun-18
AH-64D Apache
Q-14
2005-jun-18
AH-64D Apache
Q-21
2005-jun-18
AH-64D Apache
Q-30
2005-jun-18
AS532U2 Cougar
S-441
2005-jun-18
AS532U2 Cougar
S-459
2005-jun-18
AS532U2 Cougar
S-442 / 64
2005-jun-18
AS532U2 Cougar
S-419
2005-jun-18
CH-47D Chinook
ZH892 / BL
2005-jun-18
Lynx AH1
XZ647
2005-jun-18
SA341B Gazelle AH.1
XX378
2005-jun-18
SA341B Gazelle AH.1
XX403 / U
2005-jun-18
SE3160 Alouette III
A-301
2005-nov-08
AS532U2 Cougar
S-447
2005-nov-08
CH-47D Chinook
D-667
2006-jan-13
bo105cb
B-42
2006-mar-27
AH-64D Apache
Q-14
2006-mar-29
AH-64D Apache
Q-26
2006-mar-29
CH-47D Chinook
D-102
2006-apr-04
AH-64D Apache
Q-13
2006-apr-05
AH-64D Apache
Q-05
2006-oct-17
AH-64D Apache
Q-22
2006-oct-17
AH-64D Apache
Q-05
2006-oct-17
AH-64D Apache
Q-23
2006-oct-17
AS532U2 Cougar
S-458
2006-oct-17
AS532U2 Cougar
S-442
2006-oct-17
CH-47D Chinook
D-101
2007-mar-13
AH-64D Apache
Q-10
2007-sep-12
AH-64D Apache
Q-13
2007-sep-12
AS532U2 Cougar
S-453
2007-sep-12
CH-47D Chinook
D-663
2008-jan-18
UH-1D
73+47
2008-feb-12
CH-47D Chinook
D-663
2008-may-20
AH-64D Apache
Q-08
2008-jun-18
Lynx Mk81
283
2008-oct-14
AH-64D Apache
Q-10
2008-oct-15
CH-47D Chinook
D-101
2008-oct-17
AS532U2 Cougar
S-453
2008-oct-17
CH-47D Chinook
D-665
2008-oct-17
CH-47D Chinook
D-664
2008-oct-17
CH-47D Chinook
D-664
2008-oct-23
CH-47D Chinook
D-103
2008-dec-10
CH-47D Chinook
D-661
2009-jan-06
AH-64D Apache
Q-16
2009-jan-06
AH-64D Apache
Q-25
2009-jan-06
CH-47D Chinook
D-664
2009-jan-06
SE3160 Alouette III
A-292
2009-jan-20
CH-47D Chinook
D-661
2009-jan-27
CH-47D Chinook
D-663
2009-jan-27
SE3160 Alouette III
A-301
2009-jan-30
AH-64D Apache
Q-18
2009-feb-18
CH-47D Chinook
D-103
2009-mar-20
AH-64D Apache
Q-21
2009-mar-24
AS532U2 Cougar
S-459
2009-mar-24
AS532U2 Cougar
S-458
2009-mar-30
AS532U2 Cougar
S-442
2009-jun-03
AH-64D Apache
Q-09
2009-jun-03
AS532U2 Cougar
S-441 / SFOR
2009-jun-17
AS532U2 Cougar
S-454
2009-jun-17
SE3160 Alouette III
A-247
2009-jul-14
SE3160 Alouette III
A-275
2009-jul-21
CH-47D Chinook
D-667
2009-jul-21
CH-47D Chinook
D-101
2009-jul-22
NH90 NFH
N-102 / CSX81720
2009-aug-07
SE3160 Alouette III
A-301
2009-aug-17
AS532U2 Cougar
S-440
2009-aug-19
EC135P2+
PH-PXA
2009-aug-27
AS532U2 Cougar
S-419
2009-sep-10
AH-64D Apache
Q-17
2009-sep-17
CH-47D Chinook
D-102
2009-oct-09
CH-47D Chinook
D-665
2009-oct-28
AW139
PH-PXZ
2009-dec-18
AS532U2 Cougar
S-458
2010-jan-07
CH-47D Chinook
D-667
2010-jan-08
CH-47D Chinook
D-664
2010-jan-14
AH-64D Apache
Q-16
2010-jan-14
AS532U2 Cougar
S-441 / SFOR
2010-jan-14
EC135P2+
PH-PXA
2010-jan-14
SE3160 Alouette III
A-247
2010-jan-22
AS532U2 Cougar
S-459
2010-jan-22
EC135P2+
PH-PXF
2010-jan-26
AH-64D Apache
Q-09
2010-jan-26
AS532U2 Cougar
S-457
2010-mar-04
CH-47D Chinook
D-106
2010-mar-19
AH-64D Apache
Q-18
2010-apr-02
AS532U2 Cougar
S-454
2010-apr-09
AH-64D Apache
Q-23
2010-may-07
CH-47D Chinook
D-666
2010-may-10
AS532U2 Cougar
S-458
2010-jun-15
ab412sp
R-03
2010-jun-17
Mi-24V Hind
7353
2010-jun-17
Mi-35 Hind
3370
2010-jun-17
Sea King Mk.48
RS05
2010-jun-18
ab412sp
R-02
2010-jun-18
AH-64D Apache
Q-19
2010-jun-18
AS532U2 Cougar
8203
2010-jun-18
AW139
PH-PXZ
2010-jun-18
EC120B
HE25-1 / 78-20
2010-jun-18
Lynx Mk81
283
2010-jun-18
S-70A-42 Black Hawk
6M-BD
2010-jun-18
SE3160 Alouette III
A-292
2010-jun-19
AH-64D Apache
Q-22
2010-jun-19
bo105p PAH-1
8625
2010-jun-19
bo105p PAH-1
8602
2010-jun-19
EC120B
HE25-2 / 78-21
2010-jun-19
EC120B
HE25-5 / 78-24
2010-jun-19
EC120B
HE25-9 / 78-28
2010-jun-19
SA316B Alouette III
M-2 / OT-ZPB
2010-jun-19
SE3160 Alouette III
A-275
2010-jun-20
NH90 TTH
NH-202
2010-jun-21
AH-64D Apache
Q-14
2010-jul-14
CH-47D Chinook
D-101
2010-aug-30
AH-64D Apache
Q-19
2010-nov-12
AH-64D Apache
Q-25
2010-dec-03
CH-47D Chinook
D-103
2011-jan-28
A109BA
H30
2011-jan-28
AH-64D Apache
Q-18
2011-jan-28
AH-64D Apache
Q-25
2011-feb-22
SE3160 Alouette III
A-247
2011-mar-09
CH-47D Chinook
D-667
2011-mar-11
CH-47D Chinook
D-661
2011-mar-22
NH90 NFH
N-175
2011-mar-29
AS532U2 Cougar
S-440
2011-apr-06
AH-64D Apache
Q-13 / L
2011-apr-18
AH-64D Apache
Q-21
2011-apr-22
AS532U2 Cougar
S-458
2011-apr-26
AH-64D Apache
Q-26
2011-may-09
stored
Koninklijke Luchtmacht
AS532U2 Cougar
S-442
2011-jun-15
CH-47D Chinook
D-106
2011-jun-15
CH-47D Chinook
D-664
2011-jun-15
CH-47D Chinook
D-102
2011-aug-10
AH-64D Apache
Q-05
2011-aug-10
AS532U2 Cougar
S-454
2011-aug-25
A109BA
H20
2011-aug-25
ab412sp
R-02
2011-aug-25
AH-64D Apache
Q-08
2011-aug-25
AH-64D Apache
Q-30
2011-aug-25
CH-47D Chinook
D-103
2011-aug-25
Lynx AH1
XZ179
2011-aug-25
SE3160 Alouette III
A-275
2011-aug-30
AH-64D Apache
Q-17
2011-aug-30
NH90 NFH
N-175
2011-sep-01
NH90 NFH
N-195
2011-sep-14
AS532U2 Cougar
S-447
2011-nov-01
AH-64D Apache
Q-16
2011-nov-01
CH-47D Chinook
D-666
2011-nov-01
CH-47D Chinook
D-101
2011-nov-10
CH-47D Chinook
D-661
2011-nov-24
AW139
PH-PXZ
2011-dec-17
SE3160 Alouette III
A-301
2012-jan-04
AW139
PH-PXZ / 31250
2012-jan-13
SE3160 Alouette III
A-247
2012-feb-10
AH-64D Apache
Q-26
2012-mar-09
CH-47D Chinook
D-101
2012-apr-26
AH-64D Apache
Q-18
2012-aug-20
CH-47D Chinook
D-661
2012-aug-22
AS532U2 Cougar
S-441
2012-aug-29
A109BA
H29
2012-aug-29
AH-64D Apache
Q-08
2012-aug-29
CH-47D Chinook
D-667
2012-oct-11
AH-64D Apache
Q-19
2012-oct-11
CH-47F Chinook
D-892
2012-nov-14
UH-60A Black Hawk
87-24644
2012-dec-06
Lynx AH9
ZG887
2013-feb-06
CH-47D Chinook
D-661
2013-feb-07
CH-47F Chinook
D-892
2013-feb-15
AH-64D Apache
Q-19
2013-feb-18
AH-64D Apache
Q-26
2013-feb-18
AS532U2 Cougar
S-454
2013-feb-18
SE3160 Alouette III
A-301
2013-mar-05
CH-47F Chinook
D-891
2013-mar-26
CH-47D Chinook
D-101
2013-may-01
NH90 NFH
N-175
2013-jun-03
RNLAF Alouette III 50yrs
Koninklijke Luchtmacht
SE3160 Alouette III
A-366
2013-jun-26
AH-64D Apache
Q-22
2013-sep-02
CH-47D Chinook
D-663
2013-sep-05
CH-47F Chinook
D-891
2013-sep-06
CH-47D Chinook
D-666
2013-oct-08
CH-47F Chinook
D-890
2013-nov-21
AS532U2 Cougar
S-440
2014-feb-24
AS532U2 Cougar
S-441
2014-mar-05
SE3160 Alouette III
A-247
2014-mar-18
Flyvevåbnet
EH101 Mk.512
M-519
2014-jun-20
Heli Holland
330 (269D)
PH-HHA
2014-jun-20
AH-64D Apache
Q-08
2014-jun-20
AH-64D Apache
Q-13
2014-jun-20
AH-64D Apache
Q-16
2014-jun-20
bo105p PAH-1
86+49
2014-jun-20
Koninklijke Luchtmacht
CH-47F Chinook
D-891
2014-jun-20
SE3160 Alouette III
A-301
2014-jun-20
SE3160 Alouette III
A-366
2014-jun-21
AH-64D Apache
Q-17
2014-sep-10
CH-47D Chinook
D-666
2014-sep-11
CH-47F Chinook
D-890
2014-nov-28
AW139
PH-PXZ
2015-feb-10
SE3160 Alouette III
A-301
2015-may-28
CH-47F Chinook
D-890
2015-jun-17
NH90 NFH
N-325
2015-nov-03
AW139
PH-PXZ
2016-jan-08
AH-64D Apache
Q-17
2016-feb-12
A109BA
H27
2016-jul-21
Heeresflieger
UH Tiger
74+20