Sikorsky CH-53K King Stallion
Formelly known as CH-53X, the CH-53K is a general redesign of the CH-53E with new engines, new cockpit layout and a wider cargo hold to allow it to carry a Humvee internally resulting in over twice the lift capacity and radius of action of the previous variant.

Selected by the US Marine Corps in 2006, which has 227 on order, was expected to began flight testing by 2011 but was deferred to 2014.

The CH-53K is scheduled to achieve its Initial Operating Capability (IOC) in FY2018.

On May 2013 a $435M contract was awarded for the construction of four System Demonstration Test Article aircraft prototypes (SDTA).

As of June 2013, program expected 196 CH-53K to be produced.

On May 5, 2014 took place the roll-out presentation ceremony where it was unveil the aircraft name King Stallion.
The CH-53K programme suffered a number of difficulties, including the need to re-design the gearbox, which delayed the first flight of the YCH-53K to Oct 2015.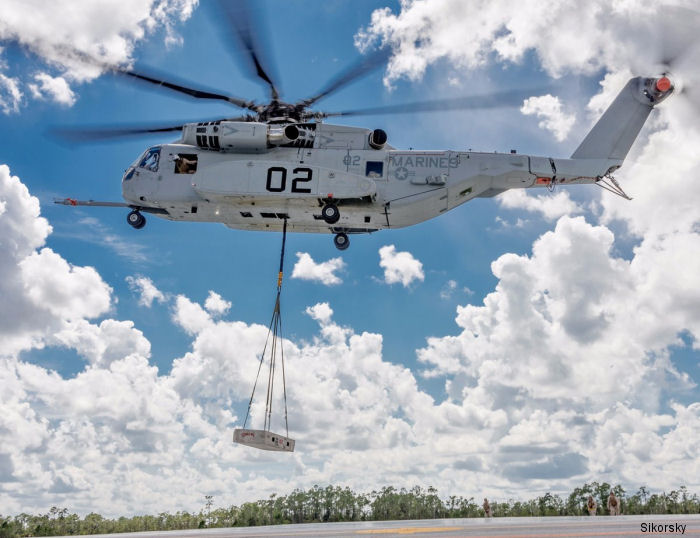 CH-53K Initial Operational Testing by USMC, 20-Oct-16 :

U.S. Marines completes its two-week initial operational test period, called OT-B1, with the new CH-53K King Stallion helicopter at Sikorsky's Flight Center in West Palm Beach, Florida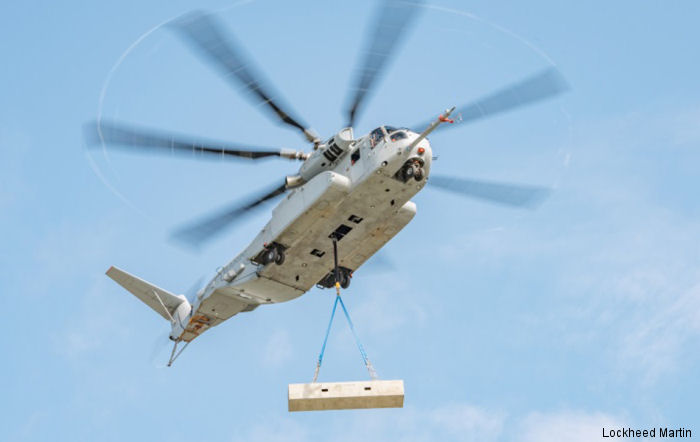 CH-53K King Stallion Completes First 27K Lift, 23-Jun-16 : The CH-53K King Stallion successfully completed an external lift of a 27,000 pound / 12,246 kgs payload at Sikorsky's Development Flight Test Center in West Palm Beach, Florida
From
Organisation with model CH-53K King Stallion
2015
2017




Construction Numbers on database of CH-53K King Stallion or its versions


| | |
| --- | --- |
| | Airframes conv to new variant |
C/N
Built as
Year
History
2015
168778 : Sikorsky YCH-53K prototype Engineering Development Mode+
Jan16 video reaches 100 knots during test flight
19apr16 lift first external load

2016
168779 : YCH-53K EDM-2 f/f 22jan16; 14mar16 joined flight test +

2016
168780 : YCH-53K EDM-3 f/f 21jun16 at Sikorsky Development Fligh+

2016
168781 : YCH-53K EDM-4 f/f 31aug16; pictured

4 C/N found.