Based on the
Bell 407 Fire-X
provide greater endurance, range and payload capacity than the previous
MQ-8 A/B
variants.
On 2012,
Northrop Grumman
started low-rate production.
First flight by 168455 /VX on October 31, 2013 at Naval Base Ventura County.
The MQ-8C entered test service in 2014 with ship-based deployments expected to start in 2017.
Modifications to the MQ-8C's airframes are carried out at the Bell Helicopter facility in Ozark, Alabama, while final assembly is performed in Moss Point, Mississippi.
Plans are for 40 aircraft by 2023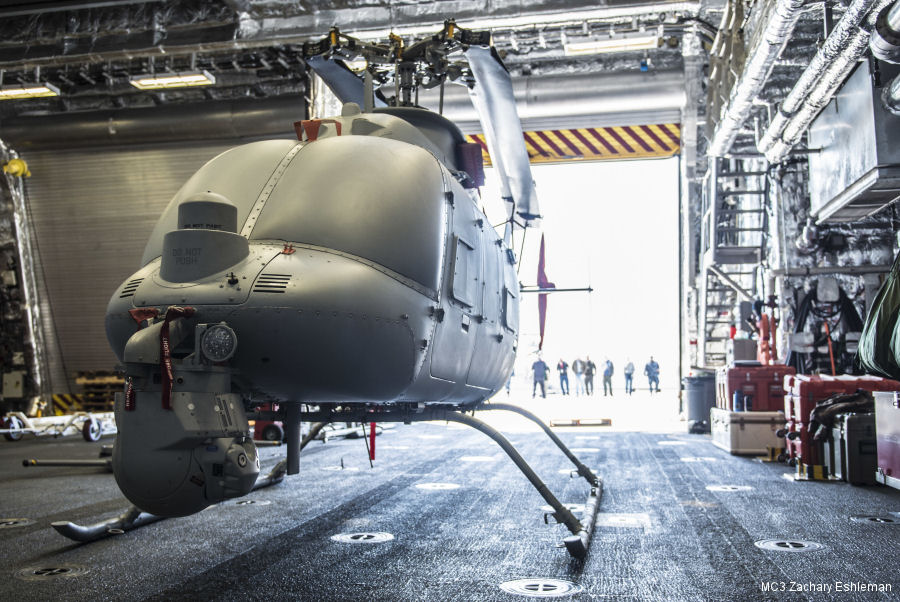 MQ-8C Completes First Test Period Aboard LCS, 11-Apr-17 : US Navy's MQ-8C Fire Scout drone returned from USS Montgomery (LCS-8) after completing initial testing aboard a littoral combat ship. Will begin initial operational test and evaluation in fall 2017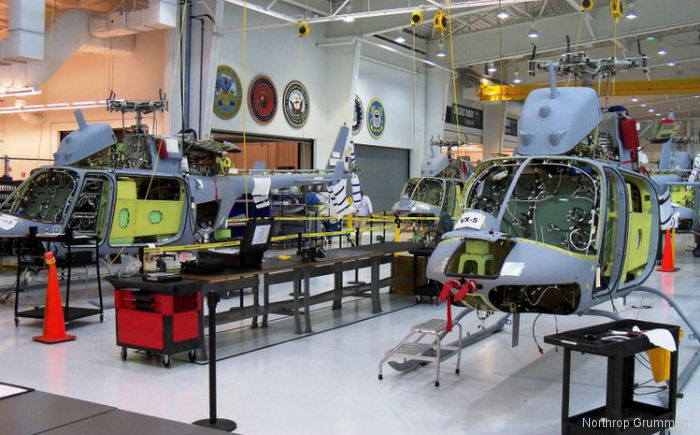 US Navy Orders 10 Additional MQ-8C, 29-Sep-16 : US Navy ordered 10 additional MQ-8C Fire Scout unmanned helicopters to Northrop Grumman bringing the total number to be procured to 29. MQ-8C is based on the Bell 407 airframe.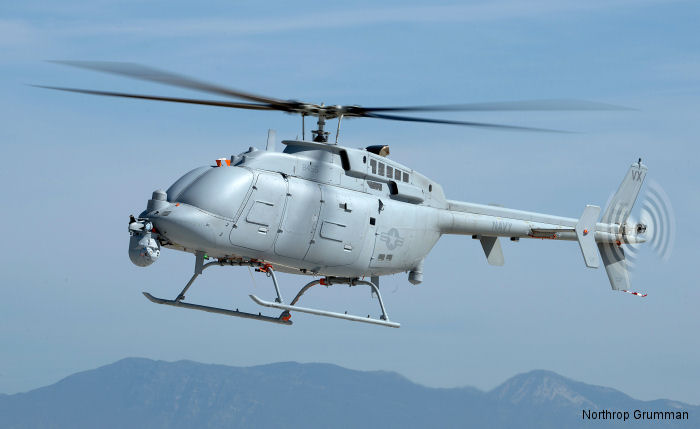 MQ-8C Fire Scout Concludes Operational Assessment, 01-Dec-15 : The US Navy and Northrop Grumman completed a successful land-based operational assessment (OA) with the unmanned, autonomous helicopter MQ-8C Fire Scout at Naval Base Point Mugu, California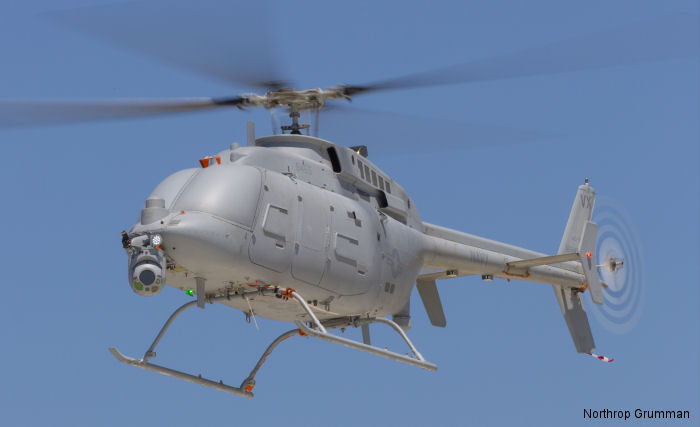 Endurance Demonstration of the MQ-8C UAV, 25-Aug-15 : U.S. Navy MQ-8C Fire Scout unmanned helicopter demonstrated endurance capabilities with a 10+ hour flight and range out to 150nm/277km flight from Naval Base Ventura County, Point Mugu, CA
List of Operators of Northrop-Grumman MQ-8C Fire Scout
From
Organisation with model MQ-8C Fire Scout
2013






Construction Numbers on database of MQ-8C Fire Scout or its versions


C/N
Built as
Year
History
01
2013
168455 : USN /NG pictured (top) d/d Jul13
31oct13 pictured (bot) as 8455 /VX during first flight +
Aug15 performed 10+ hours flight at Point Mugu
20nov15 VX-30 concludes operational assessment (OA)

02
2014
168456 : 12feb14 as VX-30 /VX-8456 during first flight at Naval+

03
168808 : USN; Aug15 VX-30

04
168809 : USN; Aug5 VX-30

05
168810 : USN; Sep15 VX-30 /05

06
168811 : USN; Mar16 VTUAV, NAS Point Mugu

07
168812 : USN

08
168813 : USN

09
168982 : USN; Mar16 VTUAV, NAS Point Mugu

10
168983 : USN; Mar16 VTUAV, NAS Point Mugu

11
168984 : USN

12
168985 : USN; Mar16 VTUAV, NAS Point Mugu

13
168986 : USN; Mar16 VTUAV, NAS Point Mugu

168459 : USN; Jun14 HSM-35
2015 VX-20

14 C/N.