Seasprite was originally conceived as a small-ships, single engined combat search and rescue airframe for the
US Navy
. The prototype first flew on 2 Jul 1959. 184 UH-2A/B were built between 1961 and 1963. Between 1967 and 1970 most were upgraded to UH-2C or HH-2C by retrofit of twin 1250 SHP T58-GE-8B turboshaft engines. Further modifications to LAMPS-1 standard in 1973 for some airframes. Upgrades to ASW equipped SH-3D for further airframes. Production restarted in 1981 in response to President Reagans 600 ship fleet inititative and the delay to the
SH-60B Seahawk
, with more powerful (1350 SHP) T58-GE-8F twin engines and the Kaman 101 rotor system which became the SH-2F. All remaining US Navy -C models have been upgraded to -F.

Plans announced in 1985 to provide an improved version of the Kaman SH-2 Seasprite, mainly for the us export market (initially for south korea and taiwan). By 2001, airframes were in use in Australia, Egypt, New Zealand and Poland.
The SH-2G
Super Seasprite
has improved twin GE T700-GE-401 turboshaft engines.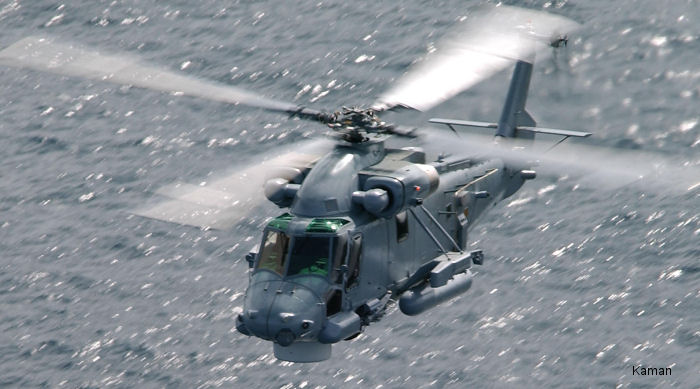 New Zealand Accepted First SH-2G(I) Super Seasprite, 01-Dec-14 : Kaman announced that New Zealand Defence Force (NZDF) accepted the first SH-2G(I) Super Seasprite helicopter at Kaman facility in Bloomfield, Connecticut. Scheduled to arrive Auckland in early 2015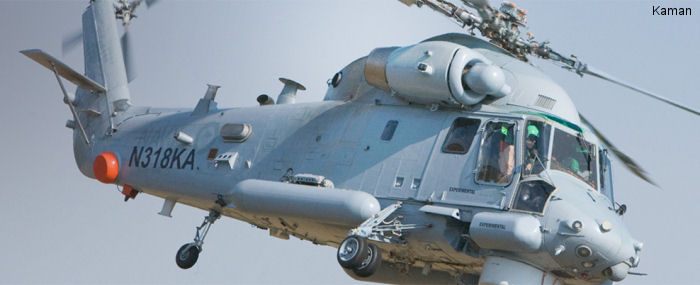 Kaman to Support the Upgrade of SH-2G for Peru, 20-Nov-14 : Kaman today announced contract with General Dynamics Canada to remanufacture and upgrade four Kaman SH-2G Super Seasprite and provide support of a fifth helicopter for the Peruvian Navy
More News ...
Model
Year
History
YHU2K-1
1958
Kaman proposed the Model K-20 to fulfill the light utility role for the US Navy in 1957 and won! The Kaman design featured four blades on the ma ...

UH-2A
1959
Kaman built 84 Model K-20 HU2K-1 (UH-2A) Seasprite light utility helicopters for the US Navy from 1958-1960, before production switched to the im ...

UH-2B
1960
Kaman built 102 Model K-20 HU2K-1U (UH-2B) light utility helicopters for the US Navy from 1960-1962. Survivors were subsequently converted to UH- ...

UH-2C
1965
Total of 41 UH-2A & UH-2B twin-engined upgrade conversions starting in 1965, with UH-2A 147981 serving as the prototype.

HH-2D
1968
SH-2D
1970
YSH-2E
1971
Two Seasprites were converted to YSH-2E LAMPS II configuration. YSH-2E 149033 was one of two tested by HSL-31 in 1972 aboard USS Fox (DLG-33). T ...

SH-2F
1973
SH-2G
1985
| | |
| --- | --- |
| From | Organisation with model seasprite |
| 1962 | |
| 1964 | |
| 1997 | |
| 2002 | |
| 2003 | |
| 2015 | |
Construction Numbers on database of seasprite or its versions