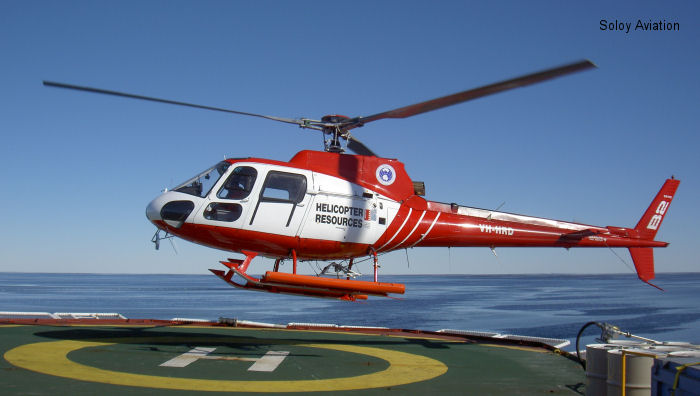 The Soloy AS350 "SD2" (Super D) is a conversion of the
AS350B2
to be powered by a Honeywell LTS101-700D-2 engine replacing the factory Turbomeca powerplant.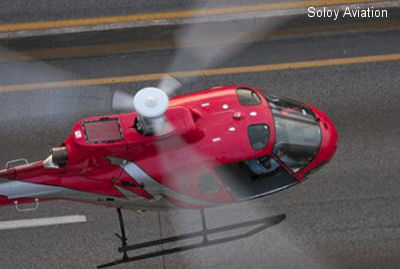 Soloy SD2 Kit Approved for Installation in China, 05-Mar-13 : Olympia, WA – The Civil Aviation Administration of China (CAAC) issued a Validation STC (VSTC0601) of the Supplemental Type Certificate approving Soloy Aviation Solutions' Honeywell engine conversion in Chinese registered AS350B2 helicopters, replacing the factory Turbomeca powerplant.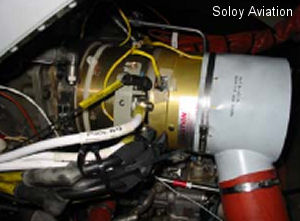 200 AMP generator approved for Soloy SD2, 18-Feb-11 : Olympia, Wa. - Soloy Aviation Solutions announces the approval and availability of a 200 amp generator for installation on the Honeywell LTS101-700D-2 engine used in the Soloy AS350SD2 engine conversion kit for AS350B2 helicopters.
EASA approves AS350SD2 with LTS101-700D-2, 25-Feb-08 : Olympia, WA - Soloy Aviation Solutions has obtained approval from the European Aviation Safety Agency (EASA) for it's Honeywell engine conversion for the AS350B2 helicopters and expects validation this week.
List of Operators of Soloy AS350B2-SD2
From
Organisation with model AS350B2-SD2
2007






C/N
Built as
Year
History
1712
as350b
1983
JA9348 : as350b Japan, to VH-HRD
VH-HRD : Australia, first reg Jun01


VH-HRD

: Helicopter Resources Pty from Jul05, sd2 type

1878
as350b
1985
N46CD : as350b to N705LV
N705LV : conv to AS350B2 SD2 type
C-GCSU : Heliproducts Industries Ltd Sep/Nov 2011
Coldstream Helicopters at Vernon, BC Dec11-Feb13
White River Helicopters Feb/Jun 2013


C-GCSU

: Aurora Helicopters from Jun13

1960
as350b
1986
N5806D : as350b canc Apr88
C-GRHL : Remote Helicopters Ltd at Slave Lake, AB Apr88-Feb06
C-FTYI : Heliproducts Industries Ltd at Pitt Meadows, BC Mar/Oc+
as350b2 Heliproducts Industries Ltd Oct08-Jun09, B2 type
Kokanee Helicopters at Kelowna, BC Sep09-Dec10; Helipro+


C-FTYI

: Trans North Turbo Air Ltd at Whitehorse, Yukon Jan11-Ma+


C-FTYI

: Heliproducts Industries Mar/Jun 2013
White River Helicopters at Terrace, BC from Jul13, SD2 +

2251
as350b1
1990
N216LA : as350b1 to C-FAVI
C-FAVI : as350b2 Les Hélicoptères Abitibi Jun01-Jun08, B2 type
C-FSKI : Selkirk Mountain Helicopters at Revelstoke, BC from Jun+

2334
as350b
1990
JA9883 : as350b conv AS.350B2 type; conv Soloy AS350B2-SD2; to VH-LEV
VH-LEV : Shorland air serv from 2006

2371
as350b2
D-HFSB : as350b2 Helicopter-Flug-Service GmbH (HFS) at Kassel/Calden; w/+
D-HENN : Hahn Helicopter GmbH from 2001; DHD Heliservice GmbH fr+

2452
as350b2
1991
N901BA : as350b2 to N907R
N907R : to OY-HER
OY-HER : Austria, to SE-JEV
SE-JEV : Sweden, to N208CH
N208CH : Coastal Helicopters Dec07-Dec09, noted Aug03
C-GDWU : Panterra Heli Support Ltd Mar/Jul 2007
Expedition Helicopters at Cochrane, ON from Aug12, SD2 +

2767
as350b2
1993
C-FHAD : as350b2 Les Helicopteres Abitibi Ltee Apr94-Dec03
Héli Technik Inc at Val DOr, Quebec Dec03-Feb06, SD2 t+
C-FLUK : Héli Technik Inc Feb/Jul 2006; Expedition Helicopters +

2825
as350b2
1994
G-PROB : as350b2 McAlpine Feb/Jun 1995


G-PROB

: Prodrive Ltd Jun95-Nov00
Proflight Ltd Nov00-Jun01
Irvine Aviation Jun01-Mar09
HB-ZKY : heliswiss Apr09-Jul12, conv to SD2 type
26mar10 type SD2 Heliswiss at Bern


HB-ZKY

: Swiss Helicopter from Jul12

3066
as350b2
OM-SIF : as350b2 Slovakia, to D-HMEG
D-HMEG : Hahn Helicopter GmbH from Feb09, SD2 type; 2012 Heli Sa+

3201
as350b2
1999
N5225A : as350b2 to N616LV
N616LV : Las Vegas Helicopters, noted 2001-2004; conv to Soloy 3+
XA-SCL : Mexico, lsd from N616LV
N616LV : Papillon Helicopters 2007-2010
VH-EGU : first reg Aug10; Pacific Crown Helicopters Pty from May+

3221
as350b2
1999
C-FWCN : as350b2 Eurocopter Canada Feb/Nov 2000
C-FWEC : West Coast Helicopters Maint at Port McNeill, BC May07+
Interior Helicopters at Fort St James, BC Sep11-Sep12
Heli-Excel Inc Sep12-Mar13; ustang Helicopters
N437SH : Wells Fargo Bank from Mar13

3682
as350b2
2003
N125FN : as350b2 to N1231A
N1231A : Tinny Bubbles Aviation at Glendale, CA from Nov06, SD2 +
30jun15 18.00hs over 90254 Hermosa Beach, CA

13 C/N.