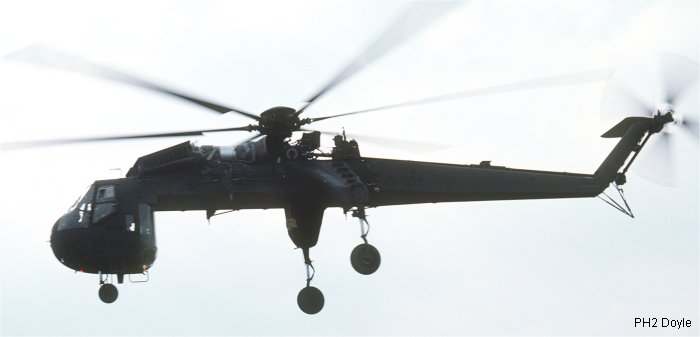 The S-64 Skycrane is an twin-engine heavy-lift helicopter designed as an enlarged version of the prototype Flying Crane S-60. First flew on May 9, 1962 was followed by two further examples for evaluation by the German armed forces. The Germans did not place an order, but the US Army bought it as the CH-54 Tarhe. The S-64 Aircrane is the current production version, manufactured by the Erickson Air-Crane company.
Missing S-64E c/n 64-068 & 64-069 order cancelled by civil operator, airframes not built. Sikorsky S-64B/CH-54B asgd US Army serials 71-18491/18498; contract cancelled by US Army; airframes not built. Last Sikorsky built S-64E, c/n 64-101 rebuilt by Erickson as c/n 64-1001.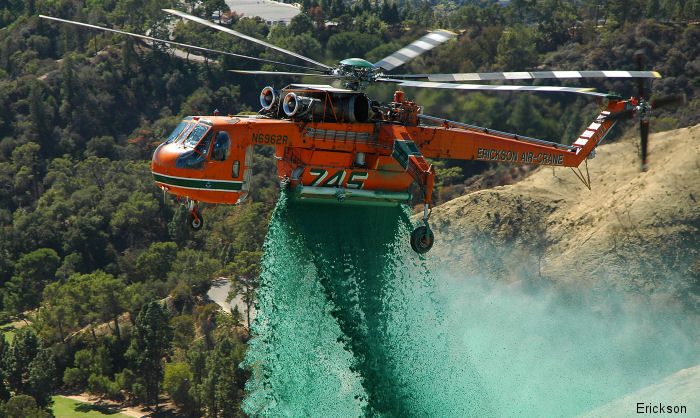 Third S-64E for Bushfire Protection in Victoria, 12-Jan-16 : Erickson through Kestrel Aviation to provided a third S-64E heli-tanker to support firefighting efforts in the State of Victoria, bringint to Six the number aircranes operating in Australia.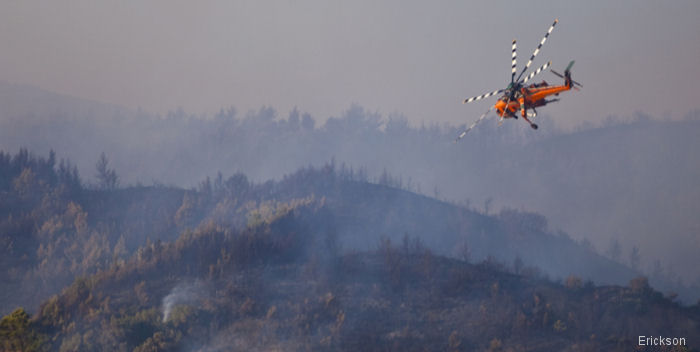 Greece Contract Extension for Erickson, 02-Dec-15 : Erickson to continue providing aerial firefighting support in Greece for 18th consecutive season. Two year extension with NSPA (NATO Support & Procurement Agency) and the Hellenic Fire Service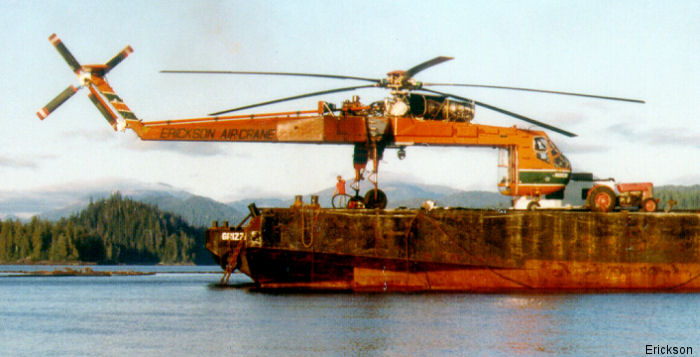 Erickson Extends Repsol Peru Contract, 10-Nov-15 : Erickson announce a two-year service contract extension between Repsol Exploracion Peru and Ecocopter Peru for air cargo transportation by S-64 helicopter.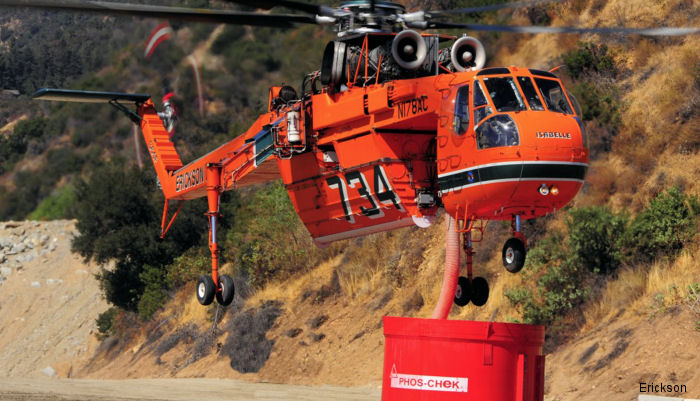 Erickson Secures Turkish Firefighting Contract, 24-Aug-15 : Erickson has been selected by Pan Aviation to provide emergency fire suppression support for the Municipality of Istanbul and the surrounding areas with a S-64E aircrane for 2 years.
More News ...
Engine:
2 x PW T73-P-1 4500shp
Capacity:
2 + 1
Length: (m)
21.4
Height: (m)
5.67
Blades:
6
Rotor diam.: (m)
21.95
Disc area: (m2)
378
Weight: (kgs)
Empty: 8724 Max: 19000
Speed: (km/h)
Cruise: 169 Max: 203
Range: (km)
370
Ceiling: (m)
2740
Rate/Climb: (m/min)
405
From
Organisation with model s-64 CH-54
1963
1964
1971
1999
2005
Unknown!
Help


Construction Numbers on database of s-64 CH-54 or its versions