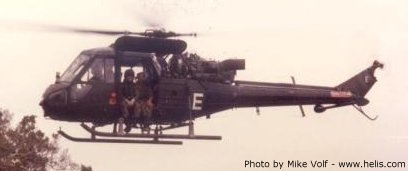 The Scout was the British Armys first turbine powered helicopter. The first firm order came from the Army Air Corps, a pre-series batch of
P.531-2
Mk.1s basically similar to c/n S2/5311 being ordered in 1959. The first of these was flown in Aug 1960, and in the following month an order for 66 was placed by the Army for the type as the Scout AH Mk.1. Delivered from spring 1963, these were fitted with Nimbus 101 or 102 engines and skid landing gear but engine problems prevented them from becoming fully operational until 1963, leading to a small order for
Alouette
s as an interim measure. Indeed, so poor was the initial engine life that a number of fixed-wing Austers were kept on in some units to supplement time in the air, for the number of Scouts on charge. The Scout replaced the
Skeeter
, both at home and abroad and it was employed for duties that included passenger or freight transport, liaison, search and rescue, and training.
The Scout saw service in Borneo and Aden in 1964-65 - at the expense of planned deliveries to BAOR (Germany) - and later in the Falkland Islands, the latter also in the CASEVAC, resupply and Special Forces insertion roles.
Six Scouts from
3 Commando Brigade Air Squadron
RM were in action at the start of the Falklands war along with 3 from
656 Squadron
Army Air Corps. 3 more joined 656 Squadron when 5 Infantry Brigade landed. One Scout was shot down during operations. Some Scouts served in
Hong Kong
, where they were fitted with above-cabin flotation gear because of extensive over-water operations.
Although its characteristics were not outstanding, the Scout was used as a light observation and scout helicopter to supplement ground reconnaissance forces in the British Army, a role which was played by the
Bell 206
in many other armies and has been superseded by the Westland
Lynx
. About 150 Scouts served with the British Army and the
Royal Marines
until Apr 1994.

---
666 Squadron at Topcliffe, not 660. Ssgt I/c a/e 1972 to 1974

C/N
Mod
Built
ID In this Organisation
In other Org


f.9472
ah.1
1961
XP846: AAC f/f 20oct61, first production Fairey (Westland) Scout; 1+

f.9473
ah.1
1962
XP847: AAC; preserved at Museum of Army Flying, Middle Wallop

f.9474
1962
XP848: AAC Scout AH.1 d/d 09jun62, pres on Gate SEAE Arborfield pr+

- XP848: sep15 to FAST Museum, Farnborough

f.9475
ah.1
1962
XP849: w/o 03apr97 heavy landing at Netheravon during autorotation +

XP849: AAC in 1990 ETPS

F.9476
ah.1
XP850: AAC Westland Scout AH.1

f.9477
ah.1
XP851: AAC Westland Scout AH.1

f.9478
ah.1
XP852: AAC Westland Scout AH.1

f.9479
ah.1
XP853: AAC Westland Scout AH.1

f.9480
ah.1
1962
XP854: AAC Scout AH.1 d/d 29jan63, w/o 23mar65

f.9481
ah.1
1962
XP855: dd 29 Jan 1963; ARWF by Jul 1969

f.9485
ah.1
XP884: Scout AH.1 d/d 06feb63; AAC Historic Flight

f.9500
ah.1
1963
XP899: dd 18 Oct 1963; ARWF/D by Jul 1973 still by Aug 1977; SCF/D +

f.9508
ah.1
1963
XP907: 657Sq (ex 3CBAS /U) landed on mv Astronomer in Plymouth Soun+

XP907: Royal Marines; 06jan80 3CBAS /U on route; toward G-SROE


---

- G-SROE: ex XP907

f.9509
ah.1
XP908: AAC Scout AH.1

f.9511
ah.1
1963
XP910: AAC d/d 06dec63; w/o 13sep89; Museum of Army Flying

f.9517
ah.1
1964
XR595: AAC Scout AH.1 27sep95 to G-BWHU

- G-BWHU: Private owner

f.9519
ah.1
XR597: preserved Hermeskeil Air Museum, Germany

f.9523
ah.1
1964
XR601: w/o 26 Aug 1979 after tail rotor severed by main rotor follo+

f.9529
ah.1
1964
XR629: d/d 29/04/1964, 8 Flt/C by Jul 1969

f.9535
ah.1
1965
XR635: AAC d/d 08feb65; i/a at Midland Air Museum

- XR635: to Coventry University date unk; Sep12 to The Midland A+


---

under restoration at Midland Air Museum. Still present +

f.9536
ah.1
1965
XR636: crashed during a roulement detachment to Northern Ireland, n+

f.9537
ah.1
XR637: AAC Scout AH.1

f.9632
ah.1
XT626: Scout AH.1 XT626 / Q with 666 Squadron Army Air Corps badge,+

f.9636
ah.1
1966
XT630: AAC d/d 02may66

- G-BXRL: Rodney Coplestone Jan/Jul 1998


---

Raffia Enterprises Ltd from Jul98; w/o 16oct99; canc Ma+


---

preserved Bruntingthorpe, noted Jul06


---

24aug14 pictured preserved on external display at Brunt+


---

Apr17 on sale on eBay


---

Mr J and DJ Baddeley private collectors from Jun17

f.9643
ah.1
1966
XT637: visited Seaton Barracks 10 Jun 1967

f.9655
ah.1
1966
XT649: dd Dec 1966 to AAC. 655 Sq/Y by Jul 1972. Sold, to New Zeala+

- ZK-HUK: to ZK-HUK, w/o 12 Mar 2003

f.9698
ah.1
XV123: AAC; Jan13 preserved

f.9699
ah.1
XV124: AAC Scout AH.1; noted AAC Hildesheim EDVM 17jun80

f.9702
ah.1
1967
XV127: AAC; preserved at Museum of Army Flying, Middle Wallop

f.9704
ah.1
XV129: AAC; to civ ZK-HVD

- ZK-HVD: Heli-Logging NZ, noted 2001


---

26mar15 Stratford, Taranaki, Zealand North Island

f.9711
ah.1
XV136: deployed to Northern Ireland by Nov 1976

- XV136: Feb14 On loan to Ulster Aviation Society


---

03mar14 pictured undergoing restoration to static displ+

f.9712
ah.1
XV137: AAC Scout AH.1 17mar98 to G-CRUM

- G-CRUM: Many owners until Current jun16 in Bishop Waltham area,+

f.9716
ah.1
XV141: 657Sq landed on mv Astronomer in Plymouth Sound 7 Jun 1982, +

f.9735
ah.1
1969
XW280: ff 9 May 1969

f.9759
ah.1
1972
XW796: 660Sq/H by May 1984

Privately owned XW796: Privately owned, Sproughton


---

XW796: Gunsmoke Paintball Hadliegh Suffolk by Mar 2014

f.9797
ah.1
XV132: AAC Scout AH.1 - correct c/n is f.9707

S2/8437
ah.1
1960
XP165: 24aug11 pictured at The Helicopter Museum, Weston-Super-Mare+

XP165: ff 29 Aug 1960. To Fairey at White Waltham as a develop+


---

- XP165: to Historic Aircraft Museum, Southend in Jul 1975, unti+

S2/8438
ah.1
XP167: AAC Westland Scout AH.1

S2/8440
ah.1
XP188: AAC Westland Scout AH.1

S2/8441
ah.1
XP189: AAC Westland Scout AH.1

S2/8443
ah.1
XP190: AAC Westland Scout AH.1

S2/8446
ah.1
1961
XP191: AAC Scout AH.1 f/f 19Jan61, d/d 01May61

XP191: Westland, returned for loan to RAE at Bedford for Rotor+

S2/8447
ah.1
XP192: AAC Westland Scout AH.1

43 C/N.