Eight TTH requested to replace the
UH-1H
in use by 3 Squadron. Up to four of them will be able to be transported aboard the new Navy, Multi Role Vessel, HMNZS Canterbury
On 22 Aug 2013, one of the first five RNZAF NH-90 was seriously damaged by a lightning strike, 4 nm NE of
Ohakea Air Base
, requiring the replacement of all main and tail rotors. For an all weather airframe which includes SAR in its role, this is a serious setback to the service introduction programme.

The NH90 was introduced into RNZAF service in 2013.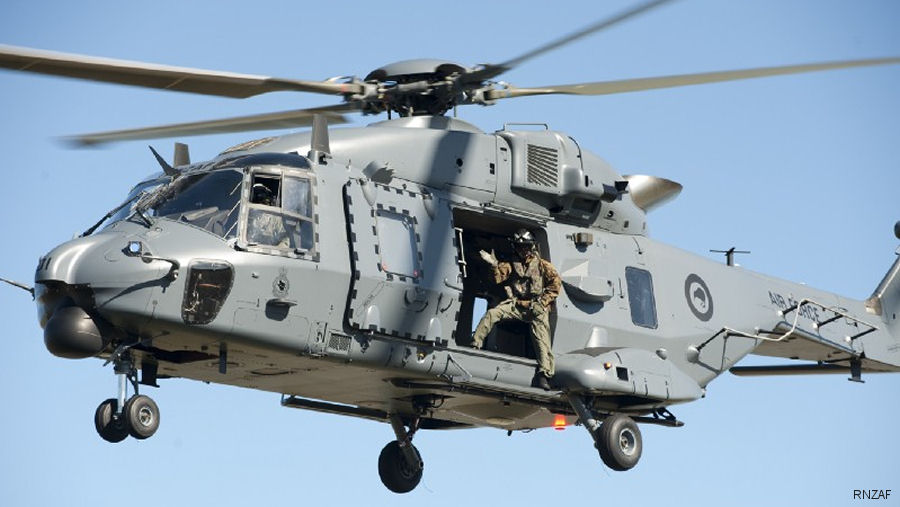 New Zealand NH90 Almost Back to Full Duty, 07-May-17 : Royal New Zealand Air Force eased limitations on its NH90 fleet that have prevented them flying over water, at night, and over mountainous terrain since 20 April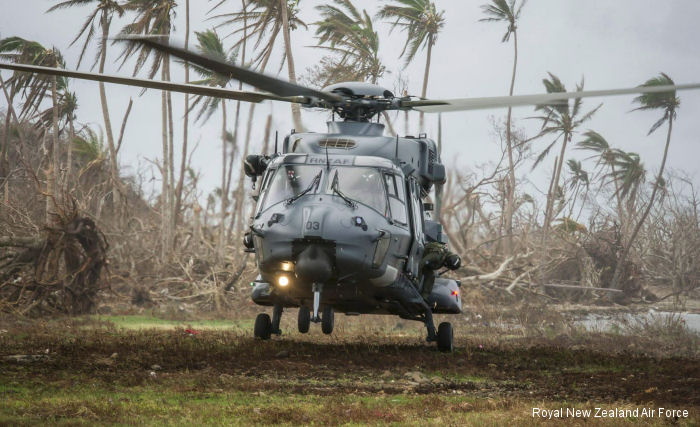 New Zealand NH90 Supporting Fiji Relief Operations, 04-Apr-16 : Royal New Zealand Air Force NH90 helicopters are successfully performing in their first overseas mission during the Cyclone Winston relief operations in Fiji. Two deployed with HMNZS Canterbury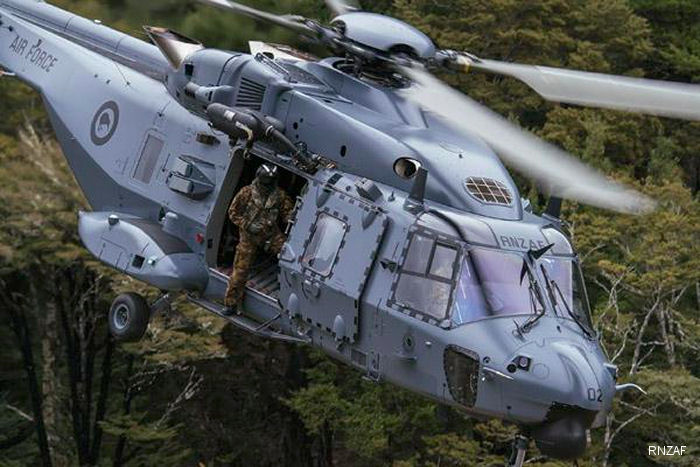 RNZAF Helicopter Fleet Integrated in 3 Squadron, 18-Dec-14 : New Zealand Air Force Helicopter Transition Unit (HTU), responsible for the introduction into service of the NH90 and AW109, was merged into 3 Squadron replacing the UH-1H as RNZAF main helicopter.
C/N
Built
ID In this Organisation
In other Org


1177
2011
NZ3301: RNZAF, TNZA01 test serial F-ZWTU

F-ZWTU: NHI/Eurocopter France for New Zealand

1206
2011
NZ3302: RNZAF, TNZA02 test serial F-ZWDD

F-ZWDD: NHI/Eurocopter toward NZ3302

1207
2012
NZ3303: RNZAF, TNZA03 test serial F-ZWDO

F-ZWDO: NHI/Eurocopter to NZ3303

1208
2012
NZ3304: RNZAF, TNZA04 test serial F-ZWDR

F-ZWDR: NHI/Eurocopter toward NZ3304

1209
NZ3309: RNZAF, TNZA09 Feb14, for spares

1229
2013
NZ3306: RNZAF, TNZA06 test serial F-ZWDV

F-ZWDV: NHI/Eurocopter France, to NZ3306

1241
NZ3305: RNZAF

F-ZWBC: NHI/Eurocopter toward NZ3305

1265
NZ3307: RNZAF, TNZA07 test serial F-ZWBT, d/d Feb14

F-ZWBT: NHI/Eurocopter

1267
NZ3308: RNZAF, TNZA08

9 C/N.