Del'd: 3 - 2012 to present
Raytheon Australia will support and maintain three Bell 429s under a four year contract. They will fly approximately 1500 hours per year in service with the RAN 723 Squadron at Nowra, replacing the AgustaWestland
AW109E
in training duties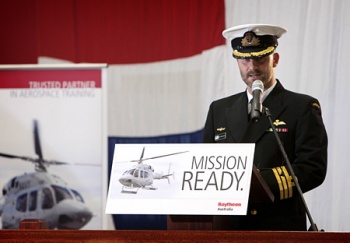 723 Squadron welcomes Bell 429 to HMAS Albatross, 06-Jun-12 : "These are indeed exciting times", 723 Squadron Commanding Officer, Commander Matthew Shand told the assembled guests as the Royal Australian Navy marked the introduction of the Bell 429 helicopter into service with a ceremony at HMAS Albatross on 5th June.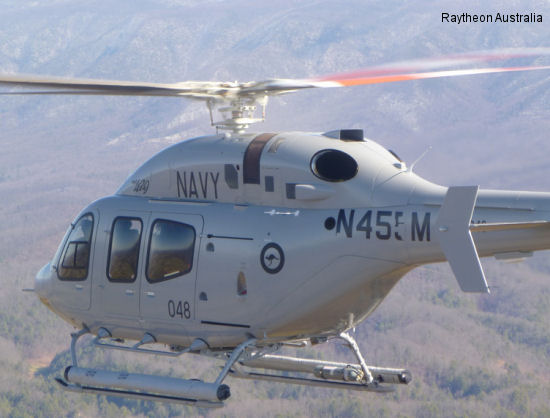 RAN Bell 429s commenced activities, 27-Apr-12 : Raytheon Australia today announced that its new Bell 429 helicopters had commenced activities with the Royal Australian Navy under the RAN's Retention and Motivation Initiative 2 (RMI 2) Program.
Bell 429 Selected by Royal Australian Navy, 19-Sep-11 : Bell Helicopter, a Textron Inc. company , announced today it was awarded a new contract by Raytheon Australia to provide three Bell 429s for the Royal Australian Navy's Retention and Motivation Initiative.
C/N
Mod
Built
ID In this Organisation
In other Org


57047
2011
N49-047: RAN; Bell test serial N455KB

C-GLCV: BHTCL toward N455KB


---

N455KB: Bell from nov11 ex C-GLCV toward VH-NPP


---

VH-NPP: Raytheon Australia, ex N455KB, to N49-047

57048
2011
N49-048: RAN; Bell test serial N455MB

C-GLFX: BHTCL toward N455MB


---

N455MB: Bell from dec11 ex C-GLCV toward VH-NPQ


---

VH-NPQ: Raytheon Australia, ex N455MB, to N49-048

57049
2011
N49-049: RAN; Bell test serial N455NB

C-GLIK: BHTCL toward N455NB


---

N455NB: Bell from dec11 ex C-GLIK toward VH-NPR


---

VH-NPR: Raytreon Australia,ex N455NB, to N49-049

3 C/N found in this Organisation