Del'd: 18 - 2007 to present
From 2007 operated by
CHC Scotia
four new-build S-92As used in search and rescue duties from Stornoway and Sumburgh. Since 2015 UK SAR contract switched to
Bristow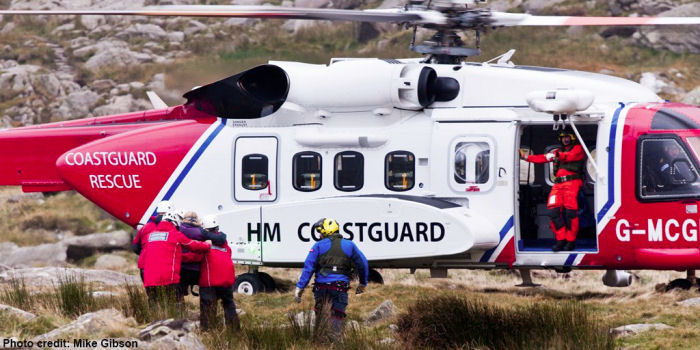 Bristow Caernarfon SAR One-year Anniversary, 01-Jul-16 : Caernarfon Search and Rescue Coastguard helicopter base in North Wales celebrates one year anniversary having flown more than 500 mission hours and rescued or assisted more than 200 people.

New Era For UK Search And Rescue, 19-Jan-16 : A new era for the UK s search and rescue (SAR) helicopter operations began January 1, 2016, when the Newquay and Prestwick SAR bases commenced operations, bringing military involvement to an end.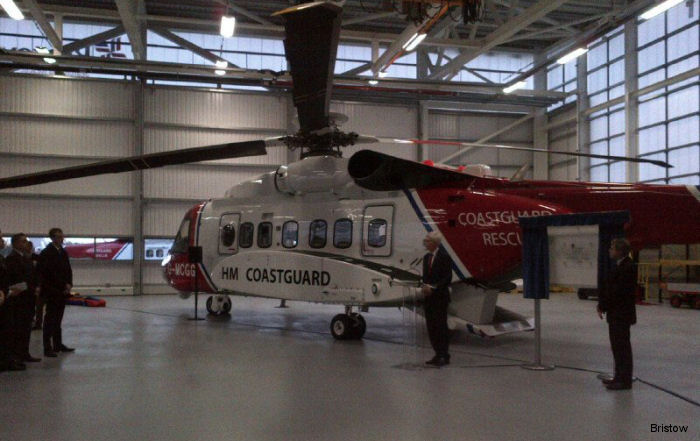 HM Coast Guard Prestwick SAR Service Launch, 17-Dec-15 : The launch of the Prestwick civilian UK search and rescue (SAR) helicopter service was marked in a ceremony held at the new Coastguard SAR base at Prestwick Airport.
More News ...
C/N
Mod
Built
ID In this Organisation
In other Org



2007

---

92-0034
s-92a
2006
G-CGMU: HM Coastguard op by CHC Scotia

N8010S: Sikorsky Feb/Jun 2007; Mar07 on display at Heli-Expo 20+


---

G-CGMU: CHC Scotia from Jun07, operated on behalf HM Coast Guar+


---

EI-ICU: CHC Ireland for Irish Coast Guard from Jul13


---

EI-ICU: Irish Coast Guard, op by CHC

92-0051
s-92a
2007
G-CGOC: HM Coastguard op by CHC Scotia

G-CGOC: CHC Scotia from Nov07, Sikorsky serial N45165; operated+


---

EI-ICR: CHC Ireland 2013, for Irish Coast Guard


---

EI-ICR: Irish Coast Guard, Operated by CHC Ireland

92-0045
s-92a
2006
G-SARB: HM Coastguard op by CHC Scotia; 2010 Isle of Lewis, Scotland

G-SARB: CHC Scotia from Sep07, Sikorsky serial N80562 operated +


---

EI-ICA: CHC Ireland 2013, for Irish Coast Guard


---

EI-ICA: Irish Coast Guard, Operated by CHC Ireland

92-0052
s-92a
2006
G-SARC: HM Coastguard operated by CHC Scotia; 11dec12 an Unst Shetla+

G-SARC: CHC Scotia from Nov07, Sikorsky serial N45168; operated+


---

EI-ICD: CHC Ireland 2013, for Irish Coast Guard


---

EI-ICD: Irish Coast Guard, Operated by CHC Ireland


---

12oct14 pictured on approach to Beaumont Hospital, Dubl+


2013

---

92-0166
s-92a
2011
G-MCGA: HM Coastguard Jan13, operated by Bristow, Sumburgh/Stornoway
Feb13 Based at Inverness airport for line training before de+

N166J: Sikorsky 2011


---

G-MCGA: Bristow from Jan13, Aberdeen

92-0167
s-92a
2011
G-MCGB: HM Coastguard from Feb13, Bristow

N167G: Sikorsky 2011


---

G-MCGB: Bristow from Feb13, GAP SAR contract. d/d 23feb13 Aberd+

92-0169
s-92a
2011
G-MCGC: HM Coast Guard op by Bristow; 12apr13 pictured (top) at Aber+
14apr14 pictured (bot) incoming to home base at Sumburgh
25apr14 Oscar Charlie Helicopter Naming Ceremony at Sumburgh+

N169F: Sikorsky 2011


---

G-MCGC: Bristow from Apr13, for Coast Guard

92-0171
s-92a
2012
G-MCGD: May14 Search and rescue heli on Stornoway, Scotland
11jan15 at Humberside
30sep16 at Inverness

N971E: Sikorsky 2012


---

G-MCGD: Bristow from Jun13, for Coast Guard

92-0214
s-92a
2014
G-MCGE: HM Coast Guard op by Bristow
09jan15 flying over Flamborough, East Yorkshire
10jan15 12:30 over skegness flown from humberside airport
9Jan15 Flying over Rotherham ex Humberside. 1245
24jan15 passed over Rotherham 0900 towards Sheffield, just r+
02feb15 11:40hs Passed over Mablethorpe heading for Norwich +
15jul15 at Humberside airport
19jul15 attending SAR / Emergency Humberside to Glossop, Der+
02nov15 as /Rescue931 at Humberside sector
24dec15 rescuing person from boat off south shields heading +

N214HM: Bristow US


---

G-MCGE: Bristow from Oct14


---

23oct14 flying over Towcester

92-0222
s-92a
2013
G-MCGF: HM Coast Guard op by Bristow
17mar15 SAR service launched ceremony at Inverness
25aug15 pictured Scottish Secretary David Mundell with Brist+

N222XC: Bristow US from Mar14


---

G-MCGF: Bristow from Oct14

92-0225
s-92a
2013
G-MCGG: HM Coast Guard op by Bristow
21nov14 Overflying RAF Leconfield
21nov14 Overflying Aberdeen on approach to Dyce
09jun15 at Stornoway
04nov15 arrived at Prestwick
17dec15 in Prestwick SAR launch ceremony
17dec15 training with RNLI lifeboat of the coast nr Arran

- N225WK: Aircraft MSN 920225 Trust at Wilmington, DE Mar/Oct 199+


---

G-MCGG: Bristow from Oct14

92-0234
s-92a
2014
G-MCGH: HM Coast Guard, op by Bristow; 13jan15 pictured at Aberdeen
13jul15 at Humberside airport
21jul15 at Caernarfon, N Wales
16nov15 as /Rescue912 at Humberside.

N234TR: Sikorsky


---

G-MCGH: Bristow from Dec14

92-0235
s-92a
2014
G-MCGI: HM Coast Guard, op by Bristow; 13jan15 pictured at Aberdeen
17mar15 SAR service launched ceremony at Inverness

N235U: Sikorsky


---

G-MCGI: Bristow from Dec14

92-0248
s-92a
2014
G-MCGJ: HM Coast Guard, op by Bristow
07may15 at Caernarfon Aairport, Wales, UK. Arrived to home b+
Jul15 based at Caernarfon

N248N: Sikorsky from Jul14; 27feb15 pictured (top) departing C+


---

G-MCGJ: Bristow, for Coast Guard; 03mar15 pictured (bot) at Hel+

92-0251
s-92a
2014
G-MCGK: HM Coast Guard, op by Bristow; 02jun15 pictured (pic1) at Ab+
20jun15 now based Caernarfon, North Wales
19jul16 at Newcastle under Lyme
07oct16 pictured (pic2) landed at Royal Blackburn Hospital

N251Z: Sikorsky Mar14; Aircraft MSN 920251 Trust at Wilmington+


---

G-MCGK: Bristow from May15, for Coast Guard

92-0254
s-92a
2014
G-MCGL: HM Coast Guard, op by Bristow; Jan16 at Prestwick

N254J: Bristow Oct14-Nov15


---

G-MCGL: Bristow from Nov15

92-0257
s-92a
2014
G-MCGY: HM Coast Guard, op by Bristow
Oct15 asg Newquay sector
23nov15 pictured as /Coastguard-924 at Newquay

N257Z: Sikorsky


---

G-MCGY: Bristow from Sep15, for Coast Guard

92-0262
s-92a
2014
G-MCGZ: Nov15 asg Newquay sector
01jan16 began Bristow SAR Operations
18feb16 picture training with RNLI Penlee Lifeboat ‏

N262U: Bristow Nov14-Oct15


---

G-MCGZ: Bristow from Oct15

18 C/N found in this Organisation