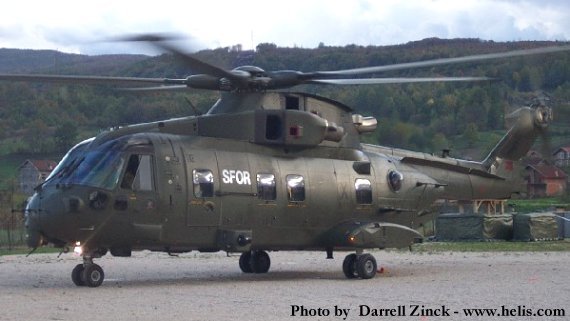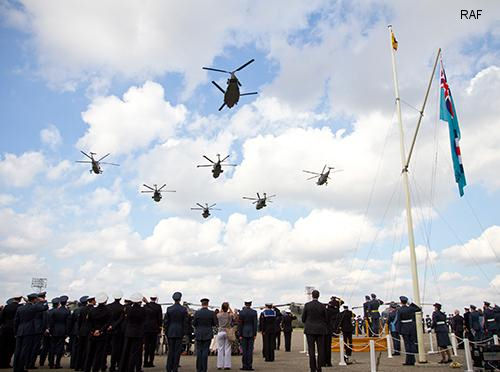 Royal Air Force Hand Over Merlin To Royal Navy, 01-Oct-14 : Yesterday marked the end of an era for the Royal Air Force and the start of a new one for the Royal Navy as the official handover of the Merlin helicopter took place in a formal ceremony at RAF Benson in Oxfordshire.
QinetiQ to provide evaluation for Merlin MLSP, 07-Feb-14 : QinetiQ has been awarded a five year contract, worth £16 million, to provide test and evaluation services to the MOD in support of its Merlin Life Sustainment Programme (MLSP).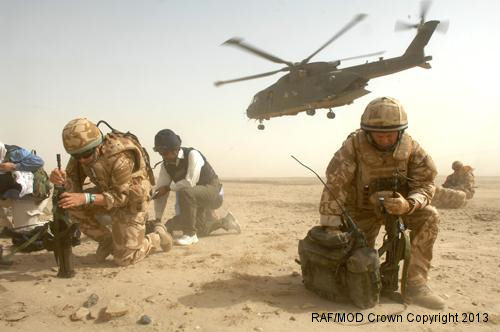 RAF Merlin 10 years of continual deployments, 27-Sep-13 : by Nikki Hamilton - The RAF Merlin Force is celebrating its return from 10 years of continual operational deployments following the withdrawal from Afghanistan. The RAF Merlins, which are based at RAF Benson, Oxfordshire first deployed to Bosnia in 2003 and have since provided essential helicopter lift for land forces in Iraq and Afghanistan.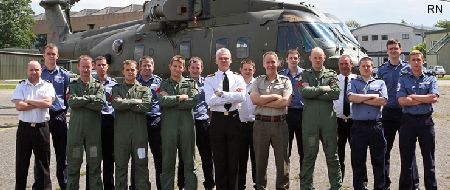 UK Marines learn about AW101 at RAF Benson, 03-Jul-12 : The head of the Commando Helicopter Force visited the trailblazers for the future wings of the Royal Marines as they get to grips with the replacement for the venerable Sea King. From 2016, the Merlin will be the mainstay of operations by the Yeovilton-based Force, which has sent engineers and aircrew to RAF Benson to train to fly and maintain the helicopter.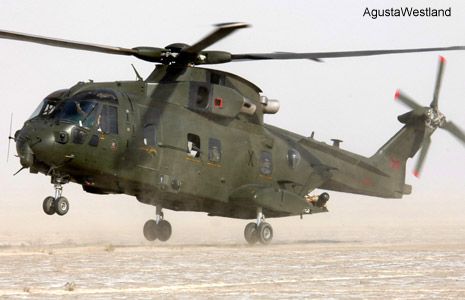 Royal Air Force Merlin Operations in Iraq, 14-Jun-05 : On March 19th 2005, No 1419 Flight, 28 (Army Co-operation) Squadron operating four Royal Air Force AgustaWestland EH101 Merlin HC Mk3 helicopters, declared Full Operational Capability (FOC). As part of the UK's Joint Helicopter Force (Iraq) supporting the UK led Multi National Division (South East), they continue to support the stabilisation and peace process within Iraq.
C/N
Built
ID In this Organisation
In other Org


50033
1998
ZJ117: 1999 as /H301 at Le Bourget air show

ZJ117: 2007 with AgustaWestland for BERP IV Flight Testing for+

50049
1999
ZJ118: 2007 28 Sqn /B

ZJ118: Nov15 HC.3i type asg 846Sqn


---

02jul16 pictured as 846 NAS/B at RNAS Yeovilton during +

50075
1999
ZJ119: RAF 50075/RAF03; 2011 28/78Sqn./C

50083
2000
ZJ120: RAF; 18jun11 pictured at Kemble, England

50099
2000
ZJ121: RAF; 2007 28Sqn./E

ZJ121: RN 846Sqn; 19jul15 pictured (bot) at RIAT 2015


---

08jan16 846Sqn./E at Nantes direction South


---

08jan16 846Sqn./E at Bordeaux direction Spain


---

HC.3i type; 10jan16 visit to Gibraltar, with ZJ129.


---

846 NAS/E deployed to Gibraltar Aug 2016

50113
2000
ZJ122: Jul06 pictured (pic1) as 28 Sqn /F at RAF Fairford

ZJ122: Royal Navy /F from Aug15; Oct16 first flight of HC.4 ty+


---

08jul17 pictured (pic3) as first HC4 at Yeovilton airsh+


---

10sep17 as /F pictured (pic4) on the East Terrace of+

50129
2000
ZJ123: RAF Merlin HC.3 28Sqn/G; Jun09 pictured at Kemble Air Show, +

50133
2000
ZJ124: RAF HC.3 /H; 17jul11 pictured with 28Sqd at RAF Fairford RIA+

50137
2000
ZJ125: RAF

50141
2000
ZJ126: RAF 50141/RAF10 in June 2009 /K 28/78Sqn.

ZJ126: Apr15 HC.3i type asg 846Sqn


---

10sep17 pictured under heavy rain on ferry stop at San +

50149
2001
ZJ127: RAF 50149/RAF11 in 2003 /L 28Sqn.

ZJ127: conv to fully marinised HC.4


---

ZJ127: 08jul17 /L pictured at RNAS Yeovilton Air Day 2017

50153
2001
ZJ128: 50153/RAF12; 2003 /M 28Sqn; 19aug06 pictured at Shoreham Air+

ZJ128: 845 NAS / M. Deployed to Caribbean for huuricane relief+

50167
2001
ZJ129: 2007 28Sqn./N

ZJ129: 08jan16 846Sqn./N at Nantes direction South


---

08jan16 846Sqn./N at Bordeaux direction Spain


---

HC.3I type; 10jan16 visit to Gibraltar with ZJ121.

50169
2001
ZJ130: RAF; 2007 28Sqn./O

ZJ130: 02jul16 pictured (pic2) as 846Sq /O at RNAS Yeovilton d+

50173
2001
ZJ131: RAF Merlin HC.3 28Sqn./P; 11may07 pictured at Elwood HLS (H+

ZJ131: final Merlin delivered from RAF Benson to 845 NAS at Ye+

50177
2001
ZJ132: RAF Merlin HC.3; 06may12 pictured at Abingdon Air Show

ZJ132: Royal Navy HC3i; 30jun17 /Q RNAS Yeovilton


---

29 Aug 2017 845 NAS/Q embarked HMS Ocean for 4 month M+


---

22 Sep 2017 joined Caribbean relief effort when ship ar+

50181
2001
ZJ133: RAF 50181/RAF17 in 2009 28Sqn.

50183
2001
ZJ134: RAF

ZJ134: RN; Oct16 846Sq /S in Bavaria, Germany

50187
2001
ZJ135: RAF HC.3; 27aug09 pictured (pic1) at RAF Benson

ZJ135: 846Sq by Mar16


---

16jun16 on my radar in South Wales the past few nights


---

02jul16 pictured (pic2) as 846Sq /T at RNAS Yeovilton d+

50191
2001
ZJ136: RAF HC.3 d/d 29apr02

ZJ136: Dec15 HC.3i type asg 846Sqn


---

One of two 846 NAS Merlin HC.3i /U assigned to support +

50195
2002
ZJ137: RAF 50195/RAF21.; 2003 28Sqn./W

ZJ137: Jan16 HC.3i type asg 846Sqn


---

02jul16 pictured as 846 NAS /W at RNAS Yeovilton during+

50199
2002
ZJ138: RAF HC.3 d/d 22nov02; w/o 23jun10 heavy landing at Camp Ba+