60 TTH on order. From August 2012 five were deployed to Afghanistan. As of May 2013, 21 were already delivered. 28th TTH delivered on March 2015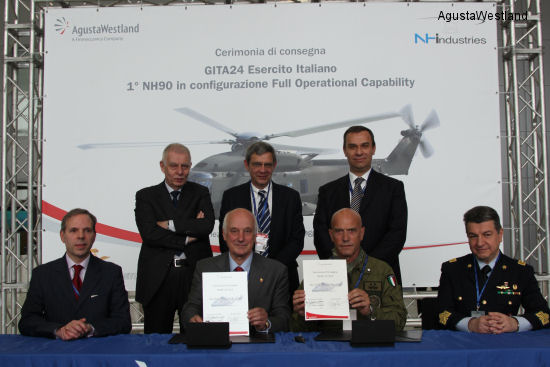 First Italian Army FOC NH90TTH delivered, 02-May-13 : AgustaWestland, a Finmeccanica company, is pleased to announce that the first NH90 TTH in FOC (Final Operational Capability) configuration for the Italian Army has been delivered today during an official ceremony held at AgustaWestland's Venice Tessera plant in the presence of Gen. Giangiacomo Calligaris, Commander of Italian Army Aviation, and Gen. Francesco Langella, ARMAEREO.
Italian Army Takes Delivery of its First NH90, 08-Jan-08 : Italy - AgustaWestland is pleased to announce that the Italian Army's Aviation Unit has taken delivery of its first NH90 multi-purpose helicopter late December, 2007. The Italian Army has ordered 60 NH90 TTH helicopters which will replace older models currently operated by the service in various utility roles. The new twin engine NH90s will give the Italian Army's Aviation Unit a dramatic improvement in operational capability and mission effectiveness.
C/N
Built
ID In this Organisation
In other Org


1002
2007
CSX81517: 1002/GITA01; Esercito E.I.200, at AgustaWestland

1007
MM81518: 1007/GITA02; Esercito E.I.201

1008
MM81519: 1008/GITA03; Esercito E.I.202; w/o 01jun08 crash into Lago d+

1010
MM81520: 1010/GITA04; Esercito E.I.203

1015
MM81521: 1015/GITA05. Esercito E.I.204 - d/d 2008 1 Gruppo

1025
MM81522: 1025/GITA06; Esercito E.I.205

1029
MM81523: 1029/GITA07; Esercito E.I.206

1034
MM81524: 1034/GITA08; Esercito E.I.207

1036
2010
MM81525: 1036/GITA09; Esercito E.I.208

1039
2010
MM81526: 1039/GITA10; Esercito E.I.209

1054
2010
MM81527: 1054/GITA11; Esercito E.I.210

1062
MM81528: 1062/GITA12; Esercito E.I.211

1066
MM81529: 1066/GITA13; Esercito E.I.212; CSX81529

1072
MM81530: 1072/GITA14; Esercito E.I.213

1078
MM81531: 1078/GITA15; Esercito E.I.214

1082
MM81532: 1082/GITA16; Esercito E.I.215

MM81533: 1103/GITA17, c/n 1103 conflict with ES888; Esercito E.I.216

1105
MM81534: 1105/GITA18; Esercito E.I.217

1108
MM81535: 1108/GITA19; Esercito E.I.218

1116
MM81536: 1116/GITA20; Esercito E.I.219

1128
2012
MM81537: 1128/GITA21; Esercito E.I.220

1131
MM81538: 1131/GITA22; Esercito E.I.221; 2007 noted at Donauwörth, Ge+

1134
2013
MM81539: 1134/GITA23; Esercito E.I.222; 02may13 pictured on d/d as +

1141
MM81540: 1141/GITA24, Esercito E.I.223

MM81541: 11??/GITA25, Esercito E.I.224

MM81542: 11??/GITA26, Esercito E.I.225

MM81543: 11??/GITA27, Esercito E.I.226

MM81544: 11??/GITA28, Esercito E.I.227

28 C/N found in this Organisation