Del'd: 48 - 2005 to present
The USAF Special Operations Command (USSOCOM) replaced the
MH-53 Pave Low
with the
CV-22B Osprey
variant which is equipped with extra fuel tanks, terrain-following radar and many advanced defensive electronic systems.
On November 2008, took place USAF first operational deployment when four CV-22B were
sent to Mali during Exercise Flintlock
. The Ospreys flew nonstop from their base at Hurlburt Field, Florida doing aerial refueling. 8th SOS (Special Operations Squadron) reached Initial Operational Capability on 16 March 2009.
In June 2009, 8th SOS flew humanitarian missions in Honduras and later that year performed a three-month deployment in Iraq.
On 9 April 2010, USAF CV-22B 06-0031 crashed near Qalat, Zabul Province, Afghanistan, killing four.
On 13 June 2012, 8th SOS CV-22B 06-0032 crash on the Eglin Range, north of Navarre, Florida during a routine training mission, the five crew members aboard were taken to local area hospitals. A combat loss replacement aircraft was ordered the same month.
On January 2013, further 3 new CV-22 were ordered following by another 7 in June.
On 21 December 2013, three CV-22 Ospreys while attempting to evacuate US citizens from the town of Bor, South Sudan were hit by small-arms fire by rebel forces forcing them to diverted to Entebbe, Uganda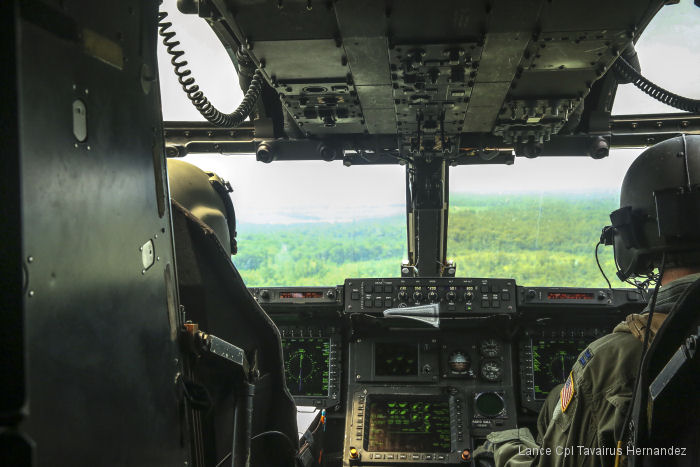 Osprey Training Squadron VMMT-204, 23-Jul-16 : The mission of Marine Medium Tiltrotor Training Squadron VMMT-204 is to do the initial assessment training on tiltrotor Osprey pilots for Marines and USAF MV and CV-22 aircraft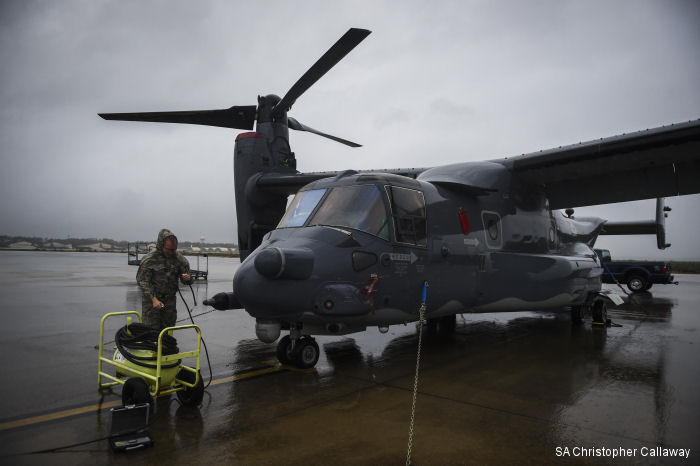 USAF 801st SOAMX is 2015 Maintenance Winner, 11-Dec-15 : Department of Defense named USAF 801st Special Operations Aircraft Maintenance Squadron (SOAMXS) the 2015 winner of the Phoenix Award for Maintenance Excellence
CV-22B Osprey Crew Received Highest Honors, 22-Oct-15 : USAF 20th Special Operations Squadron CV-22B Osprey crew received the Distinguished Flying Cross and Air Medal with Valor for their actions on Dec. 5, 2014.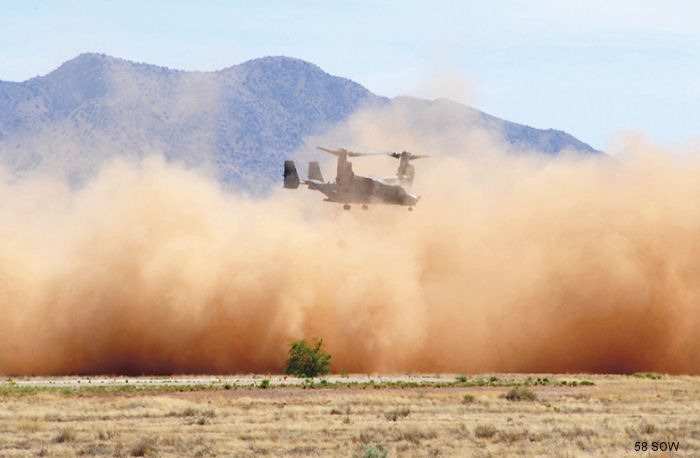 Binding Material to Save Osprey Engines, 02-Feb-15 : USAF 58th Special Operations Wing has a plan to mitigate aircraft engine damage that happens during training missions using a biodegradable binding material at practice landing zones.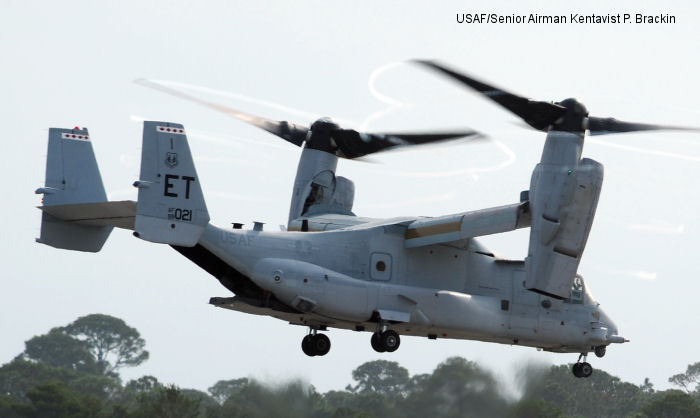 CV-22 Osprey to the USAF National Museum, 03-Dec-13 : DAYTON, Ohio National Museum of the U.S. Air Force by Sarah Swan - One of the U.S. Air Force's more unique aircraft is scheduled to arrive at the National Museum of the U.S. Air Force at 10 a.m. on Wednesday, Dec. 11.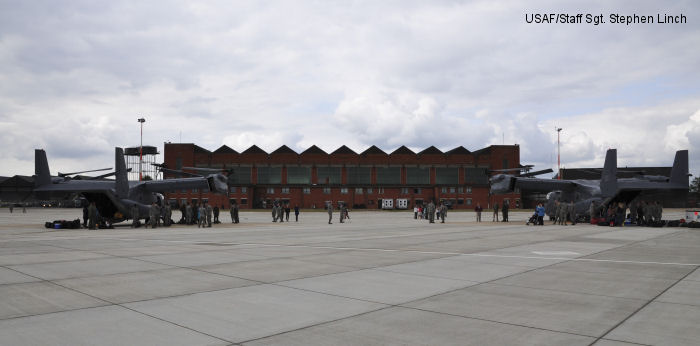 CV-22s arrived to RAF Mildenhall, 25-Jun-13 : RAF MILDENHALL, England by Tech. Sgt. Stacia Zachary 100th Air Refueling Wing Public Affairs - The 352nd Special Operations Group resurrected a key capability June 24, 2013, when two CV-22B Ospreys touched down here.
More News ...
C/N
Mod
Built
ID In this Organisation
In other Org


D0007
MV-22
1997
4939: CV-22 USAF CV-22, ex 164939
retired in 2008

164939: Bell-Boeing MV-22 c/n D0007, ff 05Feb97; accepted USN a+

D0009
MV-22
1997
4941: CV-22 USAF CV-22, ex 164941
retired in 2008

164941: Bell-Boeing MV-22 c/n D0009, ff 15Jul97; accepted USN a+

D0025
mv-22b
2001
99-0021: CV-22 USAF CV-22, ex 165839
May13 used as test platform
30jul13 CV-22 type pictured departing Navy Fort Worth in 412+
Additional Test Asset (ATA) used for test new software and h+
31oct13 retired and put on display at USAF National Museum, +
Dec13 preserved at USAF National Museum, Dayton, Ohio

165839: Bell-Boeing MV-22B c/n D0025, ff?; accepted USN as MV-2+

D1005
cv-22b
02-0024: USAF CV-22B d/d 71st SOS Edwards AFB
Jul06 71st SOS Kirtland AFB
15mar08 picture during Air Fiesta 08 at Mathis Field in San +
Sep13 asg 71st SOS

D1006
cv-22b
02-0025: Bell-Boeing CV-22B; made precautionary landing in Arizona on+
2011 71st SOS
29aug13 pictured at Fort Worth, Texas
16aug15 asg 71st SOS visit Lincoln, Nebraska

D1007
cv-22b
04-0026: USAF CV-22B d/d 01Mar06
Mar06 asg 71st SOS
16mar07 pictured (bot) with 40th HS crews during a visit to +
Sep13 still with 71st SOS

D1008
cv-22b
04-0027: USAF CV-22B; 8th SOS, Hulbert Field, FL
May06 71st SOS, Kirtland AFB; Sep13 still
26may06 picture taking part on movie Transformers. AS350B2 N+

D1009
cv-22b
05-0028: USAF CV-22B; 8th SOS, Hulbert Field, FL
27jun07 asg 8th SOS training with Navy SEAL at Lake Jackson +
Oct08 8th SOS visit Lajes
Oct11 71st SOS, Kirtland AFB; Dec13 still

D1010
cv-22b
05-0029: USAF CV-22B; 8th SOS, Hulbert Field, FL
Jan12 71st SOS, Kirtland AFB; Sep13 still

D1011
cv-22b
05-0030: Bell-Boeing CV-22B, c/n D1011, ff?; del USAF as CV-22B, 05-0+
USAF; oct08 8th SOS visit Lajes
Oct11 20th SOS

D1012
cv-22b
2007
06-0031: Bell-Boeing CV-22B, c/n D1012, ff?; del USAF as CV-22B, 06-0+
oct08 8th SOS visit Lajes

D1013
cv-22b
2006
06-0032: Bell-Boeing CV-22B, c/n D1013, ff?; del USAF as CV-22B, 06-0+
Oct08 8th SOS visit Lajes
w/o 13jun12. 8th SOS crash on the Eglin Range, north of Nava+

D1014
cv-22b
2007
07-0033: USAF; end Mar-Apr11 tdy Mildenhall 20th SOS
Oct12 8th SOS
01jul15 at RAF Mildenhall

D1015
cv-22b
2008
07-0034: USAF CV-22B 2008; 8th SOS, 1st SOW
01feb11 pictured with 8th SOS at Hurlburt Field, FL
May12 20th SOS
Dec13 71st SOS Kirtland AFB

D1016
cv-22b
08-0035: 26jan11 USAF CV-22B 0035 pictured with 8th SOS at Hurlburt F+

D1017
cv-22b
08-0036: May12 20th SOS

D1018
cv-22b
2008
08-0037: Bell-Boeing CV-22B, c/n D1018, ff?; ordered as 07-0037, but +
USAF; end Mar-Apr11 tdy Mildenhall 20th SOS

D1019
cv-22b
08-0038: Bell-Boeing CV-22B, c/n D1019, ff?; del USAF as CV-22B, 08-0+
USAF; end Mar-Apr11 tdy Mildenhall 20th SOS

D1020
cv-22b
08-0039: Bell-Boeing CV-22B, c/n D1020, ff?; del USAF as CV-22B, 08-0+
USAF; end Mar-Apr11 tdy Mildenhall 20th SOS

D1021
cv-22b
2010
08-0040: USAF CV-22B 0040; 26jan11 pictured with 8th SOS at Hurlburt +
May12 20th SOS

D1022
cv-22b
2010
09-0041: USAF; 2011 8th SOS; 2014 still

D1023
cv-22b
2011
09-0042: USAF; 23May11 8th SOS static display at the Andrews 2011 Ope+

D1024
cv-22b
2011
09-0043: USAF; 2013 8th SOS; 2014 still

D1025
cv-22b
2011
09-0044: USAF, 2011 20th SOS, 27th SOW; 2014 still

D1026
cv-22b
09-0045: USAF; 2012 8th SOS

D1027
cv-22b
2011
09-0046: USAF d/d Dec11; Jan13 20th SOS; 2014 7th SOS; Apr15 rtn to U+

D1028
cv-22b
2012
10-0052: USAF; 2013 20th SOS

D1029
cv-22b
2012
10-0053: USAF; 2013 8th SOS

D1030
cv-22b
2012
10-0054: USAF; 2012 8th SOS

D1031
cv-22b
2012
10-0055: USAF; 2012 8th SOS; 2014 still

D1032
cv-22b
10-0056: USAF; 2013 20th SOS, 27th SOW; 2015 still

D1033
cv-22b
08-0047: USAF; 2012 8th SOS; 2015 still

D1034
cv-22b
08-0048: USAF; 2012 20th SOS; 2015 still

D1035
cv-22b
2012
08-0049: USAF; 2014 20th SOS

D1036
cv-22b
11-0057: USAF; Jun13 7th SOS, 352 SOG; 24jun13 pictured (top) arrivin+
19jul15 7th SOS pictured (bot) at RIAT 2015

D1037
cv-22b
11-0058: USAF, Jun13 352 SOG ( 7th SOS? ); 24jun13 pictured (top) arr+
Jan14 at Pisa San Giusto, Italy
17dec14 pictured (bot) with 7th SOS at Newquay Airport, UK

D1038
cv-22b
2012
08-0050: USAF; 2015 7th SOS
19jul15 7th SOS pictured at RIAT 2015, UK

D1039
cv-22b
11-0059: USAF; Nov13 7th SOS

D1040
cv-22b
11-0060: USAF; Nov13 7th SOS
23jul14 pictured at RAF Mildenhall
30oct15 pictured (bot) with Portuguese High Altitude Paratro+

D1041
cv-22b
11-0061: USAF; Jan14 8th SOS
11apr16 7th SOS visit Spangdahlem
06may16 20:58 Cwmbran, South Wales

D1042
cv-22b
2012
08-0051: USAF, 2014 8th SOS

D1043
cv-22b
12-0062: USAF; 2015 7th SOS
19jul15 7th SOS pictured at RIAT 2015, UK

D1044
cv-22b
12-0063: USAF; 2015 7th SOS
Oct15 picture (pic1) with Italian special forces during Trid+
19feb16 asg 7th SOS pictured (pic2) in Norway for Cold Respo+
09jul16 asg 7SOS pictured (pic3) at RIAT 2016

D1045
cv-22b
12-0064: USAF; 2015 7th SOS

D1046
cv-22b
12-0065: USAF

D1047
cv-22b
12-0066: USAF; 2015 20th SOS

D1048
cv-22b
12-0067: USAF

D1049
cv-22b
13-0068: USAF from Apr15

48 C/N found in this Organisation