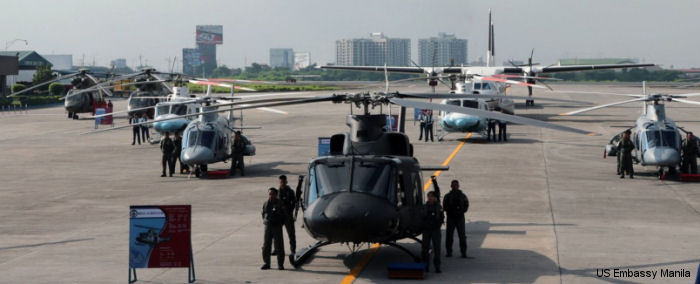 Formed 1 Jul 1947, from an earlier Army Air Corps.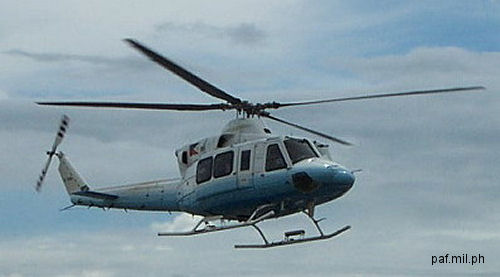 Eight Bell 412EP to the Philippine Air Force, 02-Apr-14 : FORT WORTH, TX – Bell Helicopter, a Textron Inc. company, announced it has signed a purchase agreement with the Canadian Commercial Corporation (CCC) for eight Bell 412EP helicopters.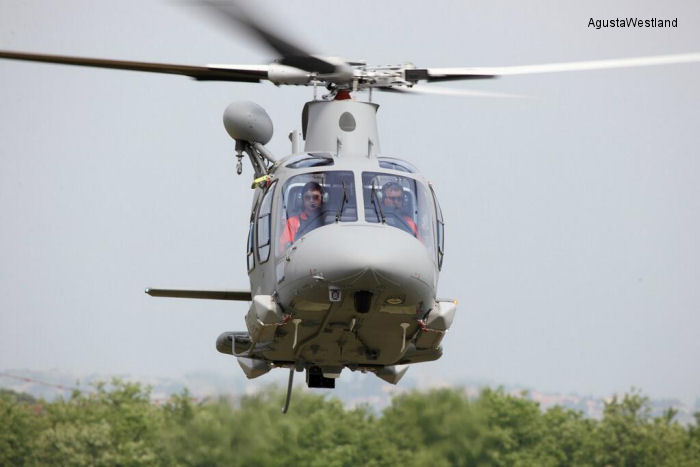 Philippines signs contract for 8 A109LUH, 06-Nov-13 : AgustaWestland, a Finmeccanica company, is pleased to announce that the Philippine Air Force has signed a contract for eight AW109 Power light twin helicopters.
Model
C/N
Built
ID
HUS-1 / UH-34D Seahorse
1769
153131 : Sikorsky UH-34D ordered by USN under MDAP as 153131; to Philippin ...

HUS-1 / UH-34D Seahorse
1776
153132 : Sikorsky UH-34D ordered by USN under MDAP as 153132; to Philippin ...

UH-1D
8166
166 : Apr15 as PAF 166

212
30537
1972
30537 : Philippines, test serial N7035J

W-3A
310919
310919 : PHH

W-3A
310920
310920 : PHH

W-3A
310921
310921 : PHH
: w/o 07aug14 crashed at Marawi City shortly after takeoff due to a ...

W-3A
310922
310922 : PHH

W-3A
310923
310923 : del Nov 2012 to PAF.

W-3A
310924
310924 : del Nov 2012 to PAF.

W-3A
310925
310925 : PHH

W-3A
310926
310926 : PLL

206A
403
403 : Bell 206A, cn403, ff:?; del Philippine Air Force as 403, [ntu]

UH-1H Iroquois
494 : Philippine Air Force; w/o 15jun15 Barangay L. Empon, Las Navas to ...

UH-1D
8502
502 : Customer Serial 7011340, Philippine Air Force by Apr15. Retained ...

UH-1H Iroquois
518 : Philippine Air Force; w/o 04feb15 Camp Evangelista in Barangay Pa ...

S-62J
M62-007
1964
62007 : Mitsubishi S-62J, c/n M62-007, ff?; del Philippine Air Force as 6 ...

S-62J
M62-018
1967
62018 : Mitsubishi S-62J, c/n M62-018, ff?; del in VIP configuration to P ...

412EP
36685
2014
6685 : Philippine Air Force

412EP
36687
2014
6687 : Philippine Air Force

412EP
36689
2014
6689 : Philippine Air Force

412EP
36691
2014
6691 : Philippine Air Force

412EP
36693
2015
6693 : Philippine Air Force

412EP
36695
2015
6695 : Philippine Air Force

412EP
36697
2015
6697 : Philippine Air Force, to be confirmed

412EP
36699
2015
6699 : Philippine Air Force, to be confirmed

AW109E Power
11815
815 : test serial CSX81862

AW109E Power
11816
816 : test serial CSX81863

AW109E Power
11819
819 : test serial CSX81879

AW109E Power
11822
822 : test serial CSX81884

S-62A
62-038
1963
? : Sikorsky S-62A c/n 62-038, ff?; del Mitsubishi 1963; reportedly s ...

UH-1D
8469
? : Philippines, 2014

H-19A Chickasaw
55-154
1952
? : ex 51-3883

H-19A Chickasaw
55-155
1952
? : ex 51-3884

H-19A Chickasaw
55-134
1952
? : ex 51-3872

H-19A Chickasaw
55-083
1952
? : ex 51-3850

UH-1D
8469
? : Customer Serial 7011307, Rice Aircraft Services Inc to Philippine ...

UH-1D
8413
? : Customer Serial 6911129, Rice Aircraft Services Inc to Philippine ...

UH-1D
8308
? : Philippine Air Force from 2015, refurbished.

UH-1D
8364
? : Philippine Air Force, refurbished and upgraded to Super Delta st ...

UH-1D
8230
? : Philippine Air Force, refurbished and upgraded to Super Delta sta ...

UH-1D
8189
? : Philippine Air Force; 17apr15 with Rice Aircraft Services Inc st ...

UH-1D
8478
? : Philippine Air Force, refurbished and upgraded to Super Delta sta ...

UH-1D
8166
? : Philippine Air Force from 2015, retained as standard UH-1D

UH-1D
8392
? : Philippine Air Force, In service as of Apr15

UH-1D
8400
? : Philippine Air Force; 17Apr15 with Rice Aircraft Services Inc at ...

UH-1D
8306
? : Customer Serial 6811032, Rice Aircraft Services Inc to Philippine ...

UH-1D
8330
? : Philippine Air Force; 17apr15 with Rice Aircraft Services Inc st ...

UH-1D
8438
? : Philippine Air Force; 17apr15 with Rice Aircraft Services Inc st ...

UH-1D
8315
? : Philippine Air Force; 17apr15 with Rice Aircraft Services Inc st ...

UH-1D
8209
? : Philippine Air Force; 17apr15 with Rice Aircraft Services Inc st ...

UH-1D
8117
? : Philippine Air Force; 17apr15 with Rice Aircraft Services Inc st ...

UH-1D
8106
? : Philippine Air Force; 17apr15 with Rice Aircraft Services Inc st ...

UH-1D
8396
? : Philippine Air Force; 17apr15 with Rice Aircraft Services Inc st ...

UH-1D
8196
? : Philippine Air Force; 17apr15 with Rice Aircraft Services Inc st ...

UH-1D
8319
? : Philippine Air Force; 17apr15 with Rice Aircraft Services Inc st ...

UH-1H Iroquois
10784
? : Philippines, ex 68-16125

412EP
36141
RP-1896 : 252nd PHS from Nov96, test serial N1159B

412EP
36138
RP-1898 : 252nd PHS from Nov96, test serial N34962

412EP
36136
RP-1946 : 252nd PHS from Nov96, test serial N34948; w/o 08apr09

412EP
36127
RP-1986 : 252nd PHS from Nov96, test serial N20573

412HP
36079
RP-1998 : 252nd PHS from Jun94, test serial N52972

412HP
36080
RP-2000 : 252nd PHS from Jun04, test serial N52973
: 25jan15 250th PAW, Colonel Jesus Villamor Air Base, Pasay city, P ...

212
30788
RP-C1788 : 30788 reser RP-C1788, wfu, crash?

SA330L Puma
1562
RP-C752 : Philippine Air Force

SA330L Puma
1570
RP-C753 : Philippine Air Force; to N42830

412EP
36139
RP-C8800 : 252nd PHS from Sep96, test serial N34972


65 Construction Numbers in this organisation found