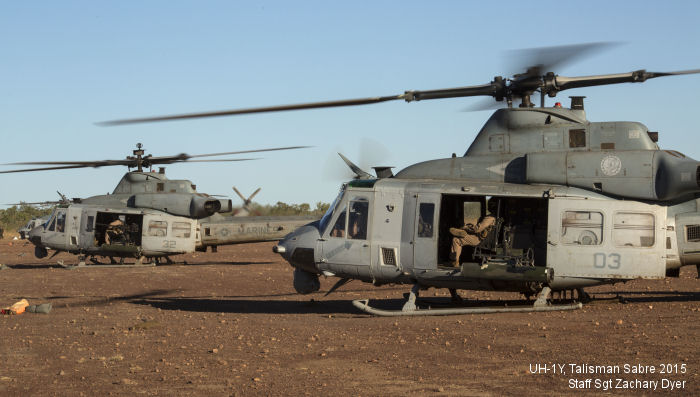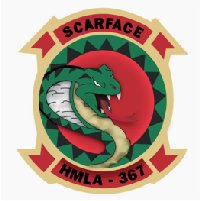 Scarface
, tail code
VT
,
Formed from
VMO-3
in March 1968 as HML-367. On December 1969 received the AH-1G Cobra and is redesignated as HMLA-367.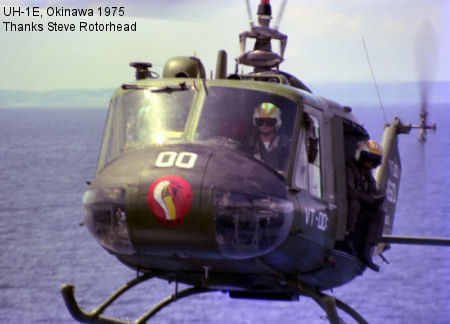 News about this Rotary Wing Unit :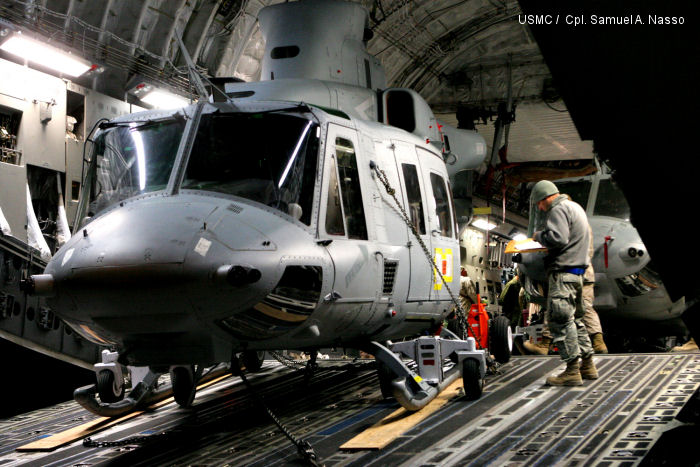 UH-1Y from HMLA-367 first combat deployment, 13-Nov-09 : CAMP BASTION, Helmand province, Islamic Republic of Afghanistan by Lance Cpl. Samuel A. Nasso, Marine Aircraft Group 40 - The sound of four blade rotors echoes across the Helmand sky, as the UH-1Y Huey helicopter made its first combat deployment with Marine Light Attack Helicopter Squadron 367 "Scarface".
Construction Numbers for HMLA-367 / HML-367
Help Us
C/N
Version
Built
In this Org
In other Org
6104
UH-1E
152438 : HML-367 (VMO-3) w/o 10oct69

6109
UH-1E
153743 : HML-367 w/o 06jun68

6115
UH-1E
153749 : HML-367 w/o 30mar68

6116
UH-1E
153750 : HML-367 w/o 28mar69

6121
UH-1E
153755 : HML-367 w/o 03may69

6136
UH-1E
154752 : USMC; 1967 VMO-5; w/o 20nov68 ( with HML-367 ? )

6140
UH-1E
154756 : HML-367 w/o 17jun69

6146
UH-1E
154762 : HML-367 w/o 15jan69

6149
UH-1E
154765 : HML-367 w/o 02dec69

6150
UH-1E
154766 : HML-367 w/o 27nov68

6176
UH-1E
154954 : HML-367 w/o 30mar68

6177
UH-1E
154955 : HML-367 w/o 22aug68

6185
UH-1E
154963 : HML-367 w/o 17sep68

6188
UH-1E
154966 : HML-367 w/o 16aug68

6192
UH-1E
155337 : HML-367 w/o 12may69

6193
UH-1E
155338 : HML-367 w/o 27jan69

6194
UH-1E
155339 : HML-367 w/o 09aug69

6195
UH-1E
155340 : USMC; 1975 pictured as HML-367 /VT-16 at Okinawa

20606
ah-1g
157210 : Army AH-1G BuNo 68-15072; to USMC; HML-367 w/o 18feb70

20607
ah-1g
157211 : Army AH-1G BuNo 68-15073; to USMC; HML-367 w/o 14dec70

20724
ah-1g
157223 : Army AH-1G BuNo 68-15190; to USMC; HML-367 w/o 11mar70

20732
ah-1g
157225 : Army AH-1G BuNo 68-15198; to USMC; HML-367 w/o 26feb70

20747
ah-1g
157227 : Army AH-1G BuNo 68-15213; to USMC; HML-367 w/o 25mar70

20755
ah-1g
157229 : Army AH-1G BuNo 68-17027; to USMC; HML-367 w/o 06mar70

68-17027 : US Army toward 157229

ah-1g
157231 : Army AH-1G BuNo 68-17045; to USMC; HML-367 w/o 25mar70

31403
UH-1N
158232 : USMC; HMLA-367 /VT-00

31612
UH-1N
158271 : USMC; 14jul77 to MASDC-7H058; HMLA-367 /VT-743; 21aug12 to AMARC

31644
UH-1N
158559 : Aug09 HMLA-367 VT-02

N559WC : State Dept Aug11-Apr16; canc

31649
UH-1N
158773 : HMLA-367

31663
UH-1N
159187 : HMLA-367 VT-10

31674
UH-1N
159198 : USMC; HMLA-367 /VT; preserved at Flying Leatherneck Aviation Museum (MCAS +

31686
UH-1N
159680 : HMLA-367 w/o 22oct03 at Twentynine Palms California

31689
UH-1N
159682 : HMM-262 HMLA-367 ET-40. w/o 23jul98 USS Belleau Wood (LHA-3). c/n not conf+

31695
UH-1N
159685 : HMLA-367 VT-04. c/n not confirmed

31699
UH-1N
159689 : USMC; 1997 HMLA-367./VT-37
: 09-14jul98 HMLA-367./YQ-37 embarked USS Tarawa LHA-1.

31701
UH-1N
159691 : HML-367 VT. w/o 12jul77. c/n not confirmed

31703
UH-1N
159693 : HMLA-367 VT. c/n not confirmed

31704
UH-1N
159694 : 1976 pictured brand new no stab bar original paint scheme with HMLA-367 at+

31706
UH-1N
159696 : HMLA-367 VT-06. c/n not confirmed

UH-1N
159703 : USMC; HML-367 /VT w/o 03feb81

31719
UH-1N
160169 : USMC; 1997 HMLA-367 /VT-31
: Flew this aircraft many times during my 9 years in Scarface (HMLA-367, 3 t+

31725
UH-1N
160175 : 09-14jul98 HMLA-367./YQ-36 embarked USS Tarawa LHA-1.

31735
UH-1N
160443 : USMC; 12dic07 pictured at MCAS Yuma, Arizona as HMLA-367/VT-07

N7271N : CBP reg Jul14

31758
UH-1N
160623 : USMC; HMLA-367 w/o 27jul90 out of Yuma, AZ on NVG training flight. Two of +

26943
ah-1t
160745 : USMC; conv AH-1W c/n 29140; 1997 as VT-13/HMLA-367

26935
ah-1t
160809 : USMC; conv AH-1W c/n 29121; 1997 VT-10/HMLA-367

26204
ah-1w
162535 : USMC; HMLA-367 w/o 23jan04

65-551
ch-53e
163061 : 12mar14 pictured as HMH-463 /YH-05 supporting HMLA-367 exercise Spartan Fu+

26267
ah-1w
163942 : USMC; Oct95 AH-1W type HMLA-367./VT-303

26280
ah-1w
164572 : USMC; conv c/n 29114; 1997 HMLA-367 /VT-11

26287
ah-1w
164588 : apr12 HMLA-367./VT-26

26306
ah-1w
165044 : USMC; 1997 HMLA-367./VT-16
: 09-14jul98 HMLA-367./YQ-42 embarked USS Tarawa LHA-1.

26324
ah-1w
165276 : apr12 HMLA-367./VT-21

26325
ah-1w
165277 : 09-14jul98 HMLA-367./YQ-43 embarked USS Tarawa LHA-1.

26328
ah-1w
165280 : 09-14jul98 HMLA-367./YQ-44 embarked USS Tarawa LHA-1.

26347
ah-1w
165323 : Jul98 HMLA-367./YQ-45 aboard USS Tarawa (LHA-6)

26367
ah-1w
165367 : Sep15 as HMLA-367 /VT-09

ah-1w
165394 : apr12 HMLA-367./VT-27

ah-1w
165448 : apr12 HMLA-367./VT-24

UH-1Y
166769 : USMC; HMLA-367 /VT-03

ah-1z
166774 : Mar12 HMLA-367 /VT-40

55101
UH-1Y
167793 : Mar09 as HMLA-367 /VT-00 pictured (pic2) at Camp Pendleton

55102
UH-1Y
167794 : USMC; 2009 HMLA-367 /VT-07

55110
UH-1Y
167802 : USMC; Jul10 at Farnborough airshow, UK; 03oct10 pictured (top) as HMLA-367+
: 12oct11 pictured (bot) still as HMLA-367 /VT-09 at MCAS Yuma, Arizona

UH-1Y
167804 : USMC; Jul11 HMLA-367 /VT-00

UH-1Y
167806 : Sep12 as HMLA-367 /VT-00; Oct13 still

ah-1z
167809 : USMC;04oct10 pictured (top) as HMLA-367 /VT- part of 11 MEU on USS Makin I+

ah-1z
167810 : USMC; 2011 HMLA-367 /VT-42

UH-1Y
167992 : Jan14 HMLA-367 /VT-06

UH-1Y
168036 : USMC; 2012 HMLA-367 /VT-01 May15 still

UH-1Y
168044 : Jun13 HMLA-367 /VT-04; 2015 still

UH-1Y
168045 : Feb15 HMLA-367 /VT-05

ah-1z
168401 : USMC; 2012 HMLA-367 /VT-47

UH-1Y
168402 : USMC; 2012 HMLA-367 /VT-06

UH-1Y
168407 : USMC; apr12 HMLA-367./VT-01

UH-1Y
168408 : USMC; apr12 HMLA-367./VT-02

UH-1Y
168410 : Sep12 HMLA-367 /VT-03; 2014 still

77 serials found for HMLA-367 / HML-367