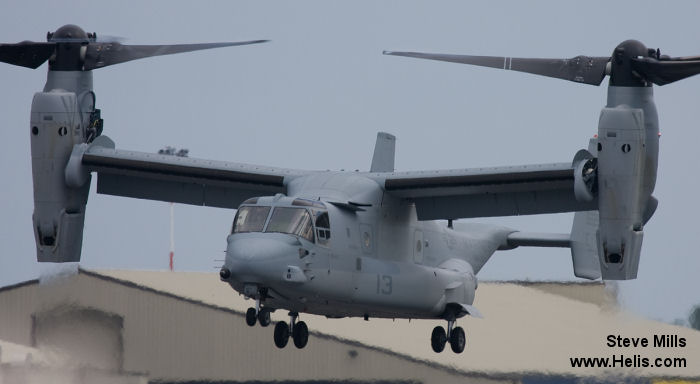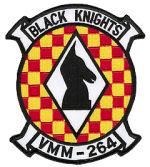 Created from
HMM-264
,
Black Knights
, tail code
EH
, were the last East Coast squadron to transition from the H-46 to the MV-22 Osprey.
VMM-264 was deployed to Afghanistan in 2011 operating out of Camp Bastion in Helmand Province.
News about this Rotary Wing Unit :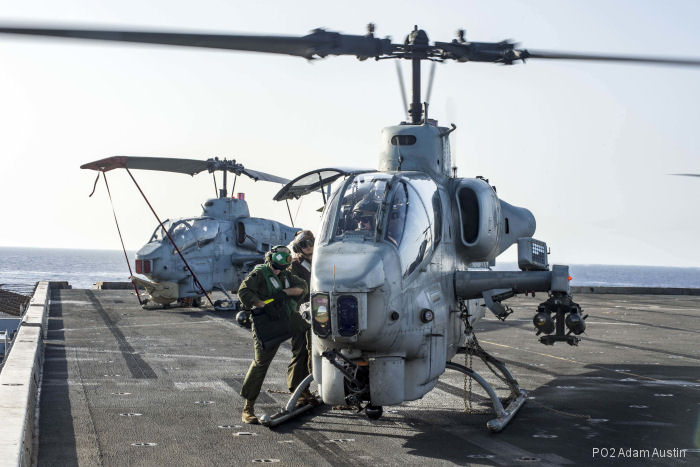 Operation Odyssey Lightning, 03-Nov-16 : USMC AH-1W Super Cobra of the Wasp Amphibious Ready Group (ARG) 22nd Marine Expeditionary Unit (MEU) conducted precision air strikes against ISIS in Sirte, Libya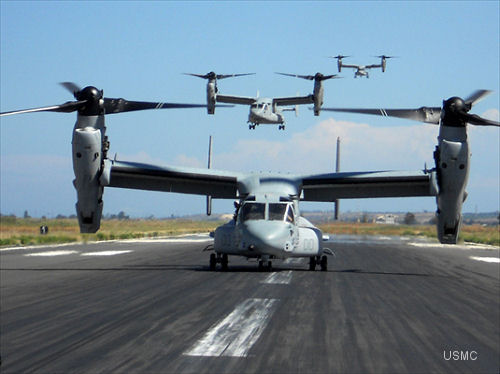 V-22 Osprey Fleet Surpasses 100,000 Flight Hours, 02-Mar-11 : PATUXENT RIVER, Md. - Bell Helicopter, a Textron Inc. company and The Boeing Company today applauded the Naval Air Systems Command (NAVAIR) V-22 Joint Program Office (PMA-275) announcement that the Bell Boeing-built V-22 Osprey fleet has surpassed 100,000 flight hours. The milestone arrived on Feb. 10 during a U.S. Marine Corps MV-22 Osprey combat mission in Afghanistan. Marine Medium Tiltrotor Squadron 264, currently operating out of Camp Bastion in Helmand Province, was identified as the squadron that eclipsed the 100,000-hour mark.
Construction Numbers for VMM-264
Help Us
C/N
Version
Built
In this Org
In other Org
D0044
mv-22b
165943 : USMC; 2011 VMM-264./EH-12
: apr12 VMM-264./EH-12

D0047
mv-22b
165946 : Sep15 VMM-264./EH-05

D0083
mv-22b
166689 : 08Jul12 pictured as VMM-264 /EH-03 at static on RIAT air show, UK

D0090
mv-22b
2007
166721 : Nov14 pictured as VMM-264 /EH-11 asg SPMAGTF-CR-AF for Egida 14 exercise i+

D0101
mv-22b
2007
166736 : 2011 VMM-264./EH-00

D0108
mv-22b
2008
166743 : 17apr14 pictured as VMM-264 /EH-13 during WTI 2-14 at MCAS Yuma, AZ

D0110
mv-22b
2008
166745 : Sep15 VMM-264./EH-09

D0120
mv-22b
167909 : Nov14 pictured (pic2) as VMM-264 /EH-12 asg SPMAGTF-CR-AF for Egida 14 exe+

D0123
mv-22b
167912 : Bell-Boeing MV-22B, c/n D0123, ff?; del USMC as MV-22B, 167912, unk; xfer +

D0130
mv-22b
2010
167919 : 16apr14 pictured as VMM-264 /EH-11 at MCAS Yuma, AZ

D0175
mv-22b
168225 : USMC; 08jul12 pictured (top) as VMM-264 /EH-13 at RIAT airshow, UK
: 12oct12 pictured (middle and bot) as VMM-264 /EH-13 at Yuma, AZ

D0176
mv-22b
168226 : USMC; 08jul12 pictured as VMM-264 /EH-14 at RIAT airshow, UK

D0217
mv-22b
168300 : USMC, VMM-264 /EH-00 Mar14

D0226
mv-22b
2014
168323 : USMC; May14 VMM-264 /EH-14

D0236
mv-22b
168333 : Oct14 VMM-264 /EH-07

D0260
mv-22b
168605 : USMC; 2015 VMM-264 /EH-14

D0262
mv-22b
168607 : USMC; 2015 VMM-264 /EH-13

D0264
mv-22b
168609 : USMC; 2015 VMM-264 /EH-15

18 serials found for VMM-264