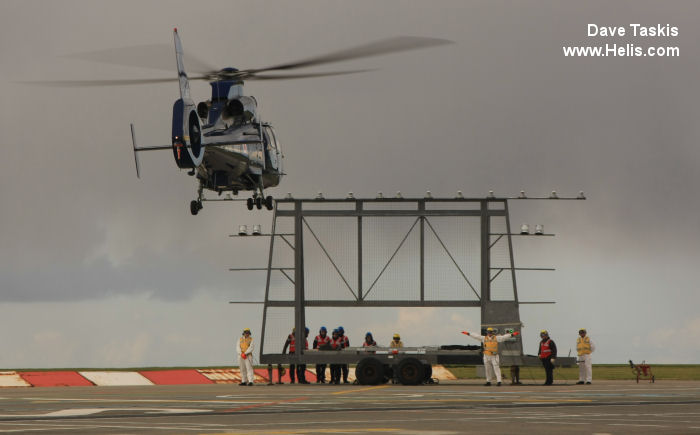 Renamed from the
School of Aircraft Handling
in Nov 1995, at RNAS Culdrose (A Site). SFDO trains aircraft handlers to move helicopters around the restrictive environment of a flight deck - both large and small.
The unit has dummy decks laid out on the ground as well as a
portable
Small Ships hangar frame with lighting. It has an impressive collection of expired and instructional airframes and also has a number of Sea Harriers in taxi-able condition (and can thus be marshalled), although they are prohibited from flying.



List of Aircraft for SFDO
C/N
Version
Built
In this Org
In other Org
wa 9
has.1
1959
XM328 : As HAS.3, 737 Sq/522-PO by Jul 1968 still Jul 1971; 737 Sq Norfolk Flt/4+

XM328 : Westlands Oct59 before first flight; A&AEE Sep61; Westland as HAS.3 develo+
- XM328 : acquired in 2004 by the Helicopter Museum, Weston-super-Mare
: Nov16 completed 7-year restoration at The Helicopter Museum
: 03Dec16 pictured at International Helicopter Museum, after restoration

wa289
has7
1960
XN309 : To GI A2663 at SAH Culdrose by Oct 1977.

wa 68
has.1
1962
XP117 : 25jul79 at SFDO Culdrose coded 521-CU

wa 70
has.1
1962
XP137 : 737 Sq Antrim Flt/406-AN Aug 1970 still May 1971; 737 Sq Norfolk Flt by Se+

wa 88
has.1
1962
XP155 : 25jul79 at SFDO coded SAH 21

wa256
has.1
1965
XS876 : d/d 23 Dec 1965 to Culdrose. 814Sq by Feb 1966, 826Sq/340-H by May 1966, d+

- XS876 : The last picture i saw of this helicopter it had been sold and the after f+

wa265
has.1
1966
XS885 : Westland HAS.1, c/n WA265, f/f: ?; del Royal Navy as XS885, 05/04/1966; to+
: 25jul79 still SFDO coded 512-PO

- XS885 : Mar17 offered for sale on eBay
: Apr17 is a prop on a combat laser game site on a small industrial complex +

wa266
has.1
1966
XS886 : Westland HAS.1, c/n WA265, f/f: ?; del Royal Navy as XS885, 05/04/1966; to+

wa290
hu.5
1965
XT468 : 772Sq/628-PO by 1987; RNAY Wroughton, to AES Lee-on-Solent as A2757 25 Jun+

XT468 : 847 Sqn Mar/Apr69 as /H

61-394
s-61d-1
1966
XV371 : 08apr08 pictured at SFDO Culdrose. SH-3D pattern aircraft used by Westland+
: 2010 i/a for SFDO /DD-261 at Culdrose

XV371 : Built as Sikorsky Sea King HAS.1 used as trials airframe.
- XV371 : xfer to Predannack Airfield as rescue training airframe by Jun17

wa 642
has.1
1969
XV654 : Conv to HAS.5; 706Sq/588 by 1986; 820Sq/018-R by 1988 still May 1990; to A+

XV654 : MoD; 08jun91 type:HAS.6 NARO./R-018 ex 820Sqn.

wa 645
has.1
1969
XV657 : RN; 1985 type:HAS.6 706Sqn./CU-89; 2010 i/a SFDO./DD-132 at EGDR
: Conv to HAS.5. RNAY Fleetlands by 1987, /132 Westland by 1988, 824Sq/255 b+

3/13
has.2
1973
XX510 : at HMS Sultan by Jun 1999; to SFDO /69-LS on 14 Jul 1999
: pre-production serie; conv HAS.2(mod) type; to A2683; 20jul11 pictured as +

080
has.2
1978
XZ248 : 16Jul10 noted RNAS Yeovilton coded -/666 with no tail boom and false HMA8 +
: 28Jul16 SFDO pictured (pic4) at RNAS Culdrose outside D1 for Air Day 2016,+

50001
eh101
1987
ZF641 : RN HM1; 2010 pictured (pic2) i/a as SFDO /641 at Culdrose

PP1 : First british development aircraft first flight 9 Oct 1987 held military s+
: During at least 1990, based at Agusta facility near Milan for more trials,+
ZF641 : Flight deck manoeuvring trials aboard Type 23 frigate HMS Grafton during F+
: at DTEO Boscombe Down for moving platform trials

6372
sa365n2
1990
ZJ165 : 08apr08 picture at SFDO Culdrose

G-NTOO : Bond Helicopters Oct90-Nov96, to ZJ165; Bond again 22dec99, back to ZJ165
G-NTOO : Veritair 26May00, rtn to ZJ165; Veritair Jul/Aug 2001, rtn to ZJ165; Verit+