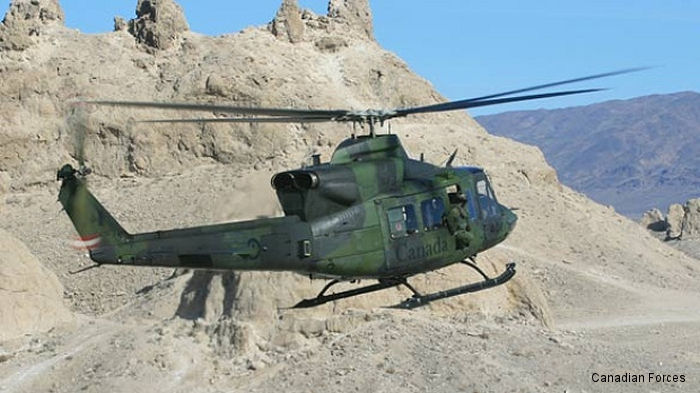 On July 30, 2011 Canadian Helicopter Force Afghanistan s (CHFA) operations ended. Figures:
First flight: 28dec08;
Last flight: 30jul11
Total passengers flown: 90.723
Total cargo flown: 3. 219 tn
Total hours flown: 7.084,5

News about this Rotary Wing Unit :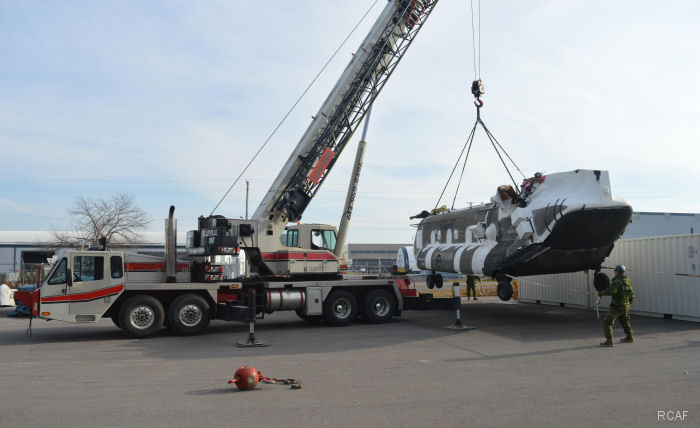 Canadian CH-147D Chinooks to Museums, 06-Dec-16 : The two remaining RCAF CH-147 D-model Chinook in Canadian inventory have been delivered to museums in Trenton and Petawawa, Ontario. Other two were sold and two were lost in Afghanistan.
Canadian CH-146 Griffons arrive in Afghanistan, 22-Dec-08 : KABUL, Afghanistan by ISAF - Six Canadian Griffon helicopters landed at the Kandahar Air Field via C-17 Globemaster III aircraft, Dec. 20. The Griffons are the first Canadian helicopters to arrive at the Canadian Air Wing in Afghanistan.
Years
Location
ICAO/FAA
2008/11
Kandahar
OAKN




Construction Numbers for Afghanistan
Help Us
C/N
Version
Built
In this Org
In other Org
46401
ch-146
146401 : CAF; ex C-FUTT; 30jan08 pictured with 408 Sqn in Ft Bliss, Texas USA durin+
: Dec08 deployed from Mirabel, Quebec to Afghanistan on C-17 (CC-177)

46414
ch-146
146414 : CAF; Dec08 deployed from Mirabel, Quebec to Afghanistan on C-17 (CC-177)

46434
ch-146
146434 : Dec08 deployed from Mirabel, Quebec to Afghanistan on C-17 (CC-177)
: w/o 06jul09 collision with barrier, near Kandahar Air Field, Afghanistan.+

46438
ch-146
146438 : CAF; Dec08 deployed from Mirabel, Quebec to Afghanistan on C-17 (CC-177);

46465
ch-146
146465 : CAF; Dec08 deployed from Mirabel, Quebec to Afghanistan on C-17 (CC-177)

46478
ch-146
146478 : 15feb09 pictured at Kandahar, Afghanistan

M.3284
ch-47d
147201 : ex BuNo 89-00130. CAF d/d 2009 in Afghanistan; Oct11 to AMARG

89-00130 : US Army cnvt. from ex CH-47C 68-16017; 2009 to Canada as 147201
: US Army; 1997 7-101 AVN

M.3085
ch-47d
147202 : ex BuNo 84-24181. CAF d/d 2009 in Afghanistan; w/o 05aug10 brought down by+

84-24181 : US Army cnvt. from ex CH-47C 67-18550; 2009 to Canada as 147202
: 1990 we had a class b accident in Saudi Arabia during Desert Shield. aircr+

M.3205
ch-47d
1963
147203 : ex BuNo 87-00086. CAF d/d 2009 in Afghanistan; Oct11 to AMARG

87-00086 : US Army cnvt. from ex CH-47A 62-02133.; 1994 5-159AVN; 1995 5-159AVN; end +
: March 2004 - March 2005: Deployed from Hawaii to Afghanistan for OEF V
: scrapped serviceable components removed for F model program Middletown Del+
: Aug14 in Middletown Delaware USA along with 147204 being utilized as maint+

M.3058
ch-47d
147204 : ex BuNo 84-24154. CAF d/d 2009 in Afghanistan; Oct11 to AMARG

84-24154 : US Army cnvt. from ex CH-47A 64-13140; 2009 to Canada as 147204
: Aug14 in Middletown Delaware USA along with 147203 being utilized as maint+

M.3155
ch-47d
147205 : ex BuNo 86-01650. CAF d/d 2009 in Afghanistan; w/o 15may11 during landing +

86-01650 : US Army cnvt. from ex CH-47A 66-00103; 2009 to Canada as 147205

M.3156
ch-47d
147206 : ex BuNo 86-01651. CAF d/d 2009 in Afghanistan; Oct11 to AMARG

86-01651 : US Army cnvt. from ex CH-47A 65-08015; 2009 to Canada as 147206

CH-178
178404 : CAF Mi-17V-5 May10-Aug11, Afghanistan

CH-178
178405 : CAF Mi-17V-5 May10-Aug11, Afghanistan

CH-178
178406 : CAF Mi-17V-5 Jun10-Aug11, Afghanistan

CH-178
178407 : CAF Mi-17V-5 Jun10-Aug11, Afghanistan

16 serials found for Afghanistan



Dates
Operation
20-dec-01
ISAF