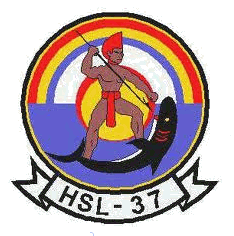 Easy Riders
, tail code
TH
established at NAS Barbers Point, Hawaii on July 3 1975 flying the SH-2F Seasprite LAMPS I. The squadron changed to the SH-60B Seahawk LAMPS III in 1992. As of 2011 is Navys oldest operational LAMPS squadron.
LAMPS ( Light Airborne Multi-Purpose System ) squadrons provides helicopters to be embarked on surface ships escorts as frigates, destroyers and cruisers.
The squadron celebrated 93,000 Class-A mishap-free flight hours in 2011
On September 2013 they received their first 4
MH-60R Seahawk
s.
Redesignated
HSM-37
January 2014
Since Oct 2006, the unit has operated the Virtual Flight Deck Training System to make deck direction training more realistic.

---
My name is Clemente Delgado. I was on the very first SH-60 Det in 1991-1992 ... the det hogs.

News about this Rotary Wing Unit :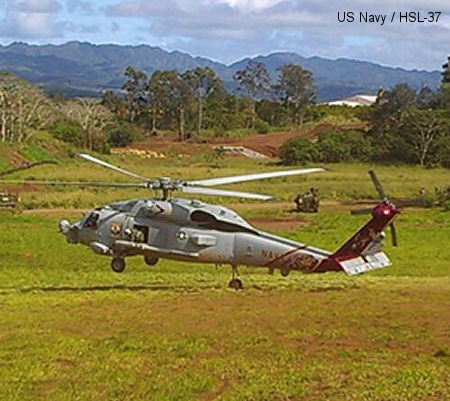 HSL-37 surpasses 100,000 flight hours, 08-May-13 : MARINE CORPS BASE HAWAII By Lt. j.g. David Indiveri - Helicopter Anti-Submarine Squadron Light 37 successfully surpassed 100,000 SH-60B flight hours Monday, March 26, 2013; a remarkable milestone for the Navy's only helicopter squadron based in Hawaii.
Construction Numbers for HSL-37
Help Us
C/N
Version
Built
In this Org
In other Org
68
UH-2A
149766 : Kaman K-20 Seasprite, c/n 68, ff?; del USN as UH2K-1, 149766 unk; redesig +

81
UH-2A
149779 : Kaman K-20 Seasprite, c/n 81, ff?; del USN as UH2K-1, 149779 unk; redesig +

93
UH-2B
150143 : Kaman K-20 Seasprite, c/n 93, ff?; del USN as HU2K-1U 150143 unk; redesig +

100
UH-2B
150150 : Kaman K-20 Seasprite c/n 100, ff?; del USN as UH-2B 150150 unk; redesig UH+
: Mar/Jul 1985 as HSL-37 Det.10 /TH-54 onboard USS Hepburn (FE-1055)

107
UH-2B
150157 : Kaman K-20 Seasprite, c/n 107, ff?; del USN as HU2K-1U 150157 unk; redesig+

151
UH-2B
151314 : 1984/85 SH-2F type, I cruised with this as HSL-37 Det.8

2285
CH-46D
1967
153387 : I was HSL-37 Det.7 pilot attached to USS Davidson

153387 : USN CH-46D BWR FR Morton, PA as CH-46D 153387 01May67; xfer HMM-365 20May6+

193
SH-2F
161643 : 1989 west-pac HSL-37 onboard USS Holt (FF-1074)

204
SH-2F
161654 : 1985/86 I cruised with this as HSL-37 Det.7

219
SH-2F
161908 : 1987 West-Pac as HSL-37 Det.10 /TH-61 onboard USS Ouellet (FE-1077)

70-408
sh-60b
162118 : US Navy.; oct2007 HSL-37/TH-57

70-426
sh-60b
162134 : US Navy.; oct2007 HSL-37/TH-61

233
SH-2F
162582 : 1987 pictured as SH-2F type HSL-37 /TH-53 on USS Long Beach (CGN-9)

3058 : conv SH-2G unk; FMS xfer to Egyptian Navy as 3058.

247
SH-2G
163211 : 3rd new built SH-2G. HSL-37. w/o 15mar93

70-600
sh-60b
163241 : US Navy.; oct2007 HSL-37/TH-54

70-1711
sh-60b
164178 : 2010 USN pictured as TZ-57/HSL-45; 2011 TH-51/HSL-37

70-1795
sh-60b
164464 : Jul13 HSL-37./TH-55 seen at Rockhampton

70-2231
sh-60b
164810 : US Navy.; oct2007 HSL-37/TH-62
: March 2010 pictured as HSL-37/TH-62 with US Nimitz on Philippine Sea

70-2234
sh-60b
164813 : US Navy.; oct2007 HSL-37/TH-63

70-2237
sh-60b
164816 : USN; 2011 TH-64/HSL-37

70-1930
sh-60b
164847 : US Navy.; oct2007 HSL-37/TH-53

70-1937
sh-60b
164854 : US Navy; oct07 HSL-37 /TH-66

22 serials found for HSL-37