Rescue Hoist
Formed as a Royal Navy unit in July 1940 and eventually disbanded on return from the Far East in Dec 1945.
Reformed as a Royal Australian Navy unit on 25 Apr 1950, disbanding again at Nowra on 1 Dec 1958.

News about this Rotary Wing Unit :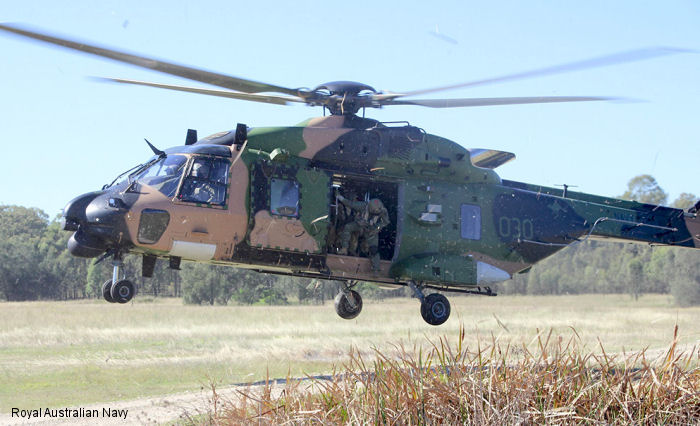 Australian Army Training with Navy MRH90, 05-Jun-15 : Royal Australian Navy s MRH90 helicopter from 808 Squadron has recently supported their Army colleagues from 8 Brigade during training serials at Singleton Barracks.
Years
Location
ICAO/FAA
2011/now
Nowra
YSNW




Construction Numbers (Not all in unit)
Help Us
C/N
Version
Built
In this Org
In other Org
1079
mrh90
A40-002: 1079/TAUA02; RAN 2009

1114
mrh90
A40-006: 1114/TAUA06; 27aug11 pictured (pic1) at the Australian Defence Force Acade+
A40-006: Oct16 pictured (pic2) in personnel transfers to submarine
A40-006: 28feb17 on display at Avalon 2017

1159
mrh90
A40-008: 1159/TAUA08; RAN 2009-2011

A40-008: Army from Feb11 5 Avn Regt

1190
mrh90
2011
A40-009: 1190/TAUA09, for 808 Sqn

1196
mrh90
A40-011: 1196/TAUA11; Feb11 RAN 808Sqn

A40-011: Mar16 pictured asg 5 Avn Regt in Fiji for relief operations after Cyclone Winston

1189
mrh90
A40-013: 1189/TAUA13; Feb13 RAN 808Sqn

A40-013: 28feb17 on display at Avalon 2017

1200
mrh90
A40-017: 1200/TAUA17; 2013 808sq
A40-017: In flying display at Avalon Airshow, 3 Apr 2017

1202
mrh90
A40-019: 1202/TAUA19; 2014 808sq

1235
mrh90
A40-021: 1235/TAUA21; 2014 808sq

1236
mrh90
A40-022: 1236/TAUA22; 2013 808sq

1254
mrh90
A40-025: 1254/TAUA25; 2014 808sq

1255
mrh90
A40-026: 1255/TAUA26; 2014 808sq

1263
mrh90
A40-027: 1263/TAUA27; 2014 5 Avn Regt

mrh90
A40-028: TAUA28; 2014 asg 808 Sqn

A40-028: 22mar16 asg 5 Avn Regt in Fiji Taveuni Island for relief operations

mrh90
A40-029: ?/TAUA29, RAN 808 Squadron; 09jul15 pictured on USS Ashland (LSD 48) durin+

1270
mrh90
A40-030: 1270/TAUA30; RAN; 05jun15 with 808 Sqn at Singleton, NSW
A40-030: Mar16 pictured in Fiji with HMAS Canberra (LHD 02) for relief operations+

16 C/N found in this Organisation.