Located in Little Rock, Arkansas Children's Hospital (ACH) coordinates with a network of local hospitals to respond to cases that require an expertise in infant and child medical care. The Hospital's Angel One unit have been using S-76 helicopters since 1992
News about this Rotary Wing Unit :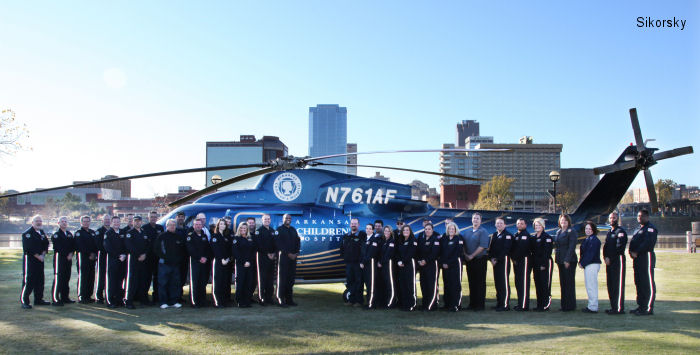 Two S-76D for Arkansas Children Hospital, 06-Mar-13 : Las Vegas, Nevada - Arkansas Children's Hospital (ACH) has signed a contract to purchase two S-76D helicopters for its Angel One intensive care medical transport unit, Sikorsky Aircraft Corp. announced today from the Heli-Expo Industry Show. Sikorsky is a subsidiary of United Technologies Corp.
Construction Numbers for Arkansas Children Hospital
Help Us
| | | | | | |
| --- | --- | --- | --- | --- | --- |
| | C/N | Version | Built | In this Org | In other Org |
| | 76-0523 | s-76c | 2002 | N760AF : S-76C+ type; Arkansas Children Hospital Nov02-Jan15 | |
| | 76-1038 | s-76d | 2013 | N760AF : Arkansas Children Hospital from May15, test serial N7638H | |
| | 76-0523 | s-76c | 2002 | N760AP : Arkansas Children Hospital from Feb15 | |
| | 76-0524 | s-76c | 2002 | N761AF : S-76C+ type; Arkansas Children Hospital Nov02-Jan15; Jan14 logged more tha+ | N911RR : Monroe County Sheriff Office (MCSO) at Key West, FL from Dec16 |
| | 76-1039 | s-76d | 2013 | N761AF : Arkansas Children Hospital from May15, test serial N7639H | |
| | 76-0524 | s-76c | 2002 | N761AP : Arkansas Children Hospital from Feb15 | N911RR : Monroe County Sheriff Office (MCSO) at Key West, FL from Dec16 |
6 serials found for Arkansas Children Hospital