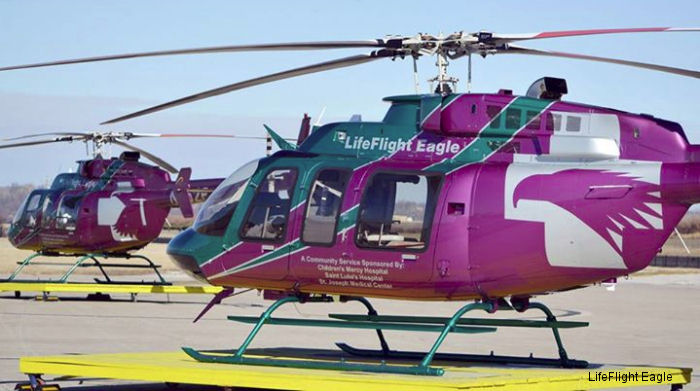 Non-profit organization dedicated to providing emergency air transport serving Kansas and Missouri communities surrounding Kansas City. Operated by
PHI Air Medical
1978 - Spirit of Saint Joseph LifeFlight from Saint Joseph Hospital, Kansas City
1996 - LifeFlight Eagle
As of 2016 operates from 4 bases at Trenton (to be moved to Chillicothe), Odessa, Clinton and Harrisonville, MO. A fifth helicopter is used by the Children's Mercy Critical Care Transport Team in Kansas City.
News about this Rotary Wing Unit :
Two Bell 407GX for LifeFlight Eagle, 14-Feb-13 : Fort Worth, TX - Bell Helicopter, a Textron Inc. company, announced today an agreement with LifeFlight Eagle for the supply of two Bell 407GX aircraft. LifeFlight Eagle will utilize the helicopters to transport critically ill and injured persons in the Kansas City, MO area.
Years
Models
? to ?
407




Construction Numbers for LifeFlight Eagle
Help Us
C/N
Version
Built
In this Org
In other Org
53568
407
2003
N301LE : LifeFlight Eagle Oct03-Dec13, test serial N7086T

N452P : PHI Inc from Jan14
: LifeFlight Eagle; 21jan14 pictured at Whiteman AFB for accident training e+

54406
407gx
2013
N301LE : LifeFlight Eagle from Apr14

N488MB : Bell Helicopter Apr13-Feb14, test serial C-GLZM

53572
407
2003
N302LE : LifeFlight Eagle

N7086U : Bell Helicopter, test serial C-GZMN
N453P : PHI Inc from Jan14

54418
407gx
2013
N302LE : LifeFlight Eagle at Kansas City, MO from Jan14; 28mar14 pictured in mass-c+

N4917B : Bell Helicopter, test serial C-GFNO

53470
407
2001
N505LE : LifeFlight Eagle

9224
ec145
2008
N919CM : LifeFlight Eagle at Kansas City MO from Mar09, for Children Mercy Hospital+

N661AE : American Eurocopter, to N919CM
N919CM : Children Mercy Kansas City

6 serials found for LifeFlight Eagle