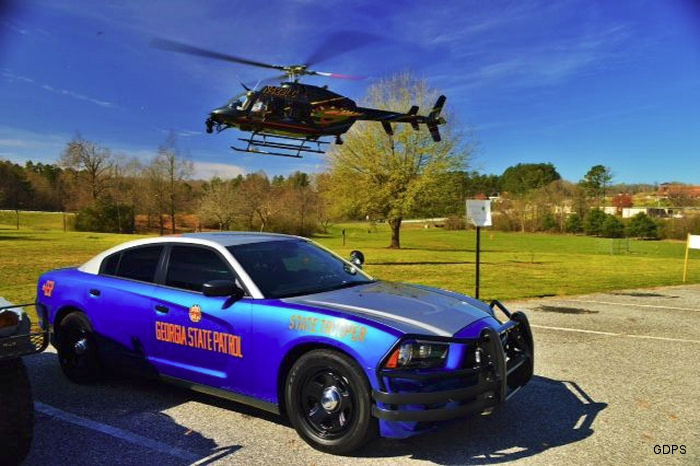 The Georgia State Patrol Aviation Division used a Bell 47 in the 1970s. Headquartered in Gainesville since 2012 they also have six field hangers located throughout Georgia.

As of 2014, fleet is 6 Bell 407s, 1 Bell 206, 5 Bell OH-58s and 1 Cessna 182 fixed wing aircraft
News about this Rotary Wing Unit :
Georgia State Patrol orders Bell 429 at ALEA 2014, 17-Jul-14 : PHOENIX, AZ - Bell Helicopter, a Textron Inc. company, has announced a signed purchase agreement with Georgia State Patrol for a Bell 429 at the Airborne Law Enforcement Association (ALEA) exposition today, in Phoenix, Ariz.
Years
Models
2002/now
407
??/14
205


Construction Numbers for GSP
Help Us
C/N
Version
Built
In this Org
In other Org
2307
206b-3
1978
N130CC : Georgia Dept of Public Safety GSP

- N16927 : to N130CC

5408
uh-1d
N140SP : GSP Georgia State Patrol, noted 2005

66-00925 : US Army 66-0925/0-00925
N140SP : SBSD San Bernardino County Sheriff Dept from May14

13864
uh-1h
N240SP : Georgia Department of Public Safety GSP unk-2014

74-22540 : US Army 0-22540, to N240SP
N240SP : Orange County Sheriff Department (OCSD) took ownership; 23mar14 arrived at+

40522
oh-58a
N362CC : Georgia Department Of Public Safety from Dec08, GSP

69-16301 : US Army, conv OH-58C

53893
407
2008
N407GB : Georgia Department of Public Safety GSP

N793BP : Bell Helicopter from Nov08, test serial C-GBUB

53760
407
2007
N429LC : Georgia Department of Public Safety (GSP)

N407LB : Bell Helicopter, test serial C-FNFG

53824
407
2008
N617HC : Georgia Department of Public Safety GSP

C-FTIZ : Bell Canada Feb/Mar 2008

40540
oh-58a
N903SP : Georgia Department of Public Safety from Jul96; GSP

69-16319 : US Army

41116
oh-58a
N905SP : Georgia Department of Public Safety from Oct11; GSP

70-15565 : US Army

41278
oh-58a
N906SP : Georgia Department of Public Safety from Aug11; GSP

71-20417 : US Army

42036
oh-58a
N908SP : Georgia Department of Public Safety from Aug11; GSP

72-21370 : US Army

3619
206b-3
1982
N912SP : Georgia Department of Public Safety GSP; Governor Drug Task Force; w/o 05j+

- N2293V : to N912SP

40093
oh-58a
N913SP : Georgia State Police GSP; w/o 20jun00 crash at Rome, Georgia

68-16779 : US Army
: Served with 120th Avn Co in Vietnam

53213
407
1997
N920SP : Georgia Department Of Public Safety Jul09; GSP State Trooper

41063
oh-58a
N926SP : Georgia Department of Public Safety from Jun09; GSP

70-15512 : US Army, conv to OH-58C
- N363CC : to N926SP
- 70-15512 : preserved at Vietnam Helicopters Museum, Concord, CA

40522
oh-58a
N927SP : Georgia Department Of Public Safety from Aug11, GSP

69-16301 : US Army, conv OH-58C

53527
407
2002
N940SP : Georgia Department Of Public Safety from Jan03; GSP

- N3046P : to N940SP

17 serials found for GSP