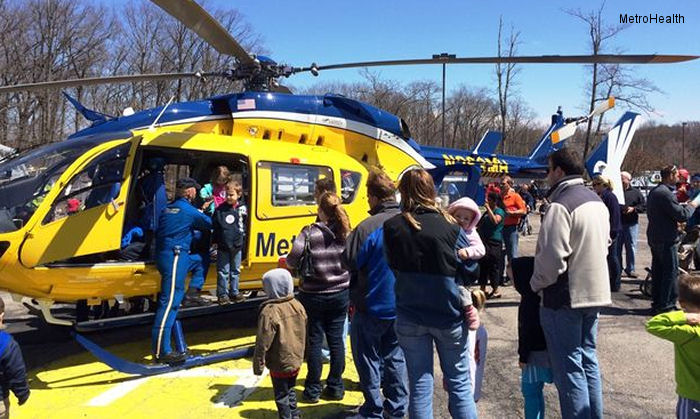 Established in 1982, Metro Life Flight air ambulance service is based in Cleveland, Ohio.
News about this Rotary Wing Unit :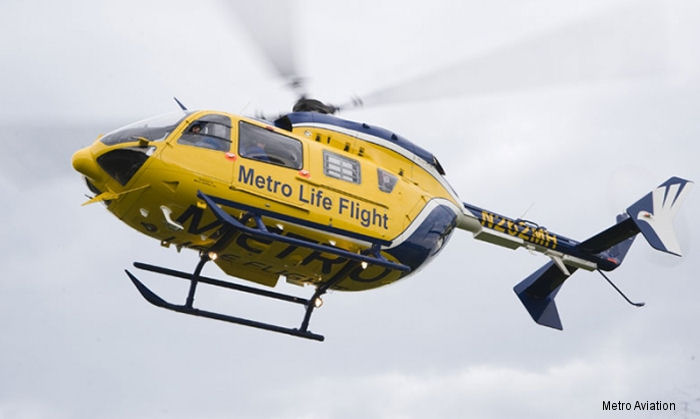 MetroHealth To Test In-Flight Delivery of Plasma, 04-Aug-14 : The MetroHealth System is part of a study called Prehospital Air Medical Plasma Trial (PAMPer). Individuals experiencing hemorrhagic shock (uncontrolled bleeding) will be given two units of plasma while in the helicopter on the way to the hospital by Metro Life Flight.
Years
Models
Eurocopter EC145
Sikorsky S-76A


Construction Numbers for MetroHealth
Help Us
C/N
Version
Built
In this Org
In other Org
9250
ec145
2009
N261MH : MetroHealth System at Cleveland, OH from Oct09, test serial D-HMBL; Metro +

9278
ec145
2009
N262MH : MetroHealth System at Cleveland, OH from Dec09; Metro Life Flight; 12mar16+

9311
ec145
2009
N263MH : MetroHealth System at Cleveland, OH from Jun10; Metro Life Flight

D-HADV : Eurocopter Germany, to N263MH

76-0233
s-76a
N762MH : MetroHealth System at Cleveland, OH Mar98-2010

- N3122H : to N762MH
N762MH : GM Leasing at Broussard, LA from Sep12

76-0230
s-76a
N763MH : MetroHealth System at Cleveland, OH Mar98-2010

- N31219 : to N763MH
N763MH : GM Leasing at Broussard, LA from Aug12

76-0181
s-76a
N764MH : MetroHealth System at Cleveland, OH Mar98-2010

- N5448G : to N5128
- N5128 : to N764MH
N764MH : GM Leasing at Broussard, LA from Sep13

6 serials found for MetroHealth