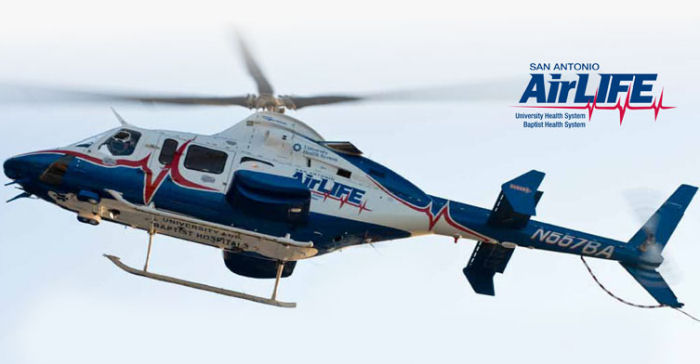 Founded in 1990, San Antonio AirLIFE is an air medical transport service in Southwest Texas covering more than 20 counties within a 150-mile radius of San Antonio.
News about this Rotary Wing Unit :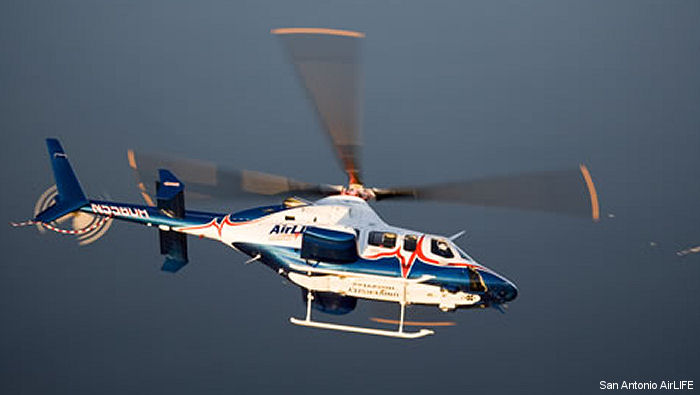 Air Methods Acquires San Antonio AirLIFE, 05-Oct-15 : Air Methods Corp acquired San Antonio AirLIFE, owned by Baptist Health System of San Antonio/Tenet Corporation, and Bexar County Hospital District doing business as University Health System.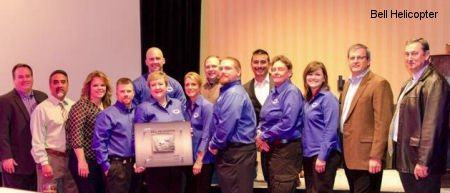 San Antonio AirLIFE 50,000th patient, 26-Nov-13 : Forth Worth, TX - Bell Helicopter, a Textron Inc. company, congratulates San Antonio AirLIFE for transporting its 50,000th patient, a milestone reached this quarter.
Years
Models
Bell 407
Bell 412SP
Bell 430
Eurocopter AS350B2 Ecureuil
Eurocopter EC145


Construction Numbers for San Antonio AirLIFE
Help Us
C/N
Version
Built
In this Org
In other Org
53892
407
N407TX : San Antonio AirLIFE, noted Jan09

N407TX : Air Methods Corp from Apr09

36015
412sp
1990
N555BA : San Antonio AirLIFE Texas, noted May06

- N555BA : 1990-2006 unk
N555BA : Bell Helicopters Mar06-Apr07; conv to 412HP
VH-LSY : Australian Helicopters from May07
VH-LSY : RACQ CQ Rescue from Sep13, op by Australian Helicopters

33178
412sp
1988
N556UH : reg Jun94; BEXAR County Hospital District, noted Oct02; San Antonio AirL+

- JA9937 : to N2024Z
VH-LLI : Helicorp Pty from May07
D-HAFW : Agrarflug Helilift at Ahlen from Apr16

49117
430
2006
N556UH : Bexar County Hospital District DBA, San Antonio, TX from 18Dec06; San Ant+

N558UH : Bell Helicopters, to N556UH

49120
430
2007
N557BA : San Antonio AirLIFE, ex C-GLZO

- N557UH : Bexar County Hospital District DBA, San Antonio, TX from 01may07

4418
as350b2
2008
N576AM : San Antonio AirLIFE, noted 2013

- N576AM : Wells Fargo Dec07-Dec14
N576AM : 05may14, Life Flight of New York, based at the Finger Lakes Regional Airpo+
N576AM : Air Methods from Jan15
N576AM : Life Net of New York (LifeNetNY), op by Air Methods

9066
ec145
2005
N766ME : San Antonio AirLIFE from Feb17

N766ME : CFS Air Feb05-2006
N766ME : CJ Systems Aviation Group Inc at West Mifflin, PA Jul07-Jun12; STAT MedE+
N766ME : Air Methods from Jul12
N766ME : Mercy Air by Jul13

7 serials found for San Antonio AirLIFE