Marine Medium Helicopter Squadron 164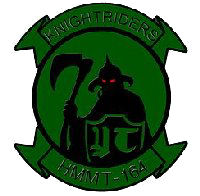 The
Knightriders
, tail code
YT
was created as Marine Medium Helicopter Squadron 164 (HMM-164) in July 1964.
In February 1999, the Squadron was re-designed Marine Medium Helicopter Training Squadron 164 (
HMM(T)-164
) and was tasked to become the Marine Corps Fleet Replacement Squadron for the CH-46E.
On February 2013 the squadron graduated the last eight
CH-46 crew chiefs
.
On March 2015 HMMT-164, which was the first and last Marine squadron to operate the Sea Knight, was reduced to only two aircraft after they sent the rest to Davis-Monthan Boneyard. The last one will be sent to the Marine Corps Museum.
Redesignated
VMM-164
on April 2015
---
1964, Was one of the first to transition to the ch-46 from the H-34. Left
HMM-361
to develope 164. A great transition, only to requal in the h34 to be sent to VNam in 1965.

Dec66, I was a crew chief with
HMM-262
and deployed to Vietnam with the A model. I transferred to HMM-164 in Feb67. We received the D model later that year. I served 19 months in combat and flew on over 300 missions - From the Battle of the Hills to the Tet Offensive to the 77 day siege on Khe Sahn. I have written a book about my time in-country. It is entitled - Flying Death The Vietnam Experience. It is a different perspective of the war as seen through the eyes of a combat helicopter crew chief. The CH-46 is one of the finest helicopters ever built. Its history speaks for itself - In Service for almost 50 years.

Apr75, participated in Operation Frequent Wind the evacuation of Saigon. Helicopter CH-46
153993
picked up last 11 personnel from roof of US Embassy

News about this Rotary Wing Unit :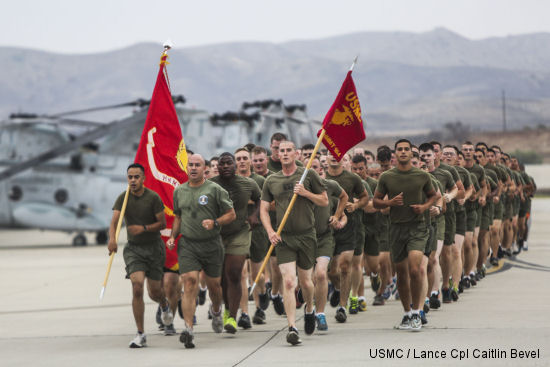 Marines HMMT-164 celebrate 50 years, 02-Jul-14 : CAMP PENDLETON, Calif. by Lance Cpl. Caitlin Bevel - Marines with Marine Medium Helicopter Training Squadron 164, Marine Aircraft Group 39, 3rd Marine Aircraft Wing, I Marine Expeditionary Force, celebrated the 50th anniversary of their squadron and the Boeing Vertol CH-46E Sea Knight aboard Camp Pendleton, Calif., July 1, 2014.
Construction Numbers for HMM-164 / HMM(T)-164 / HMMT-164
Help Us
C/N
Version
Built
In this Org
In other Org
2008
CH-46A
1963
150271 : BV-107M, ff 1963; del USMC 24Jul63 as CH-46A 150271; asgd Boeing RDT&E Mor+

150271 : 1979-1980 I flew on this at NAS Cubi Point
: 1990/92 as HH-46D asg HC-5 /04 onboard NAS Agana in Guam during my tour 90+

2010
CH-46A
1963
150273 : BV-107M, ff 1963; del USMC 30Aug63 as CH-46A 150273; xfer NATC RDT&E NAS P+

2012
CH-46A
1963
150275 : BV-107M, ff ?; del USMC 30Sep63 as CH-46A 150275; asgd Boeing FR Morton, P+

2016
CH-46A
1963
150933 : BV-107M, ff?; del USMC 20Dec63 as CH-46A 150933; asgd Boeing FR, Morton PA+

2017
CH-46A
1964
150934 : BV-107M, ff?; del USMC 23Jan64 as CH-46A 150934; asgd Boeing FR Morton, PA+

2018
CH-46A
1964
150935 : BV-107M, c/n 2018; ff?; del USMC 14Feb64 as CH-46A 150935; asgd Boeing FR +

2019
CH-46A
1964
150936 : BV-107M, c/n 2019; ff?, del USMC 19Feb64 as CH-46A 150936; asgd Boeing FR +

2020
CH-46A
1964
150937 : BV-107M, c/n 2020; ff?, del USMC 17Mar64 as CH-46A 150937; asgd Boeing FR +

2021
CH-46A
1964
150938 : BV-107M, c/n 2021, ff?; del USMC as CH-46A 150938, asgd Boeing FR Morton, +

150938 : xfer USN HC-7 09Jan70; xfer HC-3 24Sep70; stor MASDC DMAFB as 1J0002 05Aug+

2025
CH-46A
1964
150942 : BV-107M, c/n 2025; ff?, del to USMC 01Jun64 as CH-46A 150942; asgd Boeing +

2030
CH-46A
1964
150945 : BV-107M, c/n 2030; ff?, del to USMC 31Jul64 as CH-46A 150945; asgd Boeing +

2031
CH-46A
1964
150946 : BV-107M, c/n 2031; ff?, del to USMC 31Jul64 as CH-46A 150946; asgd Boeing +

2032
CH-46A
1964
150947 : BV-107M, c/n 2032; ff?, del to USMC 28Aug64 as CH-46A 150947; asgd Boeing +

2033
CH-46A
1964
150948 : BV-107M, c/n 2033; ff?, del to USMC 31Aug64 as CH-46A 150948; asgd Boeinf +

2037
CH-46A
1964
150952 : BV-107M, c/n 2037; ff?, del to USMC 30Sep64 as CH-46A 150952; asgd Boeing +

2039
CH-46A
1964
150953 : BV-107M, c/n 2039; ff?, del to USMC 30Sep64 as CH-46A 150953; asgd Beoing +

2040
CH-46A
1964
150954 : BV-107M, c/n 2040; ff?, del to USMC 16Oct64 as CH-46A 150954; asgd Boeing +

150954 : US Navy in 1993 type:HH-46D /VR-73 HC-11

2042
CH-46A
1964
150956 : BV-107M, c/n 2042, ff?; del USMC 22Oct64 as 150956; asgd Boeing FR Morton,+

2044
CH-46A
1964
150958 : BV-107M, c/n 2044, ff?; del USMC 24Nov64 as CH-46A 150958; asgd Boeing FR +

150958 : US Navy in 1993 type:HH-46D /VR-70 HC-11
: 09-14jul98 HH-46D type HC-11./VR-67 embarked USS Tarawa LHA-1.

2045
CH-46A
1964
150959 : BV-107M, c/n 2045, ff?; del to USMC 24Nov64 as CH-46A 150959; asgd Boeing +

2046
CH-46A
1964
150960 : BV-107M, c/n 2046, ff?; del USMC 24Nov64 as CH-46A 150960; asgd Boeing FR +

2047
CH-46A
1964
150961 : BV-107M, c/n 2047, ff?; del USMC 24Nov64 as CH-46A 150961; asgd Boeing FR +

2053
CH-46A
1965
151906 : BV-107M, c/n 2053, ff?; del USMC 18Feb65 as CH-46A 151906; asgd Beoing FR +

2054
CH-46A
1965
151907 : BV-107M, c/n 2054, ff?; del USMC 24Feb65 as CH-46A 151907; asgd Boeing FR +

2055
CH-46A
1965
151908 : BV-107M, c/n 2055, ff?; del USMC 26Feb65 as CH-46A 151908; asgd Boeing FR +

2058
CH-46A
1964
151910 : BV-107M, c/n 2058, ff?; del USMC 23Mar65 as CH-46A 151910; asgd Boeing FR +
: 1968 pictured as HMM-164 /YT-18 with 1/Lt Robert Brougham at Vandegrift Co+

151910 : USN; 1993 HH-46D type HC-3 /SA-07

2059
CH-46A
1965
151911 : BV-107M, c/n 2059, ff?; del USMC 19Mar65 as CH-46A 151911; asgd Boeing FR +

2061
CH-46A
1965
151913 : BV-107M, c/n 2061, ff?; del USMC 27Feb65 as CH-46A 151913; asgd Boeing FR +

151913 : I have the safety report for this accident. It was a navy helicopter, fro+
: I think this may be the flight on a sight seeing trip in the PI flying do+

2063
CH-46A
1964
151914 : BV-107M, c/n 2063; ff?, del USMC 19Mar65 as CH-46A 151914; asgd Boeing FR +

151914 : USN; xfer NARF Cherry Point 22Jun74; further unit xfers unknown; conv HH-4+
: Mid80s, in HC-11 till at least 1991 in Det.4 along with 152535

2064
CH-46A
1965
151915 : BV-107M, c/n 2064; ff?, del USMC 19Mar65 as CH-46A 151915; asgd Boeing FR +

151915 : USN; xfer NARF Cherry Point 19Mar74; further unit xfers unknown; conv HH-4+
: 1993 HH-46D type as HC-11 /VR-50
: 09-14jul98 HH-46D type HC-11./VR-66 embarked USS Tarawa LHA-1.

2065
CH-46A
1965
151916 : BV-107M, c/n 2065; ff?, del USMC 24Mar65 as CH-46A 151916; asgd Boeing FR +

2066
CH-46A
1965
151917 : BV-107M, c/n 2066; ff?, del USMC 26Mar65 as CH-46A 151917; asgd Boeing FR +

2068
CH-46A
1965
151918 : BV-107M, c/n 2068; ff?, del USMC 09Apr65 as CH-46A 151918; asgd Boeing FR +

151918 : Jun94 HH-46D type aboard USS Guam (LPH-9) as HC-6 /HW-02
: 2001-2002 aboard USS Bataan (LHD-5) with HC-6 Det 1

2069
CH-46A
1965
151919 : BV-107M, c/n 2069; ff?, del USMC 16Apr65 as CH-46A 151919; xfer HMM-164 03+

2070
CH-46A
1965
151920 : BV-107M, c/n 2070; ff?, del USMC 15Apr65 as CH-46A 151920; asgd Boeing FR +
: 25jan68 she flew her last combat mission as HMM-164 /YT-6: insertion and m+

2071
CH-46A
1965
151921 : BV-107M, c/n 2071, ff?; del USMC as CH-46A, 151921, 28Apr65; asgd Boeing F+

2072
CH-46A
1965
151922 : BV-107M; c/n 2072; ff ?; del USMC 03May65 as CH-46A 151922; asgd Boeing FR+

2073
CH-46A
1965
151923 : BV-107M; c/n 2073; ff?; del USMC 05May65 as CH-46A 151923; asgd Boeing FR +

2074
CH-46A
1965
151924 : BV-107M, c/n 2074, ff?; del USMC 12May65 as CH-46A 151924; asgd Boeing FR +

2075
CH-46A
1965
151925 : BV-107M, c/n 2075, ff?; del USMC 13May65 as CH-46A 151925; asgd Boeing FR +

2076
CH-46A
1965
151926 : BV-107M; c/n 2076; ff?; del USMC 14Jun65 as CH-46A 151926; asgd Boeing FR +

2078
CH-46A
1965
151928 : BV-107M, c/n 2078, ff?; del USMC 02Jun65 as CH-46A 151928; asgd Boeing FR +

2079
CH-46A
1965
151929 : BV-107M, c/n 2079, ff?; del USMC 11Jun65 as CH-46A 151929; asgd Boeing FR +

2080
CH-46A
1965
151930 : BV-107M, c/n 2080, ff?; del USMC 04Jun65 as CH-46A 151930; asgd Boeing FR +

2081
CH-46A
1965
151931 : BV-107M, c/n 2081, ff?; del USMC 04Jun65 as CH-46A 151931; asgd Boeing FR +

2082
CH-46A
1965
151932 : BV-107M, c/n 2082, ff?; del USMC 23Jun65 as CH-46A 151932; asgd Boeing FR +

2083
CH-46A
1965
151933 : BV-107M, c/n 2083, ff?; del USMC 02Jul65 as CH-46A 151933; asgd Boeing FR +

151933 : US Navy.; mar1999 type:HH-46D deployed aboard USS Boxer LHD-4. HC-11./VR-7+

2084
CH-46A
1965
151934 : BV-107M, c/n 2084, ff?; del USMC 06Jul65 as CH-46A 151934; asgd Boeing FR +

151934 : 02apr82 pictured as HC-11 /VR-73 at Arthur W. Radford Field, NAS Cubi Poin+

2085
CH-46A
1965
151935 : BV-107M, c/n 2085, ff?; del USMC unk as CH-46A 151935; asgd Boeing FR Mort+

2086
CH-46A
1965
151936 : BV-107M, c/n 2086, ff?; del USMC 23Jul65 as CH-46A 151936; asgd Boeing FR +

2087
CH-46A
1965
151937 : BV-107M, c/n 2087, ff?; del USMC 23Jul65 as CH-46A 151937; asgd Boeing FR +

151937 : 1980 HH-46A type asg NAVSTA ROTA SAR
: 1993 HH-46D type asg HC-3 /SA-01

2088
CH-46A
1965
151938 : BV-107M, c/n 2088, ff?; del USMC 28Jul65 as CH-46A 151938; asgd Boeing FR +

2089
CH-46A
1965
151939 : BV-107M, c/n 2089, ff?; del USMC 09Aug65 as CH-46A 151939; asgd Boeing FR,+

2090
CH-46A
1965
151940 : BV-107M; c/n 2090, ff?; del USMC 11Aug65 as CH-46A 151940; asgd Boeing FR +

2092
CH-46A
1965
151942 : BV-107M, c/n 2092, ff?; del USMC 13Aug65 as CH-46A 151942; asgd Boeing FR,+

2093
CH-46A
1965
151943 : BV-107M, c/n 2093, ff?; del USMC 23Aug65 as CH-46A 151943; asgd Boeing FR,+

2094
CH-46A
1965
151944 : BV-107M, c/n 2094, ff?; del USMC 26Aug65 as CH-46A 151944; asgd Boeing FR,+

2095
CH-46A
1965
151945 : BV-107M, c/n 2095, ff?; del USMC 27Aug65 as CH-46A 151945; asgd Boeing FR +

2097
CH-46A
1965
151947 : BV-107M, c/n 2097, ff?; del USMC 17Sep65 as CH-46A 151947; asgd Boeing FR +

2098
CH-46A
1965
151948 : BV-107M, c/n 2098 ff?; del USMC 23Sep65 as CH-46A 151948; asgd Beoing FR M+

2099
CH-46A
1965
151949 : BV-107M, c/n 2099, ff?; del USMC 30Sep65 as CH-46A 151949; asgd Noeing FR +

151949 : 01mar71 HC-7 tsfr this bird to HC-3 NAS Imperial Beach, CA

2100
CH-46A
1965
151950 : BV-107M, c/n 2100, ff?; del USMC 24Sep65 as CH-46A 151950; asgd Boeing FR +

151950 : pictured as /BR-16 HC-8 with USS Kearsarge (LHD-3)

2101
CH-46A
1965
151951 : BV-107M, c/n 2101, ff?; del USMC 05oct65 as CH-46A 151951; asgd Boeing FR +

2102
CH-46A
1965
151952 : USMC CH-46A d/d 15oct65; asg Boeing FR Morton PA; HMM-164 21Dec65; HMM-2+

151952 : NARF North Island 21May75; Navy Test Pilot SchoolUSNTPS , NATC Pax Piver,+
: 16oct03 preserved at National Museum Naval Aviation (NMNA) Pensacola, FL

2103
CH-46A
1965
151953 : BV-107M, c/n 2103, ff?; del USMC 25Oct65 as CH-46A 151953; asgd Boeing FR +

151953 : March 79/July 81 NAS Patuxent River SAR OPS-63, I flew this as a crew chie+
: March 81/June 83, at NAS Pt. Mugu as Bloodhound BH-16 while I was statione+
: US Navy; 1988 CH-46D type HC-6./HW-01
: US Navy in 1996 deployed aboard USS Nassau LHA-4. type:HH-46D /HW-65 HC-6
: 2001-2002 aboard USS Nassau (LHA-4) with HC-6 Det 7

2104
CH-46A
1965
151954 : BV-107M, c/n 2104, ff?; del USMC 19Oct65 as CH-46A 151954; asgd Boeing FR +

2105
CH-46A
1965
151955 : BV-107M; c/n 2105, ff?; del USMC 27Oct65 as CH-46A 151955; asgd Boeing FR +

151955 : USN; pictured as HC-8 /BR-33

2106
CH-46A
1965
151956 : BV-107M, c/n 2106, ff?; del USMC 01Nov65 as CH-46A 151956; asgd Boeing FR +

2107
CH-46A
1965
151957 : BV-107M, c/n 2107, ff?; del USMC 10Nov65 as CH-46A 151957; asgd Boeing FR +

2108
CH-46A
1965
151958 : BV-107M, c/n 2108, ff?; del USMC 18Nov65 as CH-46A 151958; asgd Boeing FR +

2109
CH-46A
1965
151959 : BV-107M, c/n 2109, ff?; del USMC 19Nov65 as CH-46A 151959; asgd Boeing FR +

2113
CH-46A
1965
152496 : BV-107M, c/n 2113, ff?; del USMC 16Dec65 as CH-46A 152496; asgd Boeing FR +

152496 : US Navy in 1993 type:HH-46D /VR-67 HC-11

2115
CH-46A
1966
152498 : BV-107M, c/n 2115, ff?; del USMC 05Jan66 as CH-46A 152498; asgd Boeing FR +

2116
CH-46A
1966
152499 : BV-107M, c/n 2116, ff?; del USMC 07Jan66 as CH-46A 152499; asgd Boeing FR +

2119
CH-46A
1966
152501 : BV-107M, c/n 2119, ff?; del USMC 26Jan66 as CH-46A 152501; asgd Boeing FR +

2121
CH-46A
1966
152503 : BV-107M, c/n 2121, ff?; del USMC 24Jan66 as CH-46A 152503; asgd Boeing FR +

2128
CH-46A
1966
152509 : BV-1-07M, c/n 2128, ff?; del USMC 22Feb66 as CH-46A 152509; asgd Boeing FR+

2129
CH-46A
1966
152510 : BV-107M, c/n 2129, ff?; del USMC 03mar66 as CH-46A 152510; asgd Boeing FR +

2131
CH-46A
1966
152511 : BV-107M, c/n 2131, ff?; del USMC 01Mar66 as CH-46A 152511; asgd Boeing FR +

152511 : USN, HC-16 /BF-?, unk; w/o 13May82 ivo NAS Pensacola, FL

2141
CH-46A
1966
152520 : USMC CH-46A d/d 01Apr66; asgd Boeing FR Morton PA; xfer HMM-165 12Apr66; x+

152520 : USN; redesig HH-46A 04Mar74; xfer NAS Whidbey Island 19Feb75; further uni+

2146
CH-46A
1966
152524 : BV-107M, c/n 2146, ff?; del USMC 25Apr66 as CH-46A 152524; asgd Boeing FR +

2150
CH-46A
1966
152528 : BV-107M, c/n 2150, ff?; del USMC 05May66 as CH-46A 152528; asgd Boeing FR +

2156
CH-46A
1966
152534 : BV-107M, c/n 2156, ff?; del USMC 27May66 as CH-46A 152534; asgd Boeing FR +

2158
CH-46A
1966
152536 : BV-107M, c/n 2158, ff?; del USMC 06Jun66 as CH-46A 152536; asgd Boeing FR +

2159
CH-46A
1966
152537 : BV-107M, c/n 2159, ff?; del USMC 06Jun66 as CH-46A 152537; asgd Boeing FR +

2160
CH-46A
1966
152538 : BV-107M, c/n 2160, ff?; del USMC 09Jun66 as CH-46A 152538; asgd Boeing FR +

152538 : HC-6, HW-03, 20Apr70; stor MASDC as 1J0060 29Mar72; xfer NARF Cherry Point+
: mid70s, was our primary Helo at NAS Whidbey Island SAR, call sign Firewood+
: 1993 HH-46D type as HC-3 /SA-03
: HH-46D type as HC-11 /VR-55; 2010 scr by HVF West LLC Government DEMIL C+

2161
CH-46A
1966
152539 : BV-107M, c/n 2161, ff?; del USMC 15Jun66 as CH-46A 152539; asgd Boeing FR +
: 1968 pictured as HMM-164 /YT-.. inserting 2nd Bn 5th Marines on a hilltop +

152539 : 1975 asg SAR Unit at NAS Meridian; 1979 to HC-16 Pensacola, FL; 1985 x+
: US Navy in 1993 as HH-46D type HC-11 /VR-51
: 2001-2002 aboard USS Bataan (LHA-5) with HC-6 Det 1

2164
CH-46A
1966
152542 : BV-107M, c/n 2164, ff?; del USMC 16Jun66 as CH-46A 152542; asgd Boeing FR +

2165
CH-46A
1966
152543 : BV-107M, c/n 2165, ff?; del USMC 15Jun66 as CH-46A 152543; asgd Boeing FR +

152543 : ; xfer NAF Cam Ranh Bay 24Dec70; xfer NAF Cam Ranh Bay, Det T, 01Mar71; xf+
: 5 of 7 onboard perished

2169
CH-46A
1966
152547 : BV-107M, c/n 2169, ff?; del USMC 08Jul66 as CH-46A 152547; asgd Boeing FR +

2175
CH-46A
1966
152553 : BV-107M, c/n 2175, ff?; del USMC 18Jul66 as CH-46A 152553; asgd Boeing FR +

152553 : US Navy in 1996 deployed aboard USS Nassau LHA-4. type:HH-46D /HW-67 HC-6

2184
CH-46D
1966
152562 : BV-107M, c/n 2184, ff?; del USMC 19Aug66 as CH-46A 152562; asgd Boeing FR +
: 1993 CH-46E type HMM-164 /YT-02; 1997 still
: Oct11 /YT-00 HMMT-164 is the oldest CH-46E currently flying in the fleet
: still flying! 16apr14 pictured as HMMT-164 /YT-00 at MCAS Yuma, AZ

2186
CH-46D
1966
152564 : BV-107M, c/n 2186, ff?; del USMC 26Aug66 as CH-46A 152564; asgd Boeing FR +
: Aug68 pictured as HMM-164 /YT-9 Vietnam w 2nd Bn 7th Marines at outside o+

2198
CH-46D
1966
152576 : BV-107M, c/n 2198, ff?; accepted BuWepsRep, FR Morton PA as CH-46A 152576 +

2201
CH-46D
1966
152579 : BV-107M, c/n 2201, ff?; accepted BuWepsRep, FR Morton PA as CH-46A 152579 +

2207
CH-46D
1966
153319 : BV-107M, c/n 2207, ff?; accepted BuWepsRep FR Morton PA 22Oct66; redesig C+

153319 : US Navy; 1989 CH-46D type HC-6./HW-03

2208
CH-46D
1966
153320 : BV-107M, c/n 2208, ff?; accepted BuWepsRep FR Morton PA 22Oct66; redesig C+

2209
CH-46D
1966
153321 : BV-107M, c/n 2209, ff?; accepted BuWepsRep FR Morton PA as CH-46A 153321 2+

2210
CH-46D
1966
153322 : BV-107M, c/n 2210, ff?; accepted BuWepsRep FR Morton PA as CH-46A 153322 2+
: 1997 CH-46E type as HMM-164 /YT-06

2211
CH-46D
1966
153323 : BV-107M, c/n 2211, ff?; accepted BuWepsRep FR Morton PA as CH-46A 153323 2+

2213
CH-46D
1966
153325 : BV-107M, c/n 2213, ff?; accepted BuWepsRep FR Morton PA as CH-46A 153325 2+

153325 : US Navy in 1993 /SA-10 HC-3

2217
CH-46D
1966
153329 : BV-107M, c/n 2217, ff?; accepted BuWepsRep FR Morton PA as CH-46D 153328 0+

2218
CH-46D
1966
153330 : BV-107M, c/n 2218, ff?; accepted BuWepsRep FR Morton PA as CH-46D 153330 0+
: 19feb14, HMMT-164 just dropped off 153330 at Davis-Monthan AFB to AMARG. R+

2219
CH-46D
1966
153331 : BV-107M, c/n 2219, ff?; accepted BuWepsRep FR Morton PA as CH-46D 153331 0+

2228
CH-46D
1966
153338 : BV-107M, c/n 2228, ff?; accepted BuWepsRep FR, Morton PA as CH-46D 153338 +

2239
CH-46D
1967
153347 : BV-107M, c/n 2239, ff?; accepted BuWepsRep FR, Morton PA as CH-46D 153347 +

2241
CH-46D
1967
153349 : BV-107M, c/n 2241, ff?; accepted BuWepsRep FR, Morton PA as CH-46D 153349 +

2242
CH-46D
1967
153350 : BV-107M, c/n 2242, ff?; accepted BWR FR Morton, PA as CH-46D 153350, 13Jan+

2246
CH-46D
1967
153354 : BV-107M, c/n 2246, ff?; accepted BWR FR Morton, PA as CH-46D 153354 24Jan6+

2252
CH-46D
1967
153358 : BV-107M, c/n 2252, ff?; accepted BWR FR Morton, PA as CH-46D 153358 13Feb6+

2257
CH-46D
1967
153363 : BV-107M, c/n 2257, ff?; accepted BWR FR Morton, PA as CH-46D 153363 22Feb6+

2261
CH-46D
1967
153365 : BV-107M, c/n 2261, ff?; accepted BWR FR Morton PA as CH-46D 153365 26Feb67+
: Mar/Oct 1977 I flew this aircraft in HMM-164 at Futenma, Okinawa

2265
CH-46D
1967
153369 : 31oct14 HMM-364 retire Phrogs and 153369 transf to HMMT-164
: one of the last two CH-46 (the other was 155306/YT-00) to serve with HMMT-+
: 30jul15 the aircraft was NOT retired by HMMT-164. It was transferred to HM+

153369 : Was /HW-03 while at HC-6, a Navy squadron home ported in Norfolk, VA. Grea+

2266
CH-46D
1967
153370 : BV-107M, c/n 2266, ff?; accepted BWR FR Morton, PA as CH-46D 153370 13Mar6+

2268
CH-46D
1967
153372 : BV-107M, c/n 2268 ff?; accepted BWR FR Morton, PA as CH-46D 153372 16Mar67+

2275
CH-46D
1967
153377 : BV-107M, c/n 2275, ff?; accepted BWR FR Morton, PA as CH-46D 153377 31Mar6+

2276
CH-46D
1967
153378 : BV-107M, c/n 2276, ff?; accepted BWR FR Morton, PA as CH-46D 153378 05Apr6+

2280
CH-46D
1967
153382 : BV-107M, c/n 2280, ff?; accepted BWR FR Morton, PA as CH-46D 153382 18Apr6+

2281
CH-46D
1967
153383 : BV-107M, c/n 2281, ff?; accepted BWR FR Morton, PA as CH-46D 153383 19Apr6+

2282
CH-46D
1967
153384 : BV-107M, c/n 2282, ff?; accepted BWR FR Morton, PA as CH-46D 153383 19Apr6+

2283
CH-46D
1967
153385 : BV-107M, c/n 2283, ff?; accepted BWR FR Morton, PA as CH-46D 153385 19Apr6+

2287
CH-46D
1967
153389 : BV-107M, c/n 2287, ff?; accepted BWR FR Morton, PA as CH-46D 153389 03May6+

2296
CH-46D
1967
153398 : BV-107M, c/n 2296, ff?; accepted BWR FR Morton PA as CH-46D 153398 22May67+

2298
CH-46D
1967
153400 : BV-107M, c/n 2298, ff?; accepted BWR FR Morton PA as CH-46D 153400 31May67+

6113
UH-1E
153747 : HMM-164 w/o 11jun72

6117
UH-1E
153751 : HMM-164 w/o 13may72

2303
CH-46D
1967
153952 : 2013 CH-46E type as HMMT-164 /YT-03

153952 : 12Jul72 d/d HC-6; 1979 as HC6 Det.6 /HW-72
N952AW : State Dept May13-Apr15, sold
- 153952 : 06sep15 at the Russell Air Museum in Zion, IL; Their plans are to restore +

2307
CH-46D
1967
153956 : USMC; 1997 type:CH-46E HMM-164./YT-03

2311
CH-46D
1967
153960 : BV-107M, c/n 2311, ff?; accepted BWR FR Morton, PA as CH-46D 153960 25Jun6+

2312
CH-46D
1967
153961 : BV-107M, c/n 2312, ff:?; del BWR FR Morton, PA as CH-46D 153961 12Jul67; x+

2316
CH-46D
1967
153965 : BV-107M, c/n 2316, ff?; accepted BWR FR Morton, PA as CH-46D 153965 21Jul6+

2322
CH-46D
1967
153971 : BV-107M, c/n 2322, ff:?; del BuWepsRep FR Morton, PA as CH-46D 153971 24Ju+

2336
CH-46D
1967
153985 : BV-107M, c/n 2336, ff:?; accepted BuWepsRep FR Morton, PA as CH-46D 153985+

2341
CH-46D
1967
153990 : BV-107M, c/n 2341, ff?; accepted BuWepsRep FR Morton, PA as CH-46D 153990 +

2343
CH-46D
1969
153992 : BV-107M, c/n 2343, ff?; accepted BuWepsRep FR Morton, PA as CH-46D 153992 +

2344
CH-46D
1967
153993 : BV-107M, c/n 2344, ff?; accepted BuWepsRep FR Morton, PA as CH-46D 153993 +

2349
CH-46D
1967
153998 : 12jun14 pictured as HMMT-164 /YT-10 training parachute jumps at Camp Pendl+

153998 : BV-107M, c/n 2349, accepted BuWepsRep FR Morton, PA as CH-46D 153998 26Sep+

2351
CH-46D
1967
154000 : BV-107M, c/n 2351, ff?; accepted BuWepsRep FR Morton, PA as CH-46D 154000 +

2355
CH-46D
1967
154004 : BV-107M, c/n 2355, ff?; accepted BuWepsRep, Morton, PA as CH-46D 154004 09+

2356
CH-46D
1967
154005 : 18apr13 pictured as HMMT-164 /YT-05 at MCAS Yuma, AZ
: 11may14 still as HMMT-164 /YT-05 at MCAS Camp Pendleton, CA

2357
CH-46D
1967
154006 : BV-107M, c/n 2357, ff?; accepted BuWepsRep, Morton, PA as CH-46D 154006, 1+

2360
CH-46D
1967
154009 : BV-107M, c/n 2360, ff?; accepted BuWepsRep, Morton, PA as CH-46D 154009, 1+

2362
CH-46D
1967
154011 : BV-107M, c/n 2362, ff?; accepted BuWepsRep, Morton, PA as CH-46D 154011, 2+

154011 : Apr/Oct 1980 asg HC-6 Det.8, NAS Norfolk, I deployed to the MED aboard the+

2363
CH-46D
1967
154012 : BV-107M, c/n 2363, ff?; accepted BuWepsRep, Morton, PA as CH-46D 154012, 1+

2365
CH-46D
1967
154014 : BV-107M, c/n 2365, ff?; accepted BuWepsRep, Morton, PA as CH-46D 154014, 2+

2366
CH-46D
1967
154015 : BV-107M, c/n 2366, ff?; del USMC 31Oct67; asgd Boeing FR Morton, PA, xfer +
: Was at HMT-204 when I was there for school. It ended up with HMM(T)-164 wh+

2367
CH-46D
1967
154016 : 1992-1993 HMM-164/YT-13

2374
CH-46D
1967
154023 : BV-107M, c/n 2374, ff?; accepted BuWepsRep, Morton, PA as CH-46D 154023, 2+

N23WN : State Dept; Bureau of Intl Narcotics (INL) 05may11; ex 154023

2377
CH-46D
1967
154026 : BV-107M, c/n 2377, ff? accepted BuWepsRep, Morton, PA as CH-46D 154026, 2+
: I think this is the one from HMM-164, MAG-36 (Futenma) that crashed near a+

2378
CH-46D
1967
154027 : BV-107M, c/n 2378, ff?; accepted BuWepsRep, Morton, PA as CH-46D 154027, 0+
: Apr74-May75, I was the Marine crew chief/mech on board this aircraft with+

N27WN : State Dept; Bureau of Intl Narcotics (INL) 21apr11; ex 154027

2379
CH-46D
1967
154028 : BV-107M, c/n 2379, ff?; accepted BuWepsRep, FR, Morton, PA as CH-46D 15402+
: Sep73-Jun74 I was Crew Chief in HMM-164 as /YT-12

2381
CH-46D
1967
154030 : BV-107M, c/n 2381, ff?; accepted BuWepsRep, FR, Morton, PA as CH-46D 15403+

2382
CH-46D
1967
154031 : BV-107M, c/n 2382, ff?; accepted BuWepsRep, FR, Morton, PA as CH-46D 15403+

2391
CH-46D
1967
154040 : BV-107M, c/n 2391, ff?; accepted BuWepsRep, FR, Morton, PA as CH-46D 15404+

2393
CH-46D
1967
154042 : BV-107M, c/n 2393, ff?; accepted BuWepsRep, FR, Morton, PA as CH-46D 15404+

2396
CH-46D
1968
154789 : BV-107M, c/n 2396, ff?; accepted BuWepsRep, FR, Morton, PA as CH-46D 15478+

- 154789 : Apr16 what's left of her now used by the Fort Rucker, AL fire department f+

2397
CH-46D
1968
154790 : BV-107M, c/n 2397, ff?; accepted BuWepsRep, FR, Morton, PA as CH-46D 15479+

2399
CH-46D
1968
154792 : BV-107M, c/n 2399, ff?; accepted BuWepsRep, FR, Morton, PA as CH-46D 15479+

2403
CH-46D
1968
154796 : BV-107M, c/n 2403, ff?; accepted BuWepsRep, FR, Morton, PA as CH-46D 15479+

2405
CH-46D
1968
154798 : BV-107M, c/n 2405, ff?; accepted BuWepsRep, FR, Morton, PA as CH-46D 15479+

2406
CH-46D
1968
154799 : BV-107M, c/n 2406, ff?; accepted BuWepsRep, FR, Morton, PA as CH-46D 15479+

2407
CH-46D
1968
154800 : BV-107M, c/n 2407, ff?; accepted BuWepsRep, FR, Morton, PA as CH-46D 15480+

2408
CH-46D
1968
154801 : BV-107M, c/n 2408, ff?; accepted BuWepsRep, FR, Morton, PA as CH-46D 15480+

2410
CH-46D
1968
154803 : BV-107M, c/n 2410, ff?; accepted BuWepsRep, FR, Morton, PA as CH-46D 15480+

2411
CH-46D
1968
154804 : BV-107M, c/n 2411, ff?; accepted BuWepsRep, FR, Morton, PA as CH-46D 15480+

2412
CH-46D
1968
154805 : BV-107M, c/n 2412, ff?; accepted BuWepsRep, FR, Morton, PA as CH-46D 15480+

2413
CH-46D
1968
154806 : BV-107M, c/n 2413, ff?; accepted BuWepsRep, FR, Morton, PA as CH-46D 15480+

2414
CH-46D
1968
154807 : BV-107M, c/n 2414, ff?; accepted BuWepsRep, FR, Morton, PA as CH-46D 15480+

2415
CH-46D
1968
154808 : BV-107M, c/n 2415, ff?; accepted BuWepsRep, FR, Morton, PA as CH-46D 15480+

2419
CH-46D
1968
154812 : BV-107M, c/n 2419, ff?; accepted BuWepsRep, FR, Morton, PA as CH-46D 15481+

2422
CH-46D
1968
154815 : BV-107M, c/n 2422, ff?; accepted BuWepsRep, FR, Morton, PA as CH-46D 15481+

2424
CH-46D
1968
154817 : BV-107M, c/n 2424, ff?; accepted BuWepsRep, FR, Morton, PA as CH-46D 15481+
: Aug07 pictured (top) as HMM-164 /YT-09 at Camp Pendleton (spot)
: 15apr13 pictured (bot) as HMMT-164 /YT-17 at MCAS Yuma, AZ

2434
CH-46D
1968
154827 : BV-107M, c/n 2434, ff?; accepted BuWepsRep, FR, Morton, PA as CH-46D 15482+

2435
CH-46D
1968
154828 : BV-107M, c/n 2435, ff?; accepted BuWepsRep, FR, Morton, PA as CH-46D 15482+

2438
CH-46D
1968
154831 : BV-107M, c/n 2438, ff?; accepted BuWepsRep, FR, Morton, PA as CH-46D 15483+
: HMM-164 1978, 1979-80
: 1997 CH-46E type as HMM-164 /YT-01; Mar99 as HMM-364 /PF-01 deployed abo+

N461WY : Sky Aviation Corp at Worland, WY from May14. Purchased through GSA
: Apr15 pictured (pic2) at Worland, Wyoming

2440
CH-46D
1968
154833 : BV-107M, c/n 2440, ff?; accepted BuWepsRep, FR, Morton, PA as CH-46D 15483+

2451
CH-46D
1968
154844 : BV-107M, c/n 2451, ff?; accepted BuWepsRep, FR, Morton, PA as CH-46D 15484+

2459
CH-46F
1968
154852 : BV-107M, c/n 2459, ff?; accepted BuWepsRep, FR, Morton, PA as CH-46F 15485+

2470
CH-46F
1968
155301 : BV-107M, c/n 2470, ff?; accepted BuWepsRep, FR, Morton, PA as CH-46F 15530+

N301WL : State Dept; Bureau of Intl Narcotics (INL) as N301WL, 05Dec11; ex 155301

2475
CH-46F
1968
155306 : BV-107M, c/n 2475, ff?; accepted BuWepsRep, FR, Morton, PA as CH-46F 15530+
: 19oct12 pictured as HMMT-164 /YT-14 during a non-combatant evacuation exer+
: 16apr14 HMMT-164 /YT-14 at Yuma, AZ
: one of the last two CH-46 (the other was 153369/YT-11) to serve with HMMT-+

2478
CH-46F
1968
155309 : BV-107M, c/n 2478, ff?; accepted BuWepsRep, FR, Morton, PA as CH-46F 15530+
: Feb91 pictured aboard the USS Okinawa (LPH-3); Was my assigned aircraft a+

2480
CH-46F
1968
155311 : 1991 HMM-164 /YT02 crewed her during Desert Storm

2490
CH-46F
1969
156420 : BV-107M, c/n 2490, ff?; accepted BuWepsRep, FR, Morton, PA as CH-46F 15642+
: 18oct12 as HMMT-164 /YT-11 at Yuma, AZ; 18apr13 still

2492
CH-46F
1969
156422 : BV-107M, c/n 2492, ff?; accepted BuWepsRep, FR, Morton, PA as CH-46F 15642+

2496
CH-46F
1969
156426 : BV-107M, c/n 2496, ff?; accepted BuWepsRep, FR, Morton, PA as CH-46F 15642+
: 13jul08 picture as HMM(T)-164 /YT mrk Tanker 904 assisting FEMA firefighte+
: 09may13 pictured as HMMT-164 /YT-08 during a wildfire joint exercise with +

2499
CH-46F
1969
156429 : BV-107M, c/n 2499, ff?; accepted BuWepsRep, FR, Morton, PA as CH-46F 15642+
: YT-15 HMM(T)-164 to AMARG as 1J0071

2509
CH-46F
1969
156439 : BV-107M, c/n 2509, ff?; accepted BuWepsRep, FR, Morton, PA as CH-46F 15643+

2518
CH-46F
1969
156448 : BV-107M, c/n 2518, ff?; accepted BuWepsRep, FR, Morton, PA as CH-46F 15644+

2522
CH-46F
1969
156452 : BV-107M, c/n 2522, ff?; accepted BuWepsRep, FR, Morton, PA as CH-46F 15645+

N463WY : Sky Aviation at Worland, WY from Mar14

2537
CH-46F
1969
156467 : BV-107M, c/n 2537, ff?; accepted BuWepsRep, FR, Morton, PA as CH-46F 15646+

2547
CH-46F
1969
156477 : BV-107M, c/n 2547, ff?; accepted BuWepsRep, FR, Morton, PA as CH-46F 15647+

2565
CH-46F
1969
157666 : BV-107M, c/n 2565, ff?; accepted BuWepsRep, FR, Morton, PA as CH-46F 15766+

2569
CH-46F
1969
157670 : USMC; 1997 type:CH-46E HMM-164./YT-09

2571
CH-46F
1969
157672 : 11oct12 pictured as HMMT-164 /YT-02 at Yuma, AZ

2585
CH-46F
1970
157686 : BV-107M, c/n 2585, ff?; accepted BuWepsRep, FR, Morton, PA as CH-46F 15768+
: 1981 transf from HMM-262 Kaneohe Bay, HI to HMM-164 during Pacific trans P+

2592
CH-46F
1970
157693 : BV-107M, c/n 2592, ff?; accepted BuWepsRep, FR, Morton, PA as CH-46F 15769+

2593
CH-46F
1970
157694 : BV-107M, c/n 2593, ff?; accepted BuWepsRep, FR, Morton, PA as CH-46F 15769+

2601
CH-46F
1970
157702 : BV-107M, c/n 2601 ff?; accepted BuWepsRep, FR, Morton, PA as CH-46F 157702+

2609
CH-46F
1970
157710 : BV-107M, c/n 2609, ff?; accepted BuWepsRep, FR, Morton, PA as CH-46F 15771+

157710 : 1976 CH-46F type asg USS Iwo Jima (LPH-2) /00
N464WY : Sky Aviation at Worland, WY from Mar14

2622
CH-46F
1970
157723 : BV-107M, c/n 2622, ff?; accepted BuWepsRep, FR, Morton, PA as CH-46F 15772+
: 13jul08 as HMM(T)-164 /YT mrk Tanker 903 assisting FEMA firefighters in Ca+
: HMM(T)-164 /YT-13 to AMARG as 1J0059

US Navy
2349
CH-46D
1967
153998 : BV-107M, c/n 2349, accepted BuWepsRep FR Morton, PA as CH-46D 153998 26Sep+

201 serials found for HMM-164 / HMM(T)-164,HMMT-164