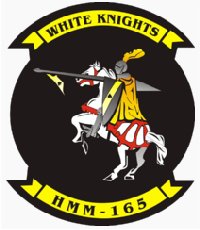 White Knights
, tail code
YW
was formed July 1st, 1965. On 2011 they transitioned to the MV-22 Osprey tilt-rotor and is redesignated
VMM-165
---
I served with HMM-165 from Jan to Dec 1973 (
Operation End Sweep
) as a CH-53 Crew Chief aboard 4 LPHs in the Gulf of Tonkin, South China Sea and Haiphong Harbor doing MCM Ops. Quite a Helo. We used to have over 30 man hours of maintenance per flite hour! Never seen much info on these MCM ops. Steve Eaton. Semper Fi

Dont forget we were also the
Hawaiian Warriors
from 1977-1980...

News about this Rotary Wing Unit :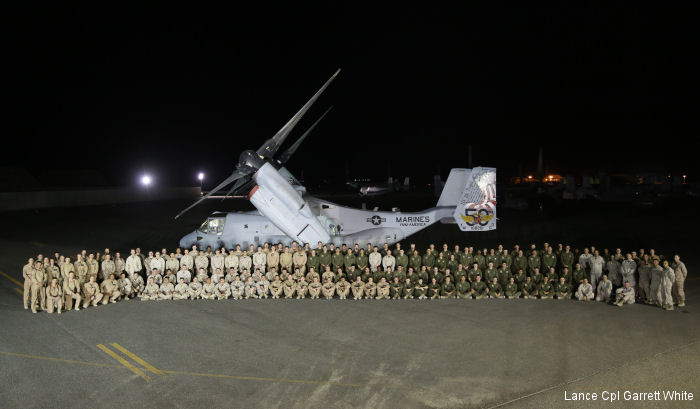 Marines Squadron 165 Celebrates 50 Years, 17-Jul-15 : For 46 years HMM-165, White Knights, flew the CH-46 Sea Knight. In 2011 they transitioned to the MV-22 Osprey and redesignated VMM-165. "Whatever it takes" is celebraring their 50 anniversary
HMM-165 reaches 40, 30-Jun-05 : MARINE CORPS AIR STATION MIRAMAR, Calif. — By Cpl. Skye Jones - More than 40 years ago, Marine Medium Helicopter Squadron 165 was activated at Marine Corps Air Station Santa Ana, Calif., July 1, 1965.
Construction Numbers for HMM-165
Help Us
C/N
Version
Built
In this Org
In other Org
2005
CH-46A
1962
150268 : BV-107M, ff ?; del to USMC 14Dec62 as CH-46A 150268; asgd Boeing RDT&E Mor+

2010
CH-46A
1963
150273 : BV-107M, ff 1963; del USMC 30Aug63 as CH-46A 150273; xfer NATC RDT&E NAS P+

2012
CH-46A
1963
150275 : BV-107M, ff ?; del USMC 30Sep63 as CH-46A 150275; asgd Boeing FR Morton, P+

2014
CH-46A
1963
150277 : BV-107M, ff?; del USMC 15Nov63 as CH-46A 150277; asgd Boeing RDT&E Morton,+

2016
CH-46A
1963
150933 : BV-107M, ff?; del USMC 20Dec63 as CH-46A 150933; asgd Boeing FR, Morton PA+

2017
CH-46A
1964
150934 : BV-107M, ff?; del USMC 23Jan64 as CH-46A 150934; asgd Boeing FR Morton, PA+

2021
CH-46A
1964
150938 : BV-107M, c/n 2021, ff?; del USMC as CH-46A 150938, asgd Boeing FR Morton, +

150938 : xfer USN HC-7 09Jan70; xfer HC-3 24Sep70; stor MASDC DMAFB as 1J0002 05Aug+

2023
CH-46A
1964
150940 : BV-107M, c/n 2023; ff?, del USMC 24Mar64 as CH-46A 150940; asgd Boeing FR +

2031
CH-46A
1964
150946 : BV-107M, c/n 2031; ff?, del to USMC 31Jul64 as CH-46A 150946; asgd Boeing +

150946 : xfer USN HC-3 19Jun70; stor MASDC DMAFB as 1J0003 24Aug71; xfer NARF Cher+

2032
CH-46A
1964
150947 : BV-107M, c/n 2032; ff?, del to USMC 28Aug64 as CH-46A 150947; asgd Boeing +

2037
CH-46A
1964
150952 : BV-107M, c/n 2037; ff?, del to USMC 30Sep64 as CH-46A 150952; asgd Boeing +

2039
CH-46A
1964
150953 : BV-107M, c/n 2039; ff?, del to USMC 30Sep64 as CH-46A 150953; asgd Beoing +

2041
CH-46A
1964
150955 : BV-107M, c/n 2041, ff?; del to USMC 16Oct64 as 150955; asgd Boeing FR Mort+

2044
CH-46A
1964
150958 : BV-107M, c/n 2044, ff?; del USMC 24Nov64 as CH-46A 150958; asgd Boeing FR +

150958 : US Navy in 1993 type:HH-46D /VR-70 HC-11
: 09-14jul98 HH-46D type HC-11./VR-67 embarked USS Tarawa LHA-1.

2045
CH-46A
1964
150959 : BV-107M, c/n 2045, ff?; del to USMC 24Nov64 as CH-46A 150959; asgd Boeing +

6059
UH-1E
151865 : HMM-165 w/o 27oct71

2053
CH-46A
1965
151906 : BV-107M, c/n 2053, ff?; del USMC 18Feb65 as CH-46A 151906; asgd Beoing FR +

2054
CH-46A
1965
151907 : BV-107M, c/n 2054, ff?; del USMC 24Feb65 as CH-46A 151907; asgd Boeing FR +

2055
CH-46A
1965
151908 : BV-107M, c/n 2055, ff?; del USMC 26Feb65 as CH-46A 151908; asgd Boeing FR +

2056
CH-46A
1965
151909 : BV-107M, c/n 2056, ff?; del USMC 27Feb65 as CH-46A 151909; asgd Boeing FR +

2059
CH-46A
1965
151911 : BV-107M, c/n 2059, ff?; del USMC 19Mar65 as CH-46A 151911; asgd Boeing FR +

2061
CH-46A
1965
151913 : BV-107M, c/n 2061, ff?; del USMC 27Feb65 as CH-46A 151913; asgd Boeing FR +

151913 : I have the safety report for this accident. It was a navy helicopter, fro+
: I think this may be the flight on a sight seeing trip in the PI flying do+

2063
CH-46A
1964
151914 : BV-107M, c/n 2063; ff?, del USMC 19Mar65 as CH-46A 151914; asgd Boeing FR +

151914 : USN; xfer NARF Cherry Point 22Jun74; further unit xfers unknown; conv HH-4+
: Mid80s, in HC-11 till at least 1991 in Det.4 along with 152535

2064
CH-46A
1965
151915 : BV-107M, c/n 2064; ff?, del USMC 19Mar65 as CH-46A 151915; asgd Boeing FR +

151915 : USN; xfer NARF Cherry Point 19Mar74; further unit xfers unknown; conv HH-4+
: 1993 HH-46D type as HC-11 /VR-50
: 09-14jul98 HH-46D type HC-11./VR-66 embarked USS Tarawa LHA-1.

2065
CH-46A
1965
151916 : BV-107M, c/n 2065; ff?, del USMC 24Mar65 as CH-46A 151916; asgd Boeing FR +

2066
CH-46A
1965
151917 : BV-107M, c/n 2066; ff?, del USMC 26Mar65 as CH-46A 151917; asgd Boeing FR +

2069
CH-46A
1965
151919 : BV-107M, c/n 2069; ff?, del USMC 16Apr65 as CH-46A 151919; xfer HMM-164 03+
: 18mar66 pictured at MCAS Tustin, California as CH-46A YW-49/HMM-165

2070
CH-46A
1965
151920 : BV-107M, c/n 2070; ff?, del USMC 15Apr65 as CH-46A 151920; asgd Boeing FR +

2071
CH-46A
1965
151921 : BV-107M, c/n 2071, ff?; del USMC as CH-46A, 151921, 28Apr65; asgd Boeing F+

151921 : 1999 HC-5 /RB-14, HH-46D type
- : Columbia Helicopters from 2004; spares?
- - : Scroggins Aviation from 09nov17 for it movie mockup company

2072
CH-46A
1965
151922 : BV-107M; c/n 2072; ff ?; del USMC 03May65 as CH-46A 151922; asgd Boeing FR+

2073
CH-46A
1965
151923 : BV-107M; c/n 2073; ff?; del USMC 05May65 as CH-46A 151923; asgd Boeing FR +

2074
CH-46A
1965
151924 : BV-107M, c/n 2074, ff?; del USMC 12May65 as CH-46A 151924; asgd Boeing FR +

2075
CH-46A
1965
151925 : BV-107M, c/n 2075, ff?; del USMC 13May65 as CH-46A 151925; asgd Boeing FR +

2076
CH-46A
1965
151926 : BV-107M; c/n 2076; ff?; del USMC 14Jun65 as CH-46A 151926; asgd Boeing FR +

2080
CH-46A
1965
151930 : BV-107M, c/n 2080, ff?; del USMC 04Jun65 as CH-46A 151930; asgd Boeing FR +

2081
CH-46A
1965
151931 : BV-107M, c/n 2081, ff?; del USMC 04Jun65 as CH-46A 151931; asgd Boeing FR +

2082
CH-46A
1965
151932 : BV-107M, c/n 2082, ff?; del USMC 23Jun65 as CH-46A 151932; asgd Boeing FR +

2083
CH-46A
1965
151933 : BV-107M, c/n 2083, ff?; del USMC 02Jul65 as CH-46A 151933; asgd Boeing FR +

151933 : US Navy.; mar1999 type:HH-46D deployed aboard USS Boxer LHD-4. HC-11./VR-7+

2084
CH-46A
1965
151934 : BV-107M, c/n 2084, ff?; del USMC 06Jul65 as CH-46A 151934; asgd Boeing FR +

151934 : 02apr82 pictured as HC-11 /VR-73 at Arthur W. Radford Field, NAS Cubi Poin+

2087
CH-46A
1965
151937 : BV-107M, c/n 2087, ff?; del USMC 23Jul65 as CH-46A 151937; asgd Boeing FR +

151937 : 1980 HH-46A type asg NAVSTA ROTA SAR
: 1993 HH-46D type asg HC-3 /SA-01

2088
CH-46A
1965
151938 : BV-107M, c/n 2088, ff?; del USMC 28Jul65 as CH-46A 151938; asgd Boeing FR +

2089
CH-46A
1965
151939 : BV-107M, c/n 2089, ff?; del USMC 09Aug65 as CH-46A 151939; asgd Boeing FR,+

2090
CH-46A
1965
151940 : BV-107M; c/n 2090, ff?; del USMC 11Aug65 as CH-46A 151940; asgd Boeing FR +

2092
CH-46A
1965
151942 : BV-107M, c/n 2092, ff?; del USMC 13Aug65 as CH-46A 151942; asgd Boeing FR,+

151942 : xfer HC-6 04Feb71; stor MASDC as 1J0033 30Dec71; xfer NARF North Island +

2094
CH-46A
1965
151944 : BV-107M, c/n 2094, ff?; del USMC 26Aug65 as CH-46A 151944; asgd Boeing FR,+

2098
CH-46A
1965
151948 : BV-107M, c/n 2098 ff?; del USMC 23Sep65 as CH-46A 151948; asgd Beoing FR M+

2099
CH-46A
1965
151949 : BV-107M, c/n 2099, ff?; del USMC 30Sep65 as CH-46A 151949; asgd Noeing FR +

151949 : 01mar71 HC-7 tsfr this bird to HC-3 NAS Imperial Beach, CA

2100
CH-46A
1965
151950 : BV-107M, c/n 2100, ff?; del USMC 24Sep65 as CH-46A 151950; asgd Boeing FR +

151950 : pictured as /BR-16 HC-8 with USS Kearsarge (LHD-3)

2101
CH-46A
1965
151951 : BV-107M, c/n 2101, ff?; del USMC 05oct65 as CH-46A 151951; asgd Boeing FR +

2102
CH-46A
1965
151952 : USMC CH-46A d/d 15oct65; asg Boeing FR Morton PA; HMM-164 21Dec65; HMM-2+

151952 : NARF North Island 21May75; Navy Test Pilot SchoolUSNTPS , NATC Pax Piver,+
: 16oct03 preserved at National Museum Naval Aviation (NMNA) Pensacola, FL

2103
CH-46A
1965
151953 : BV-107M, c/n 2103, ff?; del USMC 25Oct65 as CH-46A 151953; asgd Boeing FR +

151953 : March 79/July 81 NAS Patuxent River SAR OPS-63, I flew this as a crew chie+
: March 81/June 83, at NAS Pt. Mugu as Bloodhound BH-16 while I was statione+
: US Navy; 1988 CH-46D type HC-6./HW-01
: US Navy in 1996 deployed aboard USS Nassau LHA-4. type:HH-46D /HW-65 HC-6
: 2001-2002 aboard USS Nassau (LHA-4) with HC-6 Det 7

2105
CH-46A
1965
151955 : BV-107M; c/n 2105, ff?; del USMC 27Oct65 as CH-46A 151955; asgd Boeing FR +

151955 : USN; pictured as HC-8 /BR-33

2107
CH-46A
1965
151957 : BV-107M, c/n 2107, ff?; del USMC 10Nov65 as CH-46A 151957; asgd Boeing FR +

2109
CH-46A
1965
151959 : BV-107M, c/n 2109, ff?; del USMC 19Nov65 as CH-46A 151959; asgd Boeing FR +

2113
CH-46A
1965
152496 : BV-107M, c/n 2113, ff?; del USMC 16Dec65 as CH-46A 152496; asgd Boeing FR +

152496 : US Navy in 1993 type:HH-46D /VR-67 HC-11

2115
CH-46A
1966
152498 : BV-107M, c/n 2115, ff?; del USMC 05Jan66 as CH-46A 152498; asgd Boeing FR +

2116
CH-46A
1966
152499 : BV-107M, c/n 2116, ff?; del USMC 07Jan66 as CH-46A 152499; asgd Boeing FR +

2121
CH-46A
1966
152503 : BV-107M, c/n 2121, ff?; del USMC 24Jan66 as CH-46A 152503; asgd Boeing FR +

2129
CH-46A
1966
152510 : BV-107M, c/n 2129, ff?; del USMC 03mar66 as CH-46A 152510; asgd Boeing FR +

2132
CH-46A
1966
152512 : BV-107M, c/n 2132, ff?; del USMC 03Mar66 as CH-46A 152512; asgd Boeing FR +

2133
CH-46A
1966
152513 : BV-107M, c/n 2133, ff?; del USMC 12Mar66 as CH-46A 152513; asgd Boeing FR +

152513 : USN; xfer NAS Cubi Point 11Jan72; xfer FAWPRA Atsugi 01Dec72; xfer NARF Ch+
: 1979-1982 at NAS Cubi Point
: 22sep81 assigned at USS Mount Hood (AE-29) pictured at Calayan Island duri+

2138
CH-46A
1966
152517 : BV-107M, c/n 2138, ff?; del USMC 17Mar66 as CH-46A 152517; asgd Boeing FR +

2139
CH-46A
1966
152518 : BV-107M, c/n 2139, ff?; del USMC 14Mar66 as CH-46A 152518; asgd Boeing FR +

152518 : pictured (pic2) as HC-16 /BF-400 at Pensacola. Notice TH-57 on background
: asg HC-5 /RB-12, unk; w/o 22oct87 video ditched in North Arabian Gulf off +

2140
CH-46A
1966
152519 : BV-107M, c/n 2140, ff?; del USMC 01Apr66 as CH-46A 152519; asgd Boeing FR +

2141
CH-46A
1966
152520 : USMC CH-46A d/d 01Apr66; asgd Boeing FR Morton PA; xfer HMM-165 12Apr66; x+

152520 : USN; redesig HH-46A 04Mar74; xfer NAS Whidbey Island 19Feb75; further uni+

2142
CH-46A
1966
152521 : BV-107M, c/n 2142, ff?; del USMC 11Apr66 as CH-46A 152521; asgd Boeing FR +

2143
CH-46A
1966
152522 : BV-107M, c/n 2143, ff?; del USMC 12Apr66 as CH-46A 152522; asgd Boeing FR +

152522 : US Navy; 11aug92 pictured as SAR Helo HH-46D type at NAS Point Mugu, Cali+

2145
CH-46A
1966
152523 : BV-107M, c/n 2145, ff?; del USMC 20Apr66 as CH-46A 152523; asgd Boeing FR +

2146
CH-46A
1966
152524 : BV-107M, c/n 2146, ff?; del USMC 25Apr66 as CH-46A 152524; asgd Boeing FR +

2147
CH-46A
1966
152525 : BV-107M, c/n 2147, ff?; del USMC 25Apr66 as CH-46A 152525; asgd Boeing FR +

2148
CH-46A
1966
152526 : BV-107M, c/n 2148, ff?; del USMC 29Apr66 as CH-46A 152526; asgd Boeing FR +

2149
CH-46A
1966
152527 : BV-107M, c/n 2149, ff?; del USMC 05May66 as CH-46A 152527; asgd Boeing FR +

2150
CH-46A
1966
152528 : BV-107M, c/n 2150, ff?; del USMC 05May66 as CH-46A 152528; asgd Boeing FR +

2151
CH-46A
1966
152529 : BV-107M, c/n 2151, ff?; del USMC 12May66 as CH-46A 152529; asgd Boeing FR +

2152
CH-46A
1966
152530 : BV-107M, c/n 2152, ff?; accepted BuWepsRep, Fleet Readiness, Morton PA 11M+

152530 : 07Nov01 HC-5

2153
CH-46A
1966
152531 : BV-107M, c/n 2153, ff?; del USMC 11May66 as CH-46A 152531; asgd Boeing FR +

2154
CH-46A
1966
152532 : BV-107M, c/n 2154, ff?; del USMC 16May66 as CH-46A 152532; asgd Boeing FR +

2155
CH-46A
1966
152533 : BV-107M, c/n 2155, ff?; del USMC 27May66 as CH-46A 152533; asgd Boeing FR +

2156
CH-46A
1966
152534 : BV-107M, c/n 2156, ff?; del USMC 27May66 as CH-46A 152534; asgd Boeing FR +

2157
CH-46A
1966
152535 : BV-107M, c/n 2157, ff?; del USMC 06Jun66 as CH-46A 152535; asgd Boeing FR +

152535 : 1983-1984 as HC-11 Det.5 /70 with 151905 /71 on my first det on USS Wichit+
: Mid80s, in HC-11 till at least 1991 in Det.4 along with 151914
: 1992 asg USS Tarawa (LHA-1) HC-11 Det 4 rescue 6 civilian merchant sailors+

2158
CH-46A
1966
152536 : BV-107M, c/n 2158, ff?; del USMC 06Jun66 as CH-46A 152536; asgd Boeing FR +

2159
CH-46A
1966
152537 : BV-107M, c/n 2159, ff?; del USMC 06Jun66 as CH-46A 152537; asgd Boeing FR +

2160
CH-46A
1966
152538 : BV-107M, c/n 2160, ff?; del USMC 09Jun66 as CH-46A 152538; asgd Boeing FR +

152538 : HC-6, HW-03, 20Apr70; stor MASDC as 1J0060 29Mar72; xfer NARF Cherry Point+
: mid70s, was our primary Helo at NAS Whidbey Island SAR, call sign Firewood+
: 1993 HH-46D type as HC-3 /SA-03
: HH-46D type as HC-11 /VR-55; 2010 scr by HVF West LLC Government DEMIL C+

2161
CH-46A
1966
152539 : BV-107M, c/n 2161, ff?; del USMC 15Jun66 as CH-46A 152539; asgd Boeing FR +

152539 : xfer HC-3 24Feb71; xfer MARTD Lakehurst, HMM-768, 14Jun71; stor MASDC as 1+
: 1975 asg SAR Unit at NAS Meridian; 1979 to HC-16 Pensacola, FL; 1985 xfe+
: 1993 HH-46D type HC-11 /VR-51
: 2001-2002 aboard USS Bataan (LHA-5) with HC-6 Det 1

2162
CH-46A
1966
152540 : BV-107M, c/n 2162, ff?; del USMC 10Jun66 as CH-46A 152540; asgd Boeing FR +

2163
CH-46A
1966
152541 : BV-107M, c/n 2163, ff?; del USMC 08Jun66 as CH-46A 152541; asgd Boeing FR +

2164
CH-46A
1966
152542 : BV-107M, c/n 2164, ff?; del USMC 16Jun66 as CH-46A 152542; asgd Boeing FR +

152542 : xfer HC-3 28Dec70; xfer MARTD Norfolk, HMM-774, 18Feb71; xfer NARF Norfol+

2165
CH-46A
1966
152543 : BV-107M, c/n 2165, ff?; del USMC 15Jun66 as CH-46A 152543; asgd Boeing FR +

152543 : ; xfer NAF Cam Ranh Bay 24Dec70; xfer NAF Cam Ranh Bay, Det T, 01Mar71; xf+
: 5 of 7 onboard perished

2170
CH-46A
1966
152548 : BV-107M, c/n 2170, ff?; del USMC 01Jul66 as CH-46A 152548; asgd Boeing FR +

2174
CH-46A
1966
152552 : BV-107M, c/n 2174, ff?; del USMC 13Jul66 as CH-46A 152552; asgd Boeing FR +

2184
CH-46D
1966
152562 : BV-107M, c/n 2184, ff?; del USMC 19Aug66 as CH-46A 152562; asgd Boeing FR +

2186
CH-46D
1966
152564 : BV-107M, c/n 2186, ff?; del USMC 26Aug66 as CH-46A 152564; asgd Boeing FR +

2189
CH-46A
1966
152567 : BV-107M, c/n 2189, ff?; del USMC 02Sep66 as CH-46A 152567; asgd Boeing FR +

152567 : noted aboard USS Savannah at Devonport as HC-6 /HW-05 on 24 Sep 1982
: US Navy; 1988 CH-46D type HC-6./HW-05
: 19jul02 pictured as HW-14/HC-6 while conducting a Vertical Replenishment (+

2195
CH-46D
1966
152573 : BV-107M, cn 2195, ff?; accepted BuWepsRep, FR Morton PA as CH-46A 152573 2+

2196
CH-46D
1966
152574 : BV-107M, cn 2196, ff?; accepted BuWepsRep, FR Morton PA as CH-46A 152574 2+

2197
CH-46D
1966
152575 : BV-107M, c/n 2197, ff?; accepted BuWepsRep, FR Morton PA as CH-46A 152575 +

152575 : US Navy from USMC, conv HH-46 type; w/o 01apr86 as HC-8 /BR-47, crashed on+
: crash was during VOD (Vertical Onboard Delivery) not VERTREP (Vertical Rep+

2198
CH-46D
1966
152576 : BV-107M, c/n 2198, ff?; accepted BuWepsRep, FR Morton PA as CH-46A 152576 +

2207
CH-46D
1966
153319 : BV-107M, c/n 2207, ff?; accepted BuWepsRep FR Morton PA 22Oct66; redesig C+

153319 : US Navy; 1989 CH-46D type HC-6./HW-03

2209
CH-46D
1966
153321 : BV-107M, c/n 2209, ff?; accepted BuWepsRep FR Morton PA as CH-46A 153321 2+

2211
CH-46D
1966
153323 : BV-107M, c/n 2211, ff?; accepted BuWepsRep FR Morton PA as CH-46A 153323 2+

2213
CH-46D
1966
153325 : BV-107M, c/n 2213, ff?; accepted BuWepsRep FR Morton PA as CH-46A 153325 2+

153325 : US Navy in 1993 /SA-10 HC-3

2218
CH-46D
1966
153330 : BV-107M, c/n 2218, ff?; accepted BuWepsRep FR Morton PA as CH-46D 153330 0+

2234
CH-46D
1966
153344 : BV-107M, c/n 2234, ff?; accepted BuWepsRep FR, Morton PA as CH-46D 153344 +

2237
CH-46D
1966
153345 : BV-107M, c/n 2237, ff?; accepted BuWepsRep FR, Morton PA as CH-46D 153345 +

153345 : xfer HC-3, SA-15, 29Jun72; stor AMARC as 1J0002 19Jun02; SOC 20Jun02.
: 1993 HC-3 /SA-15

2238
CH-46D
1966
153346 : BV-107M, c/n 2238, ff?; accepted BuWepsRep FR, Morton PA as CH-46D 153346 +

N346WC : State Dept; Bureau of Intl Narcotics (INL) 05may11; ex 153346

2239
CH-46D
1967
153347 : BV-107M, c/n 2239, ff?; accepted BuWepsRep FR, Morton PA as CH-46D 153347 +

2241
CH-46D
1967
153349 : BV-107M, c/n 2241, ff?; accepted BuWepsRep FR, Morton PA as CH-46D 153349 +

2242
CH-46D
1967
153350 : BV-107M, c/n 2242, ff?; accepted BWR FR Morton, PA as CH-46D 153350, 13Jan+

2245
CH-46D
1967
153353 : BV-107M, c/n 2245, ff?; accepted BWR FR Morton, PA as CH-46D 153353, 23Jan+

2249
CH-46D
1967
153355 : BV-107M, c/n 2249, ff?; accepted BWR FR Morton, PA as CH-46D 153355 01Feb6+

153355 : xfer HC-3 17Mar75; further unit xfers unk; xfer NAWC-AD unk; soc 25May99, +

2250
CH-46D
1967
153356 : BV-107M, c/n 2250, ff?; accepted BWR FR Morton, PA as CH-46D 153356 10Feb6+

2251
CH-46D
1967
153357 : BV-107M, c/n 2251, ff?; accepted BWR FR Morton, PA as CH-46D 153357 10Feb6+

2253
CH-46D
1967
153359 : BV-107M, c/n 2253, ff?; accepted BWR FR Morton, PA as CH-46D 153359 13Feb6+

2257
CH-46D
1967
153363 : BV-107M, c/n 2257, ff?; accepted BWR FR Morton, PA as CH-46D 153363 22Feb6+

2258
CH-46D
1967
153364 : BV-107M, c/n 2258, ff?; accepted BWR FR Morton, PA as CH-46D 153364 22Feb6+

2261
CH-46D
1967
153365 : BV-107M, c/n 2261, ff?; accepted BWR FR Morton PA as CH-46D 153365 26Feb67+

2266
CH-46D
1967
153370 : BV-107M, c/n 2266, ff?; accepted BWR FR Morton, PA as CH-46D 153370 13Mar6+

2275
CH-46D
1967
153377 : BV-107M, c/n 2275, ff?; accepted BWR FR Morton, PA as CH-46D 153377 31Mar6+
: 2006-2007 I served as crew chief in Iraq attached to HMM-165 (rein) aboard+

2276
CH-46D
1967
153378 : BV-107M, c/n 2276, ff?; accepted BWR FR Morton, PA as CH-46D 153378 05Apr6+

2278
CH-46D
1967
153380 : BV-107M, c/n 2278, ff?; accepted BWR FR Morton, PA as CH-46D 153380 11Apr6+
: 1978, I believe this helo was the replacement to HMM-165 /YW-01 when 15+

2284
CH-46D
1967
153386 : BV-107M, c/n 2284, ff?; accepted BWR FR Morton, PA as CH-46D 153386 25Apr6+

2285
CH-46D
1967
153387 : USN CH-46D BWR FR Morton, PA as CH-46D 153387 01May67; xfer HMM-365 20May6+

153387 : I believe this a/c was assigned to HC-11 Det 5 onboard the USS Wichita (AO+
: w/o 16jul80 crashed in the Indian Ocean. Assigned to HC-11, Det-5 aboard U+
: I was HSL-37 Det.7 pilot attached to USS Davidson
: I was the crew chief HC-11 Det 5. We had 3 missions that day. A flip of a +

2286
CH-46D
1967
153388 : BV-107M, c/n 2286, ff?; accepted BWR FR Morton, PA as CH-46D 153388 01May6+

2287
CH-46D
1967
153389 : BV-107M, c/n 2287, ff?; accepted BWR FR Morton, PA as CH-46D 153389 03May6+

2296
CH-46D
1967
153398 : BV-107M, c/n 2296, ff?; accepted BWR FR Morton PA as CH-46D 153398 22May67+
: 1978/79, my bird while attached to HMM-165 hawaiian warriors. I miss her..+

2298
CH-46D
1967
153400 : BV-107M, c/n 2298, ff?; accepted BWR FR Morton PA as CH-46D 153400 31May67+

2312
CH-46D
1967
153961 : BV-107M, c/n 2312, ff:?; del BWR FR Morton, PA as CH-46D 153961 12Jul67; x+

2313
CH-46D
1967
153962 : BV-107M, c/n 2313, ff:?; del BuWepsRep FR Morton, PA as CH-46D 153962 13Ju+

2320
CH-46D
1967
153969 : BV-107M, c/n 2320, ff:?; del BuWepsRep FR Morton, PA as CH-46D 153969 25Ju+

2322
CH-46D
1967
153971 : BV-107M, c/n 2322, ff:?; del BuWepsRep FR Morton, PA as CH-46D 153971 24Ju+

2329
CH-46D
1967
153978 : BV-107M, c/n 2329, ff:?; accepted BuWepsRep FR Morton, PA as CH-46D 153978+

2330
CH-46D
1967
153979 : BV-107M, c/n 2330, ff:?; accepted BuWepsRep FR Morton, PA as CH-46D 153979+

2331
CH-46D
1967
153980 : BV-107M, c/n 2331, ff:?; accepted BuWepsRep FR Morton, PA as CH-46D 153980+

2332
CH-46D
1967
153981 : BV-107M, c/n 2332, ff:?; accepted BuWepsRep FR Morton, PA as CH-46D 153981+

2336
CH-46D
1967
153985 : HMM-165 (YW01) at MCAS Kaneohe Bay jan77-sep78
: I was the crewchief for HMM-165 /YW-01 from Feb77 till she went to PAR Nor+

2338
CH-46D
1967
153987 : BV-107M, c/n 2338, ff?; accepted BuWepsRep FR Morton, PA as CH-46D 153987 +

2340
CH-46D
1967
153989 : BV-107M, c/n 2340, ff?; accepted BuWepsRep FR Morton, PA as CH-46D 153989 +
: Oct72 asg HMM-165 was replaced as /YW-5 with 154833

2341
CH-46D
1967
153990 : BV-107M, c/n 2341, ff?; accepted BuWepsRep FR Morton, PA as CH-46D 153990 +

2343
CH-46D
1969
153992 : BV-107M, c/n 2343, ff?; accepted BuWepsRep FR Morton, PA as CH-46D 153992 +

2352
CH-46D
1967
154001 : BV-107M, c/n 2352, ff?; accepted BuWepsRep, Morton, PA as CH-46D 154001 29+
: 1999-2002 as HMM-165 /YW-01. Fastest and smoothest plane we had
: 2008 as HMM-165 /YW-06 15th MEU in Iraq

154001 : 1979-1981 flew this as Sideflare 62 in HC-11; Flew into CH-46E conversion +

2355
CH-46D
1967
154004 : BV-107M, c/n 2355, ff?; accepted BuWepsRep, Morton, PA as CH-46D 154004 09+

2356
CH-46D
1967
154005 : BV-107M, c/n 2356, ff?; accepted BuWepsRep, Morton, PA as CH-46D 154005, 0+

2357
CH-46D
1967
154006 : BV-107M, c/n 2357, ff?; accepted BuWepsRep, Morton, PA as CH-46D 154006, 1+

2360
CH-46D
1967
154009 : BV-107M, c/n 2360, ff?; accepted BuWepsRep, Morton, PA as CH-46D 154009, 1+

2362
CH-46D
1967
154011 : BV-107M, c/n 2362, ff?; accepted BuWepsRep, Morton, PA as CH-46D 154011, 2+
: 1976-1977, I was crew chief at HMM-165 home ported on Subic Bay. Lots of g+
: 1997 CH-46E type HMM-165 /YW-11

154011 : Apr/Oct 1980 asg HC-6 Det.8, NAS Norfolk, I deployed to the MED aboard the+

2365
CH-46D
1967
154014 : BV-107M, c/n 2365, ff?; accepted BuWepsRep, Morton, PA as CH-46D 154014, 2+
: Mar72-Apr73, as HMM-165 /YW-3 on USS New Orleans (LPH-11). I was an Avioni+

2366
CH-46D
1967
154015 : BV-107M, c/n 2366, ff?; del USMC 31Oct67; asgd Boeing FR Morton, PA, xfer +

2368
CH-46D
1967
154017 : BV-107M, c/n 2368, ff?; accepted BuWepsRep, Morton, PA as CH-46D 154017, 1+

2374
CH-46D
1967
154023 : BV-107M, c/n 2374, ff?; accepted BuWepsRep, Morton, PA as CH-46D 154023, 2+
: 06feb91 pictured as HMM-165/YW-16 approaching USS Wisconsin (BB-64) duri+
: 18aug10 pictured as HMM-165/YW-00 on USS Peleliu (LHA 5) under way in the +

N23WN : State Dept; Bureau of Intl Narcotics (INL) 05may11; ex 154023

2377
CH-46D
1967
154026 : BV-107M, c/n 2377, ff? accepted BuWepsRep, Morton, PA as CH-46D 154026, 2+

2378
CH-46D
1967
154027 : BV-107M, c/n 2378, ff?; accepted BuWepsRep, Morton, PA as CH-46D 154027, 0+

N27WN : State Dept; Bureau of Intl Narcotics (INL) 21apr11; ex 154027

2379
CH-46D
1967
154028 : BV-107M, c/n 2379, ff?; accepted BuWepsRep, FR, Morton, PA as CH-46D 15402+
: Mar72-Apr73, I was an Avionics Tech in HMM-165. This aircraft was reassign+

2380
CH-46D
1967
154029 : BV-107M, c/n 2380, ff?; accepted BuWepsRep, FR, Morton, PA as CH-46D 15402+

2381
CH-46D
1967
154030 : BV-107M, c/n 2381, ff?; accepted BuWepsRep, FR, Morton, PA as CH-46D 15403+

2389
CH-46D
1967
154038 : BV-107M, c/n 2389, ff?; accepted BuWepsRep, FR, Morton, PA as CH-46D 15403+

N38TU : State Dept, Bureau of Intl Narcotics (INL) from 05Dec11
: 11feb15 pictured in Kabul, Afghanistan

2390
CH-46D
1967
154039 : BV-107M, c/n 2390, ff?; accepted BuWepsRep, FR, Morton, PA as CH-46D 15403+

2392
CH-46D
1967
154041 : BV-107M, c/n 2392, ff?; accepted BuWepsRep, FR, Morton, PA as CH-46D 15404+

2393
CH-46D
1967
154042 : BV-107M, c/n 2393, ff?; accepted BuWepsRep, FR, Morton, PA as CH-46D 15404+

2395
CH-46D
1967
154044 : BV-107M, c/n 2395, ff?; accepted BuWepsRep, FR, Morton, PA as CH-46D 15404+

2396
CH-46D
1968
154789 : BV-107M, c/n 2396, ff?; accepted BuWepsRep, FR, Morton, PA as CH-46D 15478+

- 154789 : Apr16 what's left of her now used by the Fort Rucker, AL fire department f+

2397
CH-46D
1968
154790 : BV-107M, c/n 2397, ff?; accepted BuWepsRep, FR, Morton, PA as CH-46D 15479+

2399
CH-46D
1968
154792 : BV-107M, c/n 2399, ff?; accepted BuWepsRep, FR, Morton, PA as CH-46D 15479+
: 1997 CH-46E type: HMM-165 /YW-06

2400
CH-46D
1968
154793 : BV-107M, c/n 2400, ff?; accepted BuWepsRep, FR, Morton, PA as CH-46D 15479+

2403
CH-46D
1968
154796 : BV-107M, c/n 2403, ff?; accepted BuWepsRep, FR, Morton, PA as CH-46D 15479+

2404
CH-46D
1968
154797 : BV-107M, c/n 2404, ff?; accepted BuWepsRep, FR, Morton, PA as CH-46D 15479+

2405
CH-46D
1968
154798 : BV-107M, c/n 2405, ff?; accepted BuWepsRep, FR, Morton, PA as CH-46D 15479+

2407
CH-46D
1968
154800 : BV-107M, c/n 2407, ff?; accepted BuWepsRep, FR, Morton, PA as CH-46D 15480+

2409
CH-46D
1968
154802 : BV-107M, c/n 2409, ff?; accepted BuWepsRep, FR, Morton, PA as CH-46D 15480+

2410
CH-46D
1968
154803 : BV-107M, c/n 2410, ff?; accepted BuWepsRep, FR, Morton, PA as CH-46D 15480+
: 1968 CH-46D; 1975 Saigon as LADY ACE 09; 1982 conv CH-46E; pictured (bot) +

2413
CH-46D
1968
154806 : BV-107M, c/n 2413, ff?; accepted BuWepsRep, FR, Morton, PA as CH-46D 15480+

2414
CH-46D
1968
154807 : BV-107M, c/n 2414, ff?; accepted BuWepsRep, FR, Morton, PA as CH-46D 15480+

2415
CH-46D
1968
154808 : BV-107M, c/n 2415, ff?; accepted BuWepsRep, FR, Morton, PA as CH-46D 15480+

2418
CH-46D
1968
154811 : BV-107M, c/n 2418, ff?; accepted BuWepsRep, FR, Morton, PA as CH-46D 15481+

2419
CH-46D
1968
154812 : BV-107M, c/n 2419, ff?; accepted BuWepsRep, FR, Morton, PA as CH-46D 15481+

2422
CH-46D
1968
154815 : BV-107M, c/n 2422, ff?; accepted BuWepsRep, FR, Morton, PA as CH-46D 15481+

2434
CH-46D
1968
154827 : BV-107M, c/n 2434, ff?; accepted BuWepsRep, FR, Morton, PA as CH-46D 15482+

2435
CH-46D
1968
154828 : BV-107M, c/n 2435, ff?; accepted BuWepsRep, FR, Morton, PA as CH-46D 15482+
: usmc; 1997 type:CH-46E HMM-165./YW-05

2436
CH-46D
1968
154829 : BV-107M, c/n 2436, ff?; accepted BuWepsRep, FR, Morton, PA as CH-46D 15482+

2438
CH-46D
1968
154831 : BV-107M, c/n 2438, ff?; accepted BuWepsRep, FR, Morton, PA as CH-46D 15483+

N461WY : Sky Aviation Corp at Worland, WY from May14. Purchased through GSA
: Apr15 pictured (pic2) at Worland, Wyoming

2439
CH-46D
1968
154832 : BV-107M, c/n 2439, ff?; accepted BuWepsRep, FR, Morton, PA as CH-46D 15483+

2440
CH-46D
1968
154833 : BV-107M, c/n 2440, ff?; accepted BuWepsRep, FR, Morton, PA as CH-46D 15483+
: Apr/Oct 1973, I was crew chief on this bird as HMM-165 /YW-05, Operation E+

2441
CH-46D
1968
154834 : BV-107M, c/n 2441, ff?; accepted BuWepsRep, FR, Morton, PA as CH-46D 15483+

2451
CH-46D
1968
154844 : BV-107M, c/n 2451, ff?; accepted BuWepsRep, FR, Morton, PA as CH-46D 15484+

2454
CH-46F
1968
154847 : BV-107M, c/n 2454, ff?; accepted BuWepsRep, FR, Morton, PA as CH-46D 15484+

2482
CH-46F
1968
155313 : Jul92 as HMM-165 /YW-13

2485
CH-46F
1968
155316 : BV-107M, c/n 2485, ff?; accepted BuWepsRep, FR, Morton, PA as CH-46F 15531+

2497
CH-46F
1969
156427 : 1997 CH-46E type as HMM-165 /YW-14

2504
CH-46F
1969
156434 : USMC; 1997 type:CH-46E HMM-165./YW-14

2509
CH-46F
1969
156439 : Jan90 HMM-165

2510
CH-46F
1969
156440 : Aug90 to Jun92 as HMM-165 /YW-06

2521
CH-46F
1969
156451 : BV-107M, c/n 2521, ff?; accepted BuWepsRep, FR, Morton, PA as CH-46F 15645+

N451WC : State Dept; Bureau of Intl Narcotics (INL) 05may11; ex 156451

2527
CH-46F
1969
156457 : BV-107M, c/n 2527, ff?; accepted BuWepsRep, FR, Morton, PA as CH-46F 15645+

2529
CH-46F
1969
156459 : BV-107M, c/n 2529, ff?; accepted BuWepsRep, FR, Morton, PA as CH-46F 15645+

2530
CH-46F
1969
156460 : 1988-1991 HMM-165; 17jan91 Conducted first Medevac of Desert Storm

2533
CH-46F
1969
156463 : BV-107M, c/n 2533, ff?; accepted BuWepsRep, FR, Morton, PA as CH-46F 15646+

2548
CH-46F
1969
157649 : BV-107M, c/n 2548, ff?; accepted BuWepsRep, FR, Morton, PA as CH-46F 15764+

2554
CH-46F
1969
157655 : BV-107M, c/n 2554, ff?; accepted BuWepsRep, FR, Morton, PA as CH-46F 15765+

2560
CH-46F
1969
157661 : BV-107M, c/n 2560, ff?; accepted BuWepsRep, FR, Morton, PA as CH-46F 15766+
: USMC; 1997 type:CH-46E HMM-165./YW-10

N661WU : State Dept; Bureau of Intl Narcotics (INL) 04nov11; ex 157661

2573
CH-46F
1969
157674 : BV-107M, c/n 2573, ff?; accepted BuWepsRep, FR, Morton, PA as CH-46F 15767+

2584
CH-46F
1970
157685 : BV-107M, c/n 2584, ff?; accepted BuWepsRep, FR, Morton, PA as CH-46F 15768+

2590
CH-46F
1970
157691 : USMC; 1997 type:CH-46E HMM-165./YW-03

2592
CH-46F
1970
157693 : 18aug10 pictured as HMM-165/YW-10 on USS Peleliu (LHA 5) under way in the +

2602
CH-46F
1970
157703 : BV-107M, c/n 2602, ff?; accepted BuWepsRep, FR, Morton, PA as CH-46F 15770+
: 2006-2007 as HMM-165 /YW-02, 15th MEU in Iraq

2603
CH-46F
1970
157704 : BV-107M, c/n 2603, ff?; accepted BuWepsRep, FR, Morton, PA as CH-46F 15770+
: 27aug10 pictured as /YW-12 HMM-165 with 15MEU at Kohistan, Pakistan during+

N704WL : State Dept; Bureau of Intl Narcotics (INL) 05may11; ex 157704

2614
CH-46F
1970
157715 : BV-107M, c/n 2614, ff?; accepted BuWepsRep, FR, Morton, PA as CH-46F 15771+

N462WY : Sky Aviation Corp at Worland, WY from May14

65-329
ch-53d
1971
157753 : Sikorsky S-65C, c/n 65-329, ff:?; del USMC as CH-53D 157753, NPRO Rep, 30J+

31678
UH-1N
159202 : HMM-165 YW-30; 2009 HMLA-267

31684
UH-1N
159208 : 1979-80 it was attached to HMM-165, Hawaiian Warriors, Kanehoe Bay MCAS, H+

31694
UH-1N
159684 : HMM-165 YW-33. c/n not confirmed

31707
UH-1N
159697 : HMM-165 YW. w/o 11feb02. c/n not confirmed

31717
UH-1N
160167 : USMC; HMM-166 /YX-31; HMM-165 /YW-36; 12apr10 stricken from the US Navy li+

N911HN : Santa Barbara County Sheriffs Dept 2010

26092
ah-1t
160802 : USMC; HMM-165 w/o 27sep83

65-497
ch-53e
162485 : USMC; HMM-165 /YM-25, NAS Oceana, Mar06; HMH-264, EH-23, unk; noted MCAS+

213 serials found for HMM-165