Helicopter Combat Support Squadron THREE
HC-3 Pack Rats
United States Naval Aviation
1967 to 2005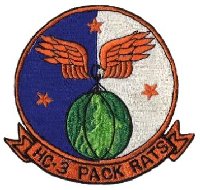 Pack Rats
, tail code
VH
, HC-3 was established on September 1st 1967 at Naval Air Station (NAS) Imperial Beach. At that time, HC-3 was the only West Coast VERTREP squadron. Operating from Combat Logistics Force (CLF) ships, HC-3 detachments transferred critical supplies to forward deployed ships via helicopter, affording maximum mobility to the Battle Group. In July 1973, HC-3 moved to its present location aboard NAS North Island.
The squadron celebrated 50,000 Class A Mishap-free hours in 1981.
Redesignated Helicopter Sea Combat Squadron THREE (
HSC-3
), Merlins, on April 2005.

---
This unit as HC3 flew supplies with the H-46 from AFS ships into various bases in Vietnam

Call sign during Vietnam was
LANSLIDE

1973-1976, I was in HC-3. Our tail numbers were
SA
, not VH

Construction Numbers for HC-3
Help Us
C/N
Version
Built
In this Org
In other Org
2021
CH-46A
1964
150938 : xfer USN HC-7 09Jan70; xfer HC-3 24Sep70; stor MASDC DMAFB as 1J0002 05Aug+

150938 : BV-107M, c/n 2021, ff?; del USMC as CH-46A 150938, asgd Boeing FR Morton, +

2027
UH-46A
1964
150966 : This bird was with HC-7 in Atsugi Japan and used for VertRep in Tonkin Gul+

2058
CH-46A
1964
151910 : USN; 1993 HH-46D type HC-3 /SA-07

151910 : BV-107M, c/n 2058, ff?; del USMC 23Mar65 as CH-46A 151910; asgd Boeing FR +
: 1968 pictured as HMM-164 /YT-18 with 1/Lt Robert Brougham at Vandegrift Co+

2087
CH-46A
1965
151937 : US Navy in 1993 type:HH-46D /SA-01 HC-3

151937 : BV-107M, c/n 2087, ff?; del USMC 23Jul65 as CH-46A 151937; asgd Boeing FR +

2099
CH-46A
1965
151949 : 01mar71 HC-7 tsfr this bird to HC-3 NAS Imperial Beach, CA

151949 : BV-107M, c/n 2099, ff?; del USMC 30Sep65 as CH-46A 151949; asgd Noeing FR +

2144
UH-46A
1966
152495 : BV-107M, c/n 2144, ff?; del USN as UH-46A 152495, 11Apr66; xfer HC-3, Det +

2160
CH-46A
1966
152538 : 1993 HH-46D type as HC-3 /SA-03

152538 : BV-107M, c/n 2160, ff?; del USMC 09Jun66 as CH-46A 152538; asgd Boeing FR +

2213
CH-46D
1966
153325 : US Navy in 1993 /SA-10 HC-3

153325 : BV-107M, c/n 2213, ff?; accepted BuWepsRep FR Morton PA as CH-46A 153325 2+

2237
CH-46D
1966
153345 : US Navy in 1993 /SA-15 HC-3

153345 : BV-107M, c/n 2237, ff?; accepted BuWepsRep FR, Morton PA as CH-46D 153345 +

2272
CH-46D
1967
153374 : USN, HC-3; 18jul02 to AMARC/AN1J0005

153374 : BV-107M, c/n 2272, ff?; accepted BWR FR Morton, PA as CH-46D 153374 28Mar6+

2247
UH-46D
1967
153408 : 1970/71 pictured during WestPac cruise as HC-3 /SA-8 from USS Camden (AOE-+

2259
UH-46D
1967
153410 : BV-107M, c/n 2259, ff?; del USN as UH-46D, 153410, 27Feb67; xfer HC-7, VH-+

2430
CH-46D
1968
154823 : US Navy in 1993 /SA-12 HC-3

US Marine Corps
2031
CH-46A
1964
150946 : BV-107M, c/n 2031; ff?, del to USMC 31Jul64 as CH-46A 150946; asgd Boeing +

2119
CH-46A
1966
152501 : BV-107M, c/n 2119, ff?; del USMC 26Jan66 as CH-46A 152501; asgd Boeing FR +

2161
CH-46A
1966
152539 : BV-107M, c/n 2161, ff?; del USMC 15Jun66 as CH-46A 152539; asgd Boeing FR +

2164
CH-46A
1966
152542 : BV-107M, c/n 2164, ff?; del USMC 16Jun66 as CH-46A 152542; asgd Boeing FR +

2214
CH-46D
1966
153326 : BV-107M, c/n 2214, ff?; accepted BuWepsRep FR Morton PA as CH-46D 153326 0+

2217
CH-46D
1966
153329 : BV-107M, c/n 2217, ff?; accepted BuWepsRep FR Morton PA as CH-46D 153328 0+

2228
CH-46D
1966
153338 : BV-107M, c/n 2228, ff?; accepted BuWepsRep FR, Morton PA as CH-46D 153338 +

2230
CH-46D
1966
153340 : BV-107M, c/n 2230, ff?; accepted BuWepsRep FR, Morton PA as CH-46D 153340 +

2231
CH-46D
1966
153341 : BV-107M, c/n 2231, ff?; accepted BuWepsRep FR, Morton PA as CH-46D 153341 +

2237
CH-46D
1966
153345 : BV-107M, c/n 2237, ff?; accepted BuWepsRep FR, Morton PA as CH-46D 153345 +

2244
CH-46D
1967
153352 : BV-107M, c/n 2244, ff?; accepted BWR FR Morton, PA as CH-46D 153352, 17Jan+

2249
CH-46D
1967
153355 : BV-107M, c/n 2249, ff?; accepted BWR FR Morton, PA as CH-46D 153355 01Feb6+

2269
CH-46D
1967
153373 : BV-107M, c/n 2269, ff?; accepted BWR FR Morton, PA as CH-46D 153373 15Mar6+

2272
CH-46D
1967
153374 : BV-107M, c/n 2272, ff?; accepted BWR FR Morton, PA as CH-46D 153374 28Mar6+

2281
CH-46D
1967
153383 : BV-107M, c/n 2281, ff?; accepted BWR FR Morton, PA as CH-46D 153383 19Apr6+

2282
CH-46D
1967
153384 : BV-107M, c/n 2282, ff?; accepted BWR FR Morton, PA as CH-46D 153383 19Apr6+

2285
CH-46D
1967
153387 : USN CH-46D BWR FR Morton, PA as CH-46D 153387 01May67; xfer HMM-365 20May6+

2287
CH-46D
1967
153389 : BV-107M, c/n 2287, ff?; accepted BWR FR Morton, PA as CH-46D 153389 03May6+

2289
CH-46D
1967
153391 : BV-107M, c/n 2289, ff?; accepted BWR FR Morton, PA as CH-46D 153391 05May6+

2307
CH-46D
1967
153956 : BV-107M, c/n 2307, ff?; accepted BWR FR Morton, PA as CH-46D 153956 23Jun6+

2310
CH-46D
1967
153959 : BV-107M, c/n 2310, ff?; accepted BWR FR Morton, PA as CH-46D 153959 29Jun6+

2320
CH-46D
1967
153969 : BV-107M, c/n 2320, ff:?; del BuWepsRep FR Morton, PA as CH-46D 153969 25Ju+

2330
CH-46D
1967
153979 : BV-107M, c/n 2330, ff:?; accepted BuWepsRep FR Morton, PA as CH-46D 153979+

2351
CH-46D
1967
154000 : BV-107M, c/n 2351, ff?; accepted BuWepsRep FR Morton, PA as CH-46D 154000 +

2361
CH-46D
1967
154010 : BV-107M, c/n 2361, ff?; accepted BuWepsRep, Morton, PA as CH-46D 154010, 1+

2367
CH-46D
1967
154016 : BV-107M, c/n 2367, ff?; accepted BuWepsRep, Morton, PA as CH-46D 154016, 2+

2382
CH-46D
1967
154031 : BV-107M, c/n 2382, ff?; accepted BuWepsRep, FR, Morton, PA as CH-46D 15403+

2383
CH-46D
1967
154032 : BV-107M, c/n 2383, ff?; accepted BuWepsRep, FR, Morton, PA as CH-46D 15403+

2384
CH-46D
1967
154033 : BV-107M, c/n 2384, ff?; accepted BuWepsRep, FR, Morton, PA as CH-46D 15403+

2386
CH-46D
1967
154035 : BV-107M, c/n 2386, ff?; accepted BuWepsRep, FR, Morton, PA as CH-46D 15403+

2387
CH-46D
1967
154036 : BV-107M, c/n 2387, ff?; accepted BuWepsRep, FR, Morton, PA as CH-46D 15403+

2417
CH-46D
1968
154810 : BV-107M, c/n 2417, ff?; accepted BuWepsRep, FR, Morton, PA as CH-46D 15481+

2424
CH-46D
1968
154817 : BV-107M, c/n 2424, ff?; accepted BuWepsRep, FR, Morton, PA as CH-46D 15481+

2427
CH-46D
1968
154820 : BV-107M, c/n 2427, ff?; accepted BuWepsRep, FR, Morton, PA as CH-46D 15482+

2428
CH-46D
1968
154821 : USMC CH-46D d/d 25apr58 BuWepsRep, FR, Morton, PA ; NAVAIRSYSCOM Meridian,+

2430
CH-46D
1968
154823 : BV-107M, c/n 2430, ff?; accepted BuWepsRep, FR, Morton, PA as CH-46D 15482+

2432
CH-46D
1968
154825 : BV-107M, c/n 2432, ff?; accepted BuWepsRep, FR, Morton, PA as CH-46D 15482+

2433
CH-46D
1968
154826 : BV-107M, c/n 2433, ff?; accepted BuWepsRep, FR, Morton, PA as CH-46D 15482+

2439
CH-46D
1968
154832 : BV-107M, c/n 2439, ff?; accepted BuWepsRep, FR, Morton, PA as CH-46D 15483+

2443
CH-46D
1968
154836 : BV-107M, c/n 2443, ff?; accepted BuWepsRep, FR, Morton, PA as CH-46D 15483+

53 C/N found for HC-3