Helicopter Combat Support Squadron THREE
HC-3 Pack Rats
United States Naval Aviation
1967 to 2005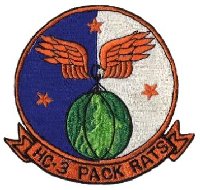 Pack Rats
, tail code
SA
, HC-3 was established on September 1st 1967 at Naval Air Station (NAS) Imperial Beach. At that time, HC-3 was the only West Coast VERTREP squadron. Operating from Combat Logistics Force (CLF) ships, HC-3 detachments transferred critical supplies to forward deployed ships via helicopter, affording maximum mobility to the Battle Group. In July 1973, HC-3 moved to its present location aboard NAS North Island.
The squadron celebrated 50,000 Class A Mishap-free hours in 1981.
Redesignated Helicopter Sea Combat Squadron THREE (
HSC-3
), Merlins, on April 2005.

---
This unit as HC3 flew supplies with the H-46 from AFS ships into various bases in Vietnam

Call sign during Vietnam was
LANSLIDE

1973-1976, I was in HC-3. Our tail numbers were SA, not VH

I am a Plankowner of HC-3. I was the last pilot assigned or should say hijacked By The first CO form
HC-1
as I was checking in for my assigned duty., At that time Cdr. Hank Cassani.. We were assigned the 5 quansett huts at Imperial Beach as our base of operations and had a total of seven H46 A , 2 on det rest 5 for base. it took the crew of HC-3 4 month's to have all 5 plus 2 det 46's in up and ready flight status. This Squadron from the CO to the E-1 were a family and I suspect all that followed carried on this tradition. Then we had few of the gadgets that were incorporated in the later versions of the aircraft . But the helo's we used on Det 103 aboard the
USS Camden
(AOE-3) which was the first Det assigned after the formation of the SQUADRON flew SA-10-& SA-11. on assignment to Support the naval operations in Vietnam. we experienced no safety issues and on frequent trips inland to Vietnam supported our aircraft with need parts and maintenance supplies. We set a record lift of over 8600#'s on that cruise. hope to make a special day in 2017, Sept.1, of course for the 50th Anniversary of formation of HC-3 Pack Rats. See if you can figure out why we called ourselves Pack Rats ?

I was also a Plank Owner in HC-3. I was an ADJ and Aircrew. I arrived at HC-1 in June 66, went to several AD schools in El Toro almost immediately, then Hand to Hand Combat, Survival School at Warner Springs, and lots and lots of training. Brown Field, San Clemente Island. Lots of folks remembered but, I have only seen one since I left Reem Field. Jim Gibson.

I was also a plank owner and deployed DET 102 on board
USS Sacramento
(AOE-1). Hoping to make contact with other squadron members and especially DET 102 crew. We may all be suffering from AO Exposure and need each support.

I was a member of HC-3 and remember working out of the quansett huts at NAS Imperial Beach and later was part of Det 103 aboard the Camden AOE 2. I was part of the crew when set the record lift record (8600 lbs) by delivering a jet engine (J79 ?) from the Camden to a carrier (can't remember the name). I also watched the helo crash into the ocean on the last day of our cruise just offf Imperial Beach where I lost some friends. ,I don't remember the dates of that cruise (somewhere around 1868 and 1969) if you know please let me know

1976, I was with Det.102 on the
USS Camden
. Let me know more about AO exposure. I have health problems

I was on the Camden. And then the San jose I know Drew and Turk. And Manley I was an adj . I'm being treated for SO. Ptsd.

Construction Numbers for HC-3
Help Us
C/N
Version
Built
In this Org
In other Org
2021
CH-46A
1964
150938 : xfer USN HC-7 09Jan70; xfer HC-3 24Sep70; stor MASDC DMAFB as 1J0002 05Aug+

150938 : BV-107M, c/n 2021, ff?; del USMC as CH-46A 150938, asgd Boeing FR Morton, +

2027
UH-46A
1964
150966 : This bird was with HC-7 in Atsugi Japan and used for VertRep in Tonkin Gul+

2058
CH-46A
1964
151910 : USN; 1993 HH-46D type HC-3 /SA-07

151910 : BV-107M, c/n 2058, ff?; del USMC 23Mar65 as CH-46A 151910; asgd Boeing FR +
: 1968 pictured as HMM-164 /YT-18 with 1/Lt Robert Brougham at Vandegrift Co+

2087
CH-46A
1965
151937 : 1993 HH-46D type asg HC-3 /SA-01

151937 : BV-107M, c/n 2087, ff?; del USMC 23Jul65 as CH-46A 151937; asgd Boeing FR +

2099
CH-46A
1965
151949 : 01mar71 HC-7 tsfr this bird to HC-3 NAS Imperial Beach, CA

151949 : BV-107M, c/n 2099, ff?; del USMC 30Sep65 as CH-46A 151949; asgd Noeing FR +

2144
UH-46A
1966
152495 : BV-107M, c/n 2144, ff?; del USN as UH-46A 152495, 11Apr66; xfer HC-3, Det +

2160
CH-46A
1966
152538 : 1993 HH-46D type as HC-3 /SA-03

152538 : BV-107M, c/n 2160, ff?; del USMC 09Jun66 as CH-46A 152538; asgd Boeing FR +

2213
CH-46D
1966
153325 : US Navy in 1993 /SA-10 HC-3

153325 : BV-107M, c/n 2213, ff?; accepted BuWepsRep FR Morton PA as CH-46A 153325 2+

2237
CH-46D
1966
153345 : US Navy in 1993 /SA-15 HC-3

153345 : BV-107M, c/n 2237, ff?; accepted BuWepsRep FR, Morton PA as CH-46D 153345 +

2272
CH-46D
1967
153374 : USN, HC-3; 18jul02 to AMARC/AN1J0005

153374 : BV-107M, c/n 2272, ff?; accepted BWR FR Morton, PA as CH-46D 153374 28Mar6+

2247
UH-46D
1967
153408 : 1970/71 pictured during WestPac cruise as HC-3 /SA-8 from USS Camden (AOE-+

2259
UH-46D
1967
153410 : BV-107M, c/n 2259, ff?; del USN as UH-46D, 153410, 27Feb67; xfer HC-7, VH-+

2430
CH-46D
1968
154823 : US Navy in 1993 /SA-12 HC-3

US Marine Corps
2031
CH-46A
1964
150946 : BV-107M, c/n 2031; ff?, del to USMC 31Jul64 as CH-46A 150946; asgd Boeing +

2119
CH-46A
1966
152501 : BV-107M, c/n 2119, ff?; del USMC 26Jan66 as CH-46A 152501; asgd Boeing FR +

2161
CH-46A
1966
152539 : BV-107M, c/n 2161, ff?; del USMC 15Jun66 as CH-46A 152539; asgd Boeing FR +

2164
CH-46A
1966
152542 : BV-107M, c/n 2164, ff?; del USMC 16Jun66 as CH-46A 152542; asgd Boeing FR +

2214
CH-46D
1966
153326 : BV-107M, c/n 2214, ff?; accepted BuWepsRep FR Morton PA as CH-46D 153326 0+

2217
CH-46D
1966
153329 : BV-107M, c/n 2217, ff?; accepted BuWepsRep FR Morton PA as CH-46D 153328 0+

2228
CH-46D
1966
153338 : BV-107M, c/n 2228, ff?; accepted BuWepsRep FR, Morton PA as CH-46D 153338 +

2230
CH-46D
1966
153340 : BV-107M, c/n 2230, ff?; accepted BuWepsRep FR, Morton PA as CH-46D 153340 +

2231
CH-46D
1966
153341 : BV-107M, c/n 2231, ff?; accepted BuWepsRep FR, Morton PA as CH-46D 153341 +

2237
CH-46D
1966
153345 : BV-107M, c/n 2237, ff?; accepted BuWepsRep FR, Morton PA as CH-46D 153345 +

2244
CH-46D
1967
153352 : BV-107M, c/n 2244, ff?; accepted BWR FR Morton, PA as CH-46D 153352, 17Jan+

2249
CH-46D
1967
153355 : BV-107M, c/n 2249, ff?; accepted BWR FR Morton, PA as CH-46D 153355 01Feb6+

2269
CH-46D
1967
153373 : BV-107M, c/n 2269, ff?; accepted BWR FR Morton, PA as CH-46D 153373 15Mar6+

2272
CH-46D
1967
153374 : BV-107M, c/n 2272, ff?; accepted BWR FR Morton, PA as CH-46D 153374 28Mar6+

2281
CH-46D
1967
153383 : BV-107M, c/n 2281, ff?; accepted BWR FR Morton, PA as CH-46D 153383 19Apr6+

2282
CH-46D
1967
153384 : BV-107M, c/n 2282, ff?; accepted BWR FR Morton, PA as CH-46D 153383 19Apr6+

2285
CH-46D
1967
153387 : USN CH-46D BWR FR Morton, PA as CH-46D 153387 01May67; xfer HMM-365 20May6+

2287
CH-46D
1967
153389 : BV-107M, c/n 2287, ff?; accepted BWR FR Morton, PA as CH-46D 153389 03May6+

2289
CH-46D
1967
153391 : BV-107M, c/n 2289, ff?; accepted BWR FR Morton, PA as CH-46D 153391 05May6+

2307
CH-46D
1967
153956 : BV-107M, c/n 2307, ff?; accepted BWR FR Morton, PA as CH-46D 153956 23Jun6+

2310
CH-46D
1967
153959 : BV-107M, c/n 2310, ff?; accepted BWR FR Morton, PA as CH-46D 153959 29Jun6+

2320
CH-46D
1967
153969 : BV-107M, c/n 2320, ff:?; del BuWepsRep FR Morton, PA as CH-46D 153969 25Ju+

2330
CH-46D
1967
153979 : BV-107M, c/n 2330, ff:?; accepted BuWepsRep FR Morton, PA as CH-46D 153979+

2351
CH-46D
1967
154000 : BV-107M, c/n 2351, ff?; accepted BuWepsRep FR Morton, PA as CH-46D 154000 +

2361
CH-46D
1967
154010 : BV-107M, c/n 2361, ff?; accepted BuWepsRep, Morton, PA as CH-46D 154010, 1+

2367
CH-46D
1967
154016 : BV-107M, c/n 2367, ff?; accepted BuWepsRep, Morton, PA as CH-46D 154016, 2+

2382
CH-46D
1967
154031 : BV-107M, c/n 2382, ff?; accepted BuWepsRep, FR, Morton, PA as CH-46D 15403+

2383
CH-46D
1967
154032 : BV-107M, c/n 2383, ff?; accepted BuWepsRep, FR, Morton, PA as CH-46D 15403+

2384
CH-46D
1967
154033 : BV-107M, c/n 2384, ff?; accepted BuWepsRep, FR, Morton, PA as CH-46D 15403+

2386
CH-46D
1967
154035 : BV-107M, c/n 2386, ff?; accepted BuWepsRep, FR, Morton, PA as CH-46D 15403+

2387
CH-46D
1967
154036 : BV-107M, c/n 2387, ff?; accepted BuWepsRep, FR, Morton, PA as CH-46D 15403+

2417
CH-46D
1968
154810 : BV-107M, c/n 2417, ff?; accepted BuWepsRep, FR, Morton, PA as CH-46D 15481+

2424
CH-46D
1968
154817 : BV-107M, c/n 2424, ff?; accepted BuWepsRep, FR, Morton, PA as CH-46D 15481+

2427
CH-46D
1968
154820 : BV-107M, c/n 2427, ff?; accepted BuWepsRep, FR, Morton, PA as CH-46D 15482+

2428
CH-46D
1968
154821 : USMC CH-46D d/d 25apr58 BuWepsRep, FR, Morton, PA ; NAVAIRSYSCOM Meridian,+

2430
CH-46D
1968
154823 : BV-107M, c/n 2430, ff?; accepted BuWepsRep, FR, Morton, PA as CH-46D 15482+

2432
CH-46D
1968
154825 : BV-107M, c/n 2432, ff?; accepted BuWepsRep, FR, Morton, PA as CH-46D 15482+

2433
CH-46D
1968
154826 : BV-107M, c/n 2433, ff?; accepted BuWepsRep, FR, Morton, PA as CH-46D 15482+

2439
CH-46D
1968
154832 : BV-107M, c/n 2439, ff?; accepted BuWepsRep, FR, Morton, PA as CH-46D 15483+

2443
CH-46D
1968
154836 : BV-107M, c/n 2443, ff?; accepted BuWepsRep, FR, Morton, PA as CH-46D 15483+

53 serials found for HC-3