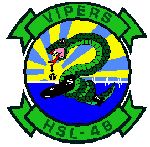 Established September 7, 1989, tail code
HR
, HSL-48 deploy SH-60B Seahawks on LAMPS III capable US Atlantic Fleet ships.
On May 2014, redesignated
HSM-48
News about this Rotary Wing Unit :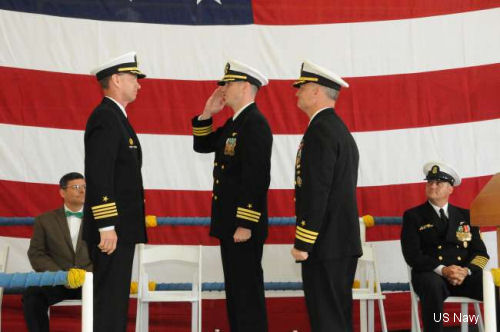 US Navy HSL-48 Shifts To HSM, 07-May-14 : By Lt.j.g. Patrick Sullivan - Cmdr. Edward O'Grady assumed command of Helicopter Maritime Strike Squadron (HSM) 48 from Cmdr. Eric Bower on May 2.
Construction Numbers for HSL-48
Help Us
C/N
Version
Built
In this Org
In other Org
70-389
sh-60b
162099 : US Navy; jun94 embarked aboard USS Gettysburg CG-64. HSL-48./HR-512

70-390
sh-60b
162100 : 2010 HSL-48

70-398
sh-60b
162108 : USN; HSL-48 w/o 08aug98

70-441
sh-60b
162335 : US Navy; 1988 HSL-48./HP-446; 1996 HSL-48./HR-506

70-473
sh-60b
162986 : US Navy; 1989 HSL-46./HQ-462; 1996 HSL-48./HR-511
: USN; HSL-48 USS De Wert (FFG-45) w/o 13dec05 crashed off west coast of Co+

70-492
sh-60b
163234 : US Navy; 1996 HSL-48./HR-513

70-493
sh-60b
163235 : USN; Apr98 HSL-48./HR-503 embarked USS Simpson (FFG-56) STANAVFORMED
: USN; 2010 HSL-48

70-611
sh-60b
163248 : US Navy in 1995 HSL-48/HR-502
: Apr98 HSL-48./HR-502 embarked USS Simpson (FFG-56) STANAVFORMED

70-617
sh-60b
163595 : US Navy; 05jun94 HSL-48./HR-503 Flypast Portsmouth harbour
: Noted asgd to HSL-48, HR-503, abd USS San Jacinto (CG-56) docked at RNAS L+
: US Navy in 1995 HSL-48/HR-503

sh-60b
163905 : US Navy; 1991 HSL-48./HR-510

sh-60b
164175 : USN; HSL-48

70-1796
sh-60b
164465 : US Navy; 1998 HSL-48./HR-500; Mar07 HSL-48./HR-502

70-1931
sh-60b
164848 : USN; 2010 HSL-48

70-1941
sh-60b
164858 : US Navy in 1996 deployed aboard USS John Rodgers DD-983. /HR-514 HSL-48

14 serials found for HSL-48