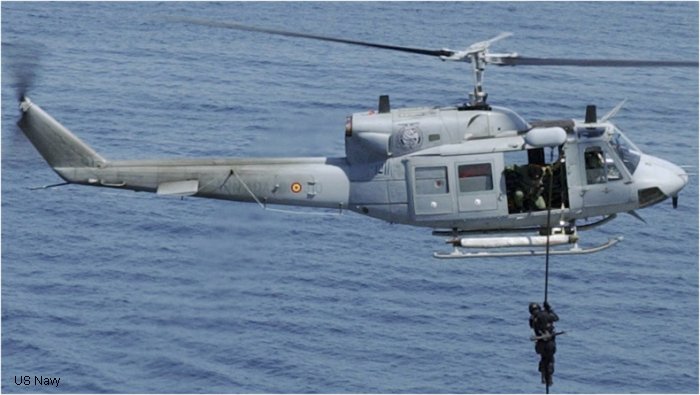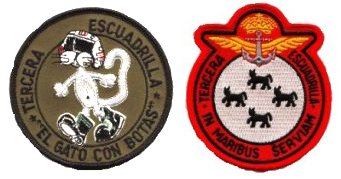 Established in 1965 with 4 AB.204, callsign Bravo, to operate in the antisubmarine role from the aircraft carrier Dedalo. These helicopters were withdrawn from service in 1978. Between 1974 and 1980 they received AB.212, callsign Gato.

In 1987 they changed their main role to amphibious support to the naval infantry. On 2011, Tercera Escuadrilla reaches 86,000 flight hours.
---
Multipurpouse helicopter squadron. The only airwing squadron with both marine and navy pilots. Their helicopters can operate on board all spanish navy decks. Atahis squadron supports amphibious operations, maritime operations as well as both SAR and CSAR.

News about this Rotary Wing Unit :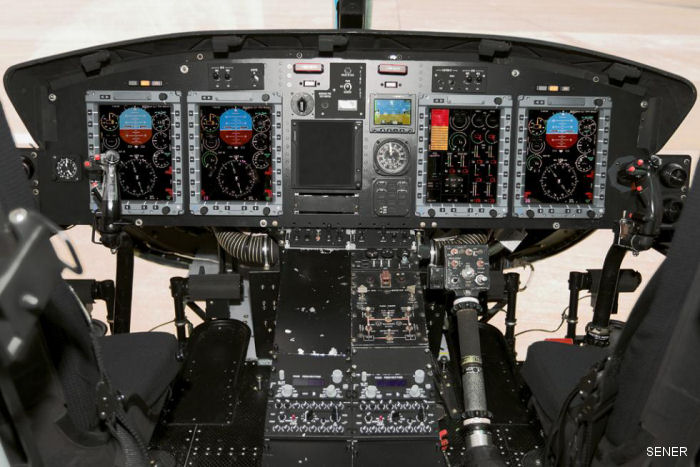 Second Upgraded AB212 Delivered to Spanish Navy, 29-Mar-16 : SENER, in association with INAER, delivered to the Spanish Navy the second of 7 AB212 upgraded under the life extension program which will lengthening their operational lives by at least 15 years
Years
Location
ICAO/FAA
1964/now
Rota
LERT




Construction Numbers (Not all in unit)
Help Us
C/N
Version
Built
In this Org
In other Org
5565
ab212asw
HA.18-10: Marina 01-314. ex Z.18-10

5566
ab212asw
HA.18-11: Marina 01-315. ex Z.18-11. w/o 13may86

5567
ab212asw
HA.18-12: Marina 01-316. ex Z.18-12. United Nations

5568
ab212asw
HA.18-13: Marina 01-317. ex Z.18-13

5627
ab212asw
HA.18-14: Marina 01-318. ex Z.18-14
HA.18-14: 04-08Oct15 Eslla003./01-318 at TLP 2015-3 Albacete from 14Sep-09Oct 2015 p+

5526
ab212asw
HA.18-3: Marina 01-307. ex Z.18-3 003-7

5528
ab212asw
HA.18-4: Marina 01-308. ex Z.18-4
HA.18-4: 26feb15 pictured sling load on Ro-Ro ship Martin Posadillo (A-04)

5561
ab212asw
HA.18-5: Marina 01-309. ex Z.18-5
HA.18-5: 18dec13 picture first flight of a PEVH-AB212 upgraded by SENER / INAER

5562
ab212asw
HA.18-6: Marina 01-310. ex Z.18-6
HA.18-6: Feb13 - May13 3.eslla./01-310 embarked ESPS Rayo
HA.18-6: 02oct13 pictured at Albacete

5563
ab212asw
HA.18-7: Marina 01-311. ex Z.18-7
HA.18-7: 22apr16 aboard ESPS Numancia (F83) in Grand Harbour, Malta
HA.18-7: 30sep17 pictured at Cuatro Vientos, Madrid

5564
ab212asw
HA.18-8: Marina 01-312. ex Z.18-8; w/o 16apr10 in Haiti, 4 fatalities

5584
ab212asw
HA.18-9: Marina 01-313. ex Z.18-9. w/o 07jul82

5524
ab212asw
Z.18-1: Marina 003-5. w/o 19apr78

5525
ab212asw
Z.18-2: Marina 003-6. w/o 20jan77

3128
ab204as
Z.8-1: Marina 003-1. w/o 31oct78. xfer spanish army ?

3133
ab204as
Z.8-2: Marina 003-2. xfer spanish army

HA.8A-2: ex Navy Z.8-2. ex HU.8-2. Preserved: Madrid Museo Naval ?

3141
ab204as
Z.8-3: Marina 003-3. xfer spanish army

3151
ab204as
Z.8-4: Marina 003-4. xfer spanish army

HA.8-4: ex Navy Z.8-4

18 C/N found in this Organisation.