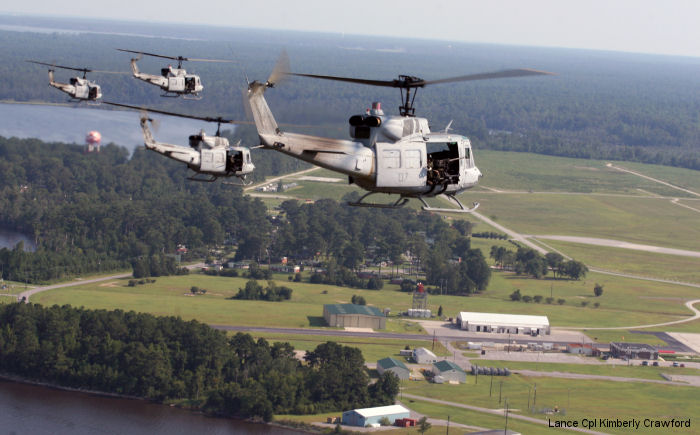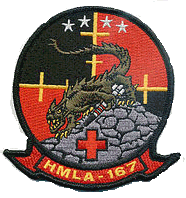 Warriors, tail code TV

1968 - Marine Light Helicopter Squadron 167 (HML-167)
1986 - HMLA-167
Deployed as HML-167 aboard
USS Guadalcanal
during Feb 1982.

---
I was a crew chief in HML-167 at Marble Mountain, Vietnam. Flew over 280 combat missions. We did a lot of work up around the DMZ. Sgt. Jacobs

Jul84-Feb85, Med Cruise

News about this Rotary Wing Unit :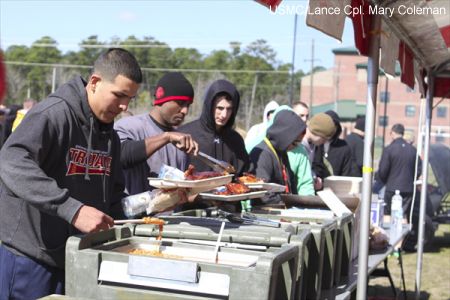 HMLA-167 45th birthday, 11-Apr-13 : Marine Corps Air Station New River, N.C. by Lance Cpl. Mary Coleman -- Marine Light Attack Helicopter Squadron 167 celebrated its 45th birthday aboard Marine Corps Air Station New River with spirited competition, food and tunes at the air station soccer fields, March 28.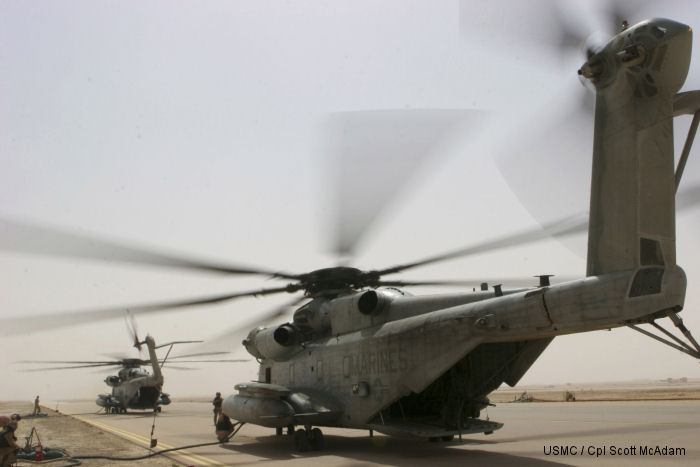 HMH-462 delivers raids to Al Anbar, 08-May-08 : AL-ANBAR PROVINCE, Iraq by Cpl Scott McAdam - Marine Heavy Helicopter Squadron 462, 3rd Marine Aircraft Wing (Forward), inserted and extracted a raid force here, today.
Construction Numbers for HMLA-167 / HML-167 / HMLA-167
Help Us
C/N
Version
Built
In this Org
In other Org
6013
UH-1E
151278 : HML-167 w/o 13mar70

6015
UH-1E
151280 : HML-167 w/o 28apr70

6019
UH-1E
151284 : HML-167 w/o 25jun70

6027
UH-1E
151292 : Dec69-Aug70 as HML-167 /32 at Marble mountain Air Facility, Vietnam

6032
UH-1E
151297 : HML-167 w/o 17apr70

6039
UH-1E
151845 : HML-167 w/o 07may70

6074
UH-1E
151880 : USMC; 1967 VMO-5; w/o 27aug68 (with HML-167 ?)

6083
UH-1E
152417 : HML-167 w/o 23dec69 at MCAS New River

6086
UH-1E
152420 : HML-167 w/o 09jul69

6087
UH-1E
152421 : USMC; 17jan70 asg HML-167 had engine failure
: I ve got a photo showing this as HML-167 /TV-3 in Vietnam

6093
UH-1E
152427 : HML-167 w/o 21mar70

6102
UH-1E
152436 : HML-167 w/o 20apr68

6122
UH-1E
153756 : HML-167 w/o 02apr68

6124
UH-1E
153758 : HML-167 w/o 22dec69

6157
UH-1E
154773 : HML-167 w/o 19jul70

6172
UH-1E
154950 : HML-167 w/o 13may70

6174
UH-1E
154952 : HML-167 w/o 24nov70

6191
UH-1E
154969 : HML-167 w/o 18aug70

6198
UH-1E
155343 : HML-167 w/o 29sep68

2520
CH-46F
1969
156450 : HML-167 /TV-41 aboard USS Guadalcanal during visit to Devonport, 11 Feb 19+

2526
CH-46F
1969
156456 : HML-167 /TV-42 aboard USS Guadalcanal during visit to Devonport, 11 Feb 19+

2537
CH-46F
1969
156467 : HML-167 /TV-43 aboard USS Guadalcanal during visit to Devonport, 11 Feb 19+

2625
CH-46F
1971
157726 : HML-167 /TV-44 aboard USS Guadalcanal during visit to Devonport, 11 Feb 19+

31621
UH-1N
158280 : USMC in 1994 /TV-14 HMLA-167 ; 1999 deployed aboard USS Nassau LHA-4. /ES-+

31632
UH-1N
158291 : HML-167. w/o 05dec73

31657
UH-1N
158781 : HMLA-167 TV-09. HMLA-269 HF-09

31662
UH-1N
159186 : USMC in 1994 /TV-15 HMLA-167. 2000s HMM-365 YM-30

31664
UH-1N
159188 : USMC HMM-365 YM-30. 1999 deployed aboard USS Nassau LHA-4. /ES-41 HMLA-16+

31666
UH-1N
159190 : 2000 HMLA-167 /TV-16

31669
UH-1N
159193 : USMC; 1994 HMLA-167 /TV-05; conv to UH-1Y BuNo 166476

31671
UH-1N
159195 : HML-167 /TV-2 aboard USS Guadalcanal during visit to Devonport, 11 Feb 198+
: USMC; 2000 HMLA-167 /TV-12
: Apr10 HMLA-167 /TV-04

31672
UH-1N
159196 : HML-167 /TV-4 Dutchess aboard USS Guadalcanal during visit to Devonport, 1+
: USMC in 1994 /TV-11 HMLA-167 ; 2000 /EH-32 HMM-264

31690
UH-1N
159683 : HML-167 /TV-5 aboard USS Guadalcanal during visit to Devonport, 11 Feb 198+
: USMC c/n ? in 2000 /TV-10 HMLA-167
: Jun13 arrived 309th AMARG ex HMLA-167./TV-00

31714
UH-1N
159777 : USMC; 2011 /TV-15 HMLA-167

31730
UH-1N
160438 : USMC; 2010 HMLA-167

N7256N : CBP reg Jul14

31732
UH-1N
160440 : HML-167 /TV-00 aboard USS Guadalcanal during visit to Devonport, 11 Feb 19+

31734
UH-1N
160442 : USMC; HMLA-167

31735
UH-1N
160443 : HML-167 /TV-3 Thundar aboard USS Guadalcanal during visit to Devonport, 11+

N7271N : CBP reg Jul14

31738
UH-1N
160446 : HML-167 /TV-23 aboard USS Guadalcanal during visit to Devonport, 11 Feb 19+

31739
UH-1N
160447 : HML-167 /TV-12 Viking Ship aboard USS Guadalcanal during visit to Devonpor+

31740
UH-1N
160448 : preserved in HMLA-167 Warriors mrks at MCAS New River Memorial park front +

31741
UH-1N
160449 : USMC in 1994 /TV-00 HMLA-167

31742
UH-1N
160450 : HML-167 /TV-25 Lady Jane aboard USS Guadalcanal during visit to Devonport,+
: USMC; HMLA-167

31744
UH-1N
160452 : HML-167 /TV-14 aboard USS Guadalcanal during visit to Devonport, 11 Feb 19+
: USMC; 2000 HMLA-167 /TV-02

N7272N : CBP reg Jul14
: 19Mar16 CBP McAllen, Texas

31745
UH-1N
160453 : USMC; HMLA-167

31746
UH-1N
160454 : HML-167 /TV-21 aboard USS Guadalcanal during visit to Devonport, 11 Feb 19+

31747
UH-1N
160455 : Sep10 HMLA-167

31748
UH-1N
160456 : HML-167 /TV-1 Sweet Karen aboard USS Guadalcanal during visit to Devonport+
: USMC; 2000 HMLA-167 /TV-01

N7273N : CBP reg Jul14

31749
UH-1N
160457 : HML-167 /TV-30 aboard USS Guadalcanal during visit to Devonport, 11 Feb 19+

31751
UH-1N
160459 : USMC; 2007 HMLA-167 /VT-02; 2011 HMLA-467 /CA-06

31753
UH-1N
160461 : 12oct09 pictured as HMLA-167 /TV in K-9 Village, Yuma Proving Ground, AZ

26913
ah-1t
160742 : conv AH-1W unk; 1994 /TV-37 HMLA-167 2000 /TV-37 HMLA-167

N895AS : Bell/Sparks TAH-1 type; Brylyn Corporation at Joshua, TX Oct94

26914
ah-1t
160743 : USMC (c/n 29139 unk); 1996 embarked aboard USS Nassau LHA-4. HMLA-269./Y+

26912
ah-1t
160803 : USMC; conv AH-1W c/n 29158 unk; 1996 deployed aboard USS Nassau (LHA 4) +

26928
ah-1t
160805 : USMC; conv AH-1W c/n 29123; 2000 HMLA-167./TV-33; apr12 HMLA-269./HF-02

26933
ah-1t
160811 : USMC; conv AH-1W c/n 26933; 1994 TV-36/HMLA-167 ; 1999 deployed aboard USS+

160811 : conv to AH-1Z BuNo 166772; Oct13 with HX-21

26919
ah-1t
160814 : USMC; conv AH-1W; 05mar07 pictured with HMLA-167 at Al Asad Air Base, Iraq+

26931
ah-1t
160816 : USMC; conv AH-1W; 2000 TV-34/HMLA-167

ah-1t
160819 : 2000 type: AH-1W HMLA-167./TV-24

26907
ah-1t
160822 : USMC: conv AH-1W; 1999 deployed aboard USS Nassau (LHA 4) as ES-30/HMLA-1+

26121
ah-1t
161019 : conv AH-1W c/n 29168; 2000 HMLA-167 /TV-35

N894AS : Bell/Sparks TAH-1 type Brylyn Corporation at Joshua, TX Oct94

26123
ah-1t
161021 : USMC; conv AH-1W c/n 29199; 1999 deployed aboard USS Nassau (LHA 4) as ES+

26214
ah-1w
162545 : USMC; conv c/n 29131; 2000 HMLA-167 /TV-39
: w/o 27jun02 HMLA-167 crashed during training 10m NW of MCAS Cherry Point, +

26215
ah-1w
162546 : apr12 HMLA-167./TV-25

26222
ah-1w
162553 : 22nov14 seen at Forth Worth as HMLA-167 /TV-

26251
ah-1w
163926 : USMC; conv c/n 29153; 1994 TV-20/HMLA-167 ; 2000 TV-20/HMLA-167

26254
ah-1w
163929 : USMC in 1994 /TV-22 HMLA-167; w/o 23may97

26255
ah-1w
163930 : USMC; conv c/n 29137; 1994 TV-23/HMLA-167 w/o 31jan00 with HMM-261 det HML+

26256
ah-1w
163931 : USMC; 1994 HMLA-167 /TV-25 ; 1999 as HMLA-167 /ES-33 aboard USS Nassau (L+

26319
ah-1w
165271 : 11jul09 pictured as HMLA-167 /SN-28 at Asad Air Base, Iraq

26327
ah-1w
165279 : Apr12 HMLA-167 /TV-51

UH-1Y
167991 : USMC Mar12 as HMLA-167 /TV-01

UH-1Y
168042 : USMC; Dec12 HMLA-167 /TV-02

UH-1Y
168406 : USMC; 2012 HMLA-167 /TV-00

UH-1Y
168414 : USMC; 2012 HMLA-167 /TV-01

UH-1Y
168415 : USMC; 2012 HMLA-167 /TV-02

UH-1Y
168417 : USMC; 2012 HMLA-167 /TV-07

UH-1Y
168784 : Dec15 HMLA-167 /TV-05
: 19feb16 picture as HMLA-167 /VT-05 31st MEU during Cobra Gold 2016 in Ban +

78 serials found for HMLA-167 / HML-167, HMLA-167