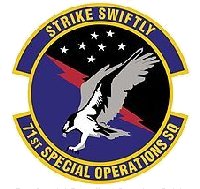 Strike Swiftly served as a airlift squadron between 1943 and 1968 when it was redesignated 71 SOS.

It was deactivated on 1992.

On 2005 is reactivated at Kirtland AFB to be the CV-22 Osprey training unit
News about this Rotary Wing Unit :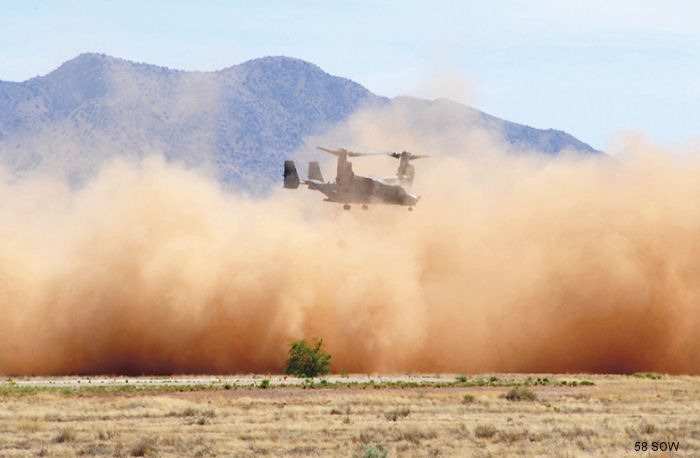 Binding Material to Save Osprey Engines, 02-Feb-15 : USAF 58th Special Operations Wing has a plan to mitigate aircraft engine damage that happens during training missions using a biodegradable binding material at practice landing zones.
Construction Numbers for 71st SOS
Help Us
C/N
Version
Built
In this Org
In other Org
D1005
cv-22b
02-0024 : USAF CV-22B d/d 71st SOS Edwards AFB
: Jul06 71st SOS Kirtland AFB
: Sep13 asg 71st SOS

D1006
cv-22b
02-0025 : 2011 71st SOS
: 16aug15 asg 71st SOS visit Lincoln, Nebraska

D1007
cv-22b
04-0026 : Mar06 asg 71st SOS
: Sep13 still with 71st SOS

D1008
cv-22b
04-0027 : May06 71st SOS, Kirtland AFB; Sep13 still

D1009
cv-22b
05-0028 : Oct11 71st SOS, Kirtland AFB; Dec13 still

D1010
cv-22b
05-0029 : Jan12 71st SOS, Kirtland AFB; Sep13 still

D1015
cv-22b
2008
07-0034 : Dec13 71st SOS Kirtland AFB

61-508
ch-3c
1963
63-9676 : del USAF as CH-3C 63-9676, 31Dec63; conv CH-3E unk; xfer 20th Heli Sq, Udo+

61-543
ch-3c
1965
65-5692 : Sikorsky S-61R, c/n 61-540, ff?; del USAF as CH-3C 65-5692, 10Jan65; conv +

61-544
ch-3c
1965
65-5693 : Sikorsky S-61R, c/n 61-544, ff?; del USAF as CH-3C 65-5693, 10Dec65; conv +

61-550
ch-3c
1966
65-5699 : Sikorsky S-61R, c/n 61-550, ff?; del USAF as CH-3C 65-5699, 07Apr66; conv +

11 serials found for 71st SOS