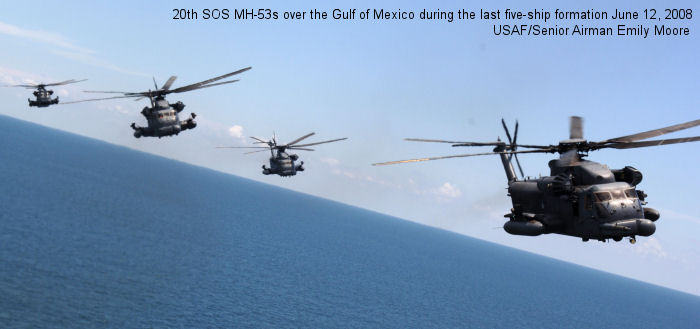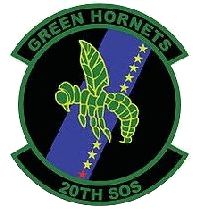 Originally an aerial reconnaissance unit during WWII.
The
Green Hornets
were reactivated as 20th Helicopter Squadron in 1956. In 1968 was redesignated 20th SOS when around 20 UH-1F were drawn from 4 SAC bases and used to insert special forces troops into Vietnam and Laos on covert operations.
On June 12, 2008 they perform their last flight with
MH-53M Pave Low
helicopters. They currently fly CV-22B Ospreys tilt-rotors.
The 20th Helicopter Squadron was deployed to South Vietnam in Oct 1965.

The unit started to take delivery of 15 MH-53J Pave Low III airframes in mid 1987 at Hurlburt Field.

---
Uh-1Ns were in Vietnam 1971/72 as 20th SOS. Inactivated March 30, 1972 and sent to Hulbert Field Aux #9. In 1974 the squadron was to be shipped to other bases and 20th SOS reactivated at Aux #9 in 1976 when the UH-1Ns returned

UH-1Ns assigned to the 20th SOS between 1976-1985 were 69-6604, 69-6641, 69-6642, 69-6644, 69-6653 and 69-6654

News about this Rotary Wing Unit :
CV-22B Osprey Crew Received Highest Honors, 22-Oct-15 : USAF 20th Special Operations Squadron CV-22B Osprey crew received the Distinguished Flying Cross and Air Medal with Valor for their actions on Dec. 5, 2014.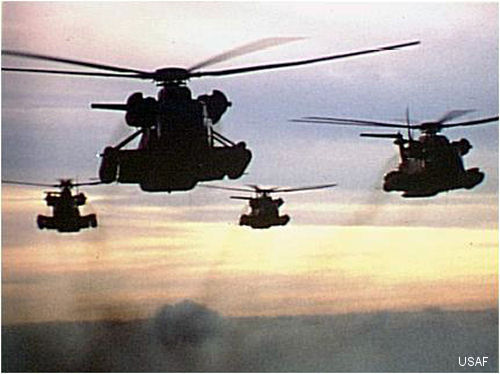 1st SOW in operations Desert Storm, Desert Shield, 15-Nov-06 : HURLBURT FIELD, Fla ny Master Sgt Jeff Michalke , 16th SOW History Office - President George H.W. Bush ordered ground, sea and air forces to Saudi Arabia and the Persian Gulf as part of a multi-national operation named Desert Shield on Aug. 6, 1990.
IDAS/MATT system guides 20th Special Operation Squadron, 19-Oct-98 : HURLBURT FIELD, Fla. by Staff Sgt. William J. Seabrook Jr. 16th Special Operations Wing Public Affairs - The 20th Special Operations Squadron's MH-53J Pave Lows, already among the world's most sophisticated helicopters, are now being equipped with a powerful new capability.
Construction Numbers for 20th SOS
Help Us
C/N
Version
Built
In this Org
In other Org
D1011
cv-22b
05-0030 : Oct11 20th SOS

D1014
cv-22b
2007
07-0033 : USAF; end Mar-Apr11 tdy Mildenhall 20th SOS

D1015
cv-22b
2008
07-0034 : May12 20th SOS

D1017
cv-22b
08-0036 : May12 20th SOS

D1018
cv-22b
2008
08-0037 : USAF; end Mar-Apr11 tdy Mildenhall 20th SOS

D1019
cv-22b
08-0038 : USAF; end Mar-Apr11 tdy Mildenhall 20th SOS

D1020
cv-22b
08-0039 : USAF; end Mar-Apr11 tdy Mildenhall 20th SOS

D1021
cv-22b
2010
08-0040 : May12 20th SOS

D1034
cv-22b
08-0048 : USAF; 2012 20th SOS; 2015 still

D1035
cv-22b
2012
08-0049 : USAF; 2014 20th SOS

D1025
cv-22b
2011
09-0044 : USAF, 2011 20th SOS, 27th SOW; 2014 still

D1027
cv-22b
2011
09-0046 : USAF d/d Dec11; Jan13 20th SOS; 2014 7th SOS; Apr15 rtn to USA

D1028
cv-22b
2012
10-0052 : USAF; 2013 20th SOS

D1032
cv-22b
10-0056 : USAF; 2013 20th SOS, 27th SOW; 2015 still

D1047
cv-22b
12-0066 : USAF; 2015 20th SOS

7011
UH-1F
63-13151 : 14SOW 20th SOS w/o 19may69 at Ban Don Vietnam. aircraft rescue sling load+

7043
UH-1F
64-15493 : USAF 20th Helicopter Squadron, later the 20th Special Operations Squadron +

7070
UH-1F
65-7929 : USAF; conv UH-1P; 1969 pictured with 20th SOS over Cambodia; 14jul69 autor+

7077
UH-1F
65-7936 : USAF; May68-Dec69, I was crewchief at 381st Missile Wing (SAC) transferri+

- N981 : US Dept of Commerce (Rockville, Maryland) Nov75-Jul95

7089
UH-1F
65-7948 : 1978-1985 was at Luke AFB, AZ. It had more comm gear than our other UH-1Ps+

N7045C : Carson Leasing & Equity Inc at Salem, OR Jun93-Nov12; canc

65-142
HH-53C
67-14993 : USAF; conv to MH-53M; 20th SOS w/o 19mar03

65-186
HH-53C
68-10356 : USAF; conv to MH-53J; 1991 20th SOS; 2007 to AMARG

65-194
HH-53C
68-10364 : USAF; conv to MH-53J; 02jun99 crash Fort Bragg, NC, repaired?; 20th SOS; A+

65-199
HH-53C
68-10369 : 20aug08 pictured with 20th SOS flying over coastline near Hurlburt Field, +

65-253
CH-53C
68-10924 : conv to MH-53M; 2005 20th SOS Hurlburt Field, FL

65-259
CH-53C
68-10930 : USAF; conv to MH-53M; 13feb03 20th SOS damaged at Kuwait; repaired?

65-149
HH-53C
68-8286 : USAF; conv to MH-53M; 20th SOS; w/o 18mar02 Afghanistan

65-270
HH-53C
69-5791 : USAF; conv to HH-53H; conv to MH-53M; 20th SOS w/o 02nov01 Afghanistan

65-272
HH-53C
69-5793 : USAF; date unk pictured with 41st ARRS at McClellan AFB, CA; conv MH-5+

65-273
HH-53C
69-5794 : 20th SOS w/o 07sep07 emergency landing during NVG training at Eglin AFB, 2+

65-276
HH-53C
69-5797 : conv to MH-53M; 20th SOS w/o 13apr04 hit by RPG at Zawbaa, Iraq

31010
UH-1N
69-6604 : USAF; 1976-1985 asg 20th SOS at Hulbert Field

31027
UH-1N
69-6621 : USAF 20th SOS, w/o 04dec71 Ban Me Thout, Vietnam; only USAF UH-1N lost to +

31047
UH-1N
69-6641 : USAF; 1976-1985 asg 20th SOS at Hulbert Field

31048
UH-1N
69-6642 : USAF; 1976-1985 asg 20th SOS at Hulbert Field

31050
UH-1N
69-6644 : USAF; 1976-1985 asg 20th SOS at Hulbert Field
: From May83 20th SOS in Operation BAT against illegal drug smuggling on Ba+

31059
UH-1N
69-6653 : 1976-1985 asg 20th SOS at Hulbert Field, FL
: 1976-1977, I was crew chief on this at Hurlburt Field 20th SOS. It was tra+

31060
UH-1N
69-6654 : USAF; 1976-1985 asg 20th SOS at Hulbert Field

65-335
CH-53C
70-1625 : 20th SOS w/o 23nov03 at Bagram, Afghanistan

65-388
HH-53C
1974
73-1650 : USAF; conv HH-53H; 20th SOS w/o 14nov84 near Pope AFB North Carolina, tai+

65-389
HH-53C
1974
73-1651 : USAF; conv HH-53H; 20th SOS w/o May 1986 or 1988 impacted ridgeline near N+

65-390
HH-53C
1974
73-1652 : 06jun08 pictured (top) with 20th SOS at Pipestem, WV during the squadron f+

42 serials found for 20th SOS