Formed at RAF Stradishall on 1 March 1941 as 1419 (Special Duties) Flight by renumbering 419 (Special Duties) Flight, which itself had been created in August 1940 as a covert support unit. The task of supporting Churchills directive to
set Europe ablaze
grew too large for a single flight. The strategic importance of sabotage operations on mainland Europe justified the formation of a full squadron. On 25 August 1941, 138 (Special Duties) Squadron re-formed at Newmarket from the nucleus of 1419 Flight to do the job.

1419 (Tactical Support) Flight reformed in 2005 from a section of
28(AC) Squadron
and moved to Basrah Air Base with the
Merlin HC.3
to relieve the
Chinooks
of
1310 Flight
 on 10 Mar. Its role in Iraqs southern area of operations includes assault, fire support, troop moves, airborne command post, reconnaissance and surveillance, convoy protection and Casevac duties for the Multi National Division (South East) and it is also trialling new, extended range fuel tanks. 1419 Flight is part of the UK Joint Helicopter Command commitment to Joint Helicopter Force (Iraq) - JHF(I). It disbanded in May 2013.

News about this Rotary Wing Unit :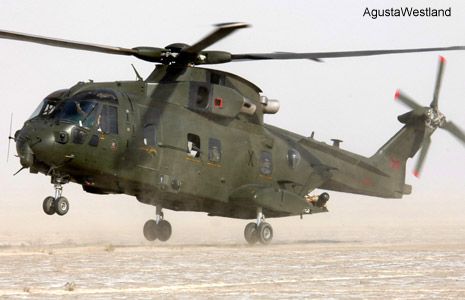 Royal Air Force Merlin Operations in Iraq, 14-Jun-05 : On March 19th 2005, No 1419 Flight, 28 (Army Co-operation) Squadron operating four Royal Air Force AgustaWestland EH101 Merlin HC Mk3 helicopters, declared Full Operational Capability (FOC). As part of the UK's Joint Helicopter Force (Iraq) supporting the UK led Multi National Division (South East), they continue to support the stabilisation and peace process within Iraq.
Construction Numbers for 1419 Fl
Help Us
C/N
Version
Built
In this Org
In other Org
50083
hc.3
2000
ZJ120 : 28/78 Sq/D by Oct 2009. Part of 1st detachment of RAF Merlin to Afghanista+

50113
hc.3
2000
ZJ122 : 1419 Flt /F, in Iraq Jun 2009

ZJ122 : Royal Navy /F from Aug15; Oct16 first flight of HC.4 type
: 08jul17 pictured (pic3) as first HC4 at Yeovilton airshow
: 10sep17 as /F pictured (pic4) on the East Terrace of Excel London for D+

50137
hc.3
2000
ZJ125 : 1419 Flt /J, in Iraq Jun 2009

50169
hc.3
2001
ZJ130 : 28/78 Sq/O by Oct 2009. Part of 1st detachment of RAF Merlin to Afghanista+

ZJ130 : 02jul16 pictured (pic2) as 846Sq /O at RNAS Yeovilton during Air Day 2016

50173
hc.3
2001
ZJ131 : 1419 Flt /P by Jun 2009; returned to UK to MDMF Culdrose 1 Jul 2009

ZJ131 : final Merlin delivered from RAF Benson to 845 NAS at Yeovilton. ZJ131/P on+

50183
hc.3
2001
ZJ134 : 1419 Flt /S, in Iraq Jun 2009; MDMF Culdrose on 9 Jul 2009

ZJ134 : RN; Oct16 846Sq /S in Bavaria, Germany

6 serials found for 1419 Fl