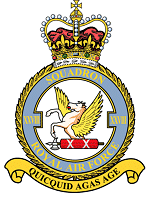 Formed on 7 Nov 1915, has operated largely as an Army Co-operation unit. Spent much of its life in the Middle and Far East, it commenced helicopter operations in Mar 1968 with the
Whirlwind
HAR.10. In 1972, the unit converted to the Wessex HC.2 and moved to Sek Kong (
VHSK
) until its closure in Jan 1997 and then at Kai Tak (
VHKT
) to Jun 1997 when it disbanded. The unit was officially reformed at RAF Benson (EGUB) on 17 Jul 2001 with the Merlin HC.3, although it had received its first airframe on 7 Mar 2001. 28(AC) Squadron is committed to Joint Helicopter Command.

A flight of 28(AC) Squadron was detached to form
1419 (Tactical Support) Flight
in 2005 and sent to southern Iraq.

Merlins from 28(AC) Squadron were sent to
Afghanistan
in Nov 2009 and the last operational flight was on 31 May 2013.

On July 2015, handed over the Merlin to the Royal Navy
Commando Helicopter Force
and re-roled as 28 (Reserve) Squadron as an OCU unit training Chinook Mk4/6 and Puma Mk2 helicopters crews
On 27 Oct 2015, the Chinook Operational Conversion Flight from RAF Odiham re-located to RAF Benson, joining the Puma Operational Conversion Flight, as part of 28 Squadron.

Puma and Chinook Operational Conversion Unit
News about this Rotary Wing Unit :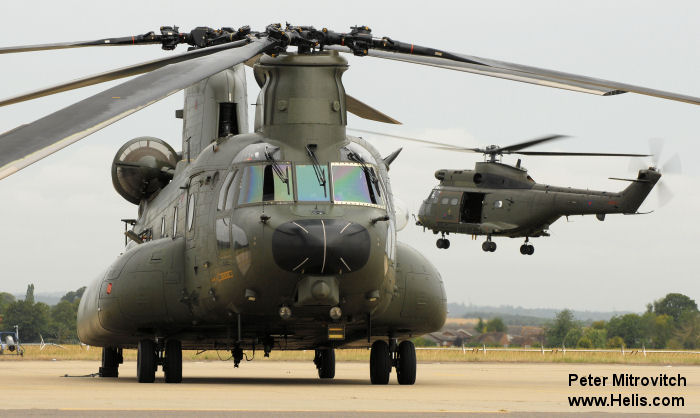 Chinooks Arrive At RAF Benson, 23-Oct-15 : Royal Air Force Chinook helicopters and around 150 personnel moved to RAF Benson as the Chinook Mk4/6 Operational Conversion Flight joined their Puma HC.2 colleagues.
Construction Numbers for 28Sq
Help Us
C/N
Version
Built
In this Org
In other Org
wa 95
har.2
1955
XJ724 : 228Sq by Sep 1963

wa125
hc.2
1963
XR500 : Flew her 28Sqn at Kai Tak 2nd and 4th April 1974. I was with 38Grp STANU, +

wa144
hc.2
1964
XR522 : ff 22 Apr 1964, dd 1 May 1964 . 78 Sq/O by 1965, HOCF/BW by Sep 1970, 84 S+

071 : FAU d/d jun97; ex RAF XR522; Gate Guardian Grupo 1 FAU at Carrasco air bas+

50099
hc.3
2000
ZJ121 : RAF; 2007 28Sqn./E

ZJ121 : RN 846Sqn; 19jul15 pictured (bot) at RIAT 2015
: 08jan16 846Sqn./E at Nantes direction South
: 08jan16 846Sqn./E at Bordeaux direction Spain
: HC.3i type; 10jan16 visit to Gibraltar, with ZJ129.
: 846 NAS/E deployed to Gibraltar Aug 2016

50129
hc.3
2000
ZJ123 : RAF Merlin HC.3 28Sqn/G; Jun09 pictured at Kemble Air Show, Kemble Airport+

50133
hc.3
2000
ZJ124 : RAF HC.3 /H; 17jul11 pictured with 28Sqd at RAF Fairford RIAT airshow

50149
hc.3
2001
ZJ127 : RAF 50149/RAF11 in 2003 /L 28Sqn.

ZJ127 : conv to fully marinised HC.4
ZJ127 : 08jul17 /L pictured at RNAS Yeovilton Air Day 2017

50153
hc.3
2001
ZJ128 : 50153/RAF12; 2003 /M 28Sqn; 19aug06 pictured at Shoreham Airport, England

ZJ128 : 845 NAS / M. Deployed to Caribbean for huuricane relief.

50167
hc.3
2001
ZJ129 : RN; 01may05 pictured as 28Sqn /N at Abingdon
: 2007 28Sqn./N

ZJ129 : 08jan16 846Sqn./N at Nantes direction South
: 08jan16 846Sqn./N at Bordeaux direction Spain
: HC.3I type; 10jan16 visit to Gibraltar with ZJ121.

50169
hc.3
2001
ZJ130 : RAF; 2007 28Sqn./O

ZJ130 : 02jul16 pictured (pic2) as 846Sq /O at RNAS Yeovilton during Air Day 2016

50173
hc.3
2001
ZJ131 : RAF Merlin HC.3 28Sqn./P; 11may07 pictured at Elwood HLS (Heliport) Barra+

ZJ131 : final Merlin delivered from RAF Benson to 845 NAS at Yeovilton. ZJ131/P on+

50181
hc.3
2001
ZJ133 : RAF 50181/RAF17 in 2009 28Sqn.

50195
hc.3
2002
ZJ137 : RAF 50195/RAF21.; 2003 28Sqn./W

ZJ137 : Jan16 HC.3i type asg 846Sqn
: 02jul16 pictured as 846 NAS /W at RNAS Yeovilton during Air Day 2016

50160
mk512
2005
ZK001 : 23jan15 type HC.3A 28sqn./AF at Shawbury

M-511 : 50160/DEN11 return to UK as ZK001

14 serials found for 28Sq