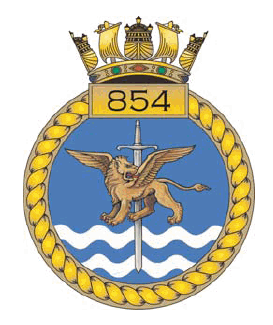 Although the crews and staff were mustered by the end of 1943, the unit did not officially form with Avenger IIs as an anti-shipping squadron until 1 Jan 1944 at Squantum in the USA. After a short period of operations over the English Channel prior to D-Day, and about a year in the Far East, the unit left its Avenger IIIs behind, sailed for the UK and disbanded on 8 Dec 1945.

The unit reformed with the Sea King ASaC.7 on 13 Dec 2006 at RNAS Culdrose from
849 Squadron
, A Flight.

In May 2009, 854 NAS deployed 3 Sea King ASaC.7 airframes and four crews plus engineering and administrative support to Afghanistan. This was followed by a Nov 2010 deployment to Afghanistan, being relieved by
857 NAS
in Mar 2012 and returned to Culdrose. Took part in the security operation for London 2012 Olympics between mid Jul and mid Sep, detaching to RAF Northolt.

Disbanded in Dec 2014 to become
Normandy Flight
of
849 Squadron
.

News about this Rotary Wing Unit :

Royal Navy Sea Kings 5 years in Afghan skies, 04-Jun-14 :

UK Forces have been deployed in Afghanistan since 2002 under Operation Herrick pushing back the Taliban and preventing them from using the country as a base for terrorism
Construction Numbers for . / 854Sq / 854 Sq / 854NAS / 854 NAS
Help Us
C/N
Version
Built
In this Org
In other Org
wa 637
has.1
1969
XV649 : Conv to ASaC.7, 849Sq HQ Flt/180-CU by Jul 2003; still Sep 2004; 854Sq/180+

wa 644
has.1
1969
XV656 : 854Sq /85 by Jul 2009; 857Sq /85 by Oct 2009

wa 652
has.1
1970
XV664 : 854Sq /90 by Jul 2009; 857Sq /90 by Oct 2009

wa 660
has.1
1970
XV672 : 854 NAS/187 by Oct 2012, embarked on HMS Illustrious for her Cougar 12 dep+

wa 685
has.1
1972
XV714 : Nov13 with 854 NAS on Ops
: Apr14 as 854 NAS /88 in Bastion, Afghanistan

wa 945
has.5
1985
ZD636 : ASaC.7 857Sq by Aug 2009; 854Sq /82 by Sep 2009

wa 961
has.5
1986
ZE422 : ASaC.7; 854Sq /92 by Jul 2009; 857Sq /92 by Oct 2009

7 serials found for . / 854Sq, 854 Sq, 854NAS, 854 NAS