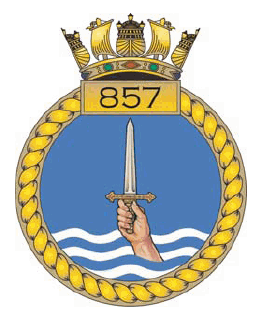 Formed at Squantum (Dennison Field, Mass.) in the
US
on 1 Apr 1944 as a Torpedo / Reconnaisance unit with Avenger IIs. It returned to the UK in Jun 1944 and re-trained for anti-submarine operations, departing for the Far East and the Pacific in Sep 1944. After about a year of operations, its aircraft were left at
Nowra
(
Australia
) and it returned to the UK, to disband on 20 Nov 1945.

The unit reformed with the Sea King ASaC.7 on 13 Dec 2006 at RNAS Culdrose from
849 Squadron
, B Flight.

857 NAS was deployed to
Afghanistan
in May 2009 and returned in Dec 2010. Towards the end of May 2011, the squadron embarked 2x of its
Sea King ASaC.7
airframes on
HMS Ocean
for a 4 month deployment off Libya, returning to RNAS Culdrose on 22 Sep 2011. In Mar 2012, it relieved
854 NAS
in Afghanistan. Based at Camp Bastion until May 2014, it was then reassigned to
RFA Fort Austin
operating in the Gulf, providing Force Protection to the Coalition Task Force and was relieved by
Normandy Flt
of
849 NAS
in Dec 2014.

Due to disband in early 2015 and become
Palembang Flight
of
849 Squadron
.

News about this Rotary Wing Unit :

Royal Navy Sea Kings 5 years in Afghan skies, 04-Jun-14 :

UK Forces have been deployed in Afghanistan since 2002 under Operation Herrick pushing back the Taliban and preventing them from using the country as a base for terrorism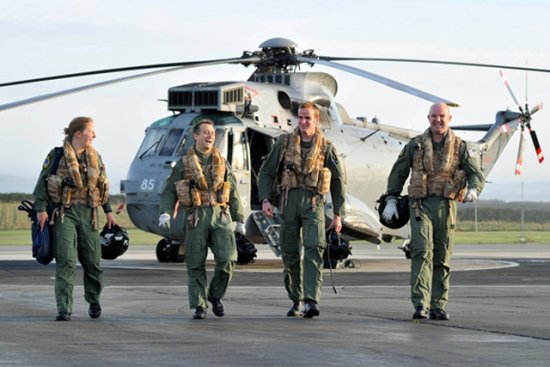 ASaC.7 return from Libya, 27-Sep-11 : Navy fliers who paved the way for Apache helicopter strikes against Colonel Gaddafi's forces are safely home.
Construction Numbers for . / 857Sq / 857 Sq / 857NAS / 857 NAS
Help Us
C/N
Version
Built
In this Org
In other Org
wa 644
has.1
1969
XV656 : 854Sq /85 by Jul 2009; 857Sq /85 by Oct 2009
: 857Sq/185 by May 2014, still Dec 2014

wa 652
has.1
1970
XV664 : 854Sq /90 by Jul 2009; 857Sq /90 by Oct 2009

wa 659
has.1
1970
XV671 : 11jul09 as as 857 NAS /183 pictured in the flying display at Yeovilton Ai+

wa 660
has.1
1970
XV672 : at HMNB Portsmouth in flying display for Meet Your Navy 2008, as 857 NAS /+
: 30Jul08 pictured (pic1) at RNAS Culdrose Air Day as 857 NAS / 187

wa 945
has.5
1985
ZD636 : ASaC.7 857Sq by Aug 2009; 854Sq /82 by Sep 2009
: 2011 857Sqn /CU-182
: embarked as 857 NAS/182-CU on HMS Ocean during at least the Aug 2011 visit+

wa 958
has.5
1986
ZE420 : 2009 type:ASaC.7 857Sqn./189

wa 961
has.5
1986
ZE422 : ASaC.7; 854Sq /92 by Jul 2009; 857Sq /92 by Oct 2009

7 serials found for . / 857Sq, 857 Sq, 857NAS, 857 NAS