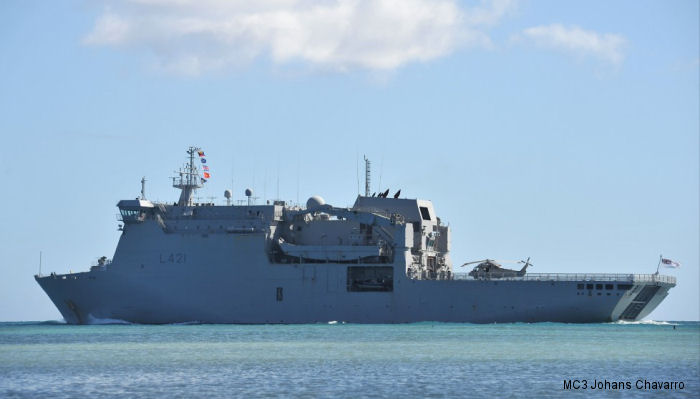 75
crew
250
troops
131
length (m)
23.40
beam (m)
19
max speed (knots)
1
Naval Gun single 25 mm
The Max option implies only aircraft of this model onboard
1 units
2004-jul
Ordered
L421 HMNZS Canterbury from Tenix Defence (Australia) and subsequently subcontracted to Merwede Shipyard (Netherlands)
2005-sep-6
Laid down
L421 HMNZS Canterbury
2006-feb-11
Launched
L421 HMNZS Canterbury
2007-jun-12
Commissioned
L421 HMNZS Canterbury
2007-aug
Homeport
L421 HMNZS Canterbury arrived HMNZNB Devonport
2011-feb
Deployment
L421 HMNZS Canterbury Christchurch Earthquake 2011 deployed to Lyttleton (nr Christchurch) for a scheduled Exercise, it quickly turned into a Humanitarian and Disaster Relief mission, when the earthquake struck on 22 Feb. Also shuttled back and forth to Wellington, ferrying emergency supplies and equipment.
2013-aug-26
Trials
L421 HMNZS Canterbury First of Class flight trials with Australian MRH90 to establish the operating envelope of a similar type on HMNZS Canterbury.
2016-nov
Aircraft
L421 HMNZS Canterbury Exercise Mahi Tangaroa 16, Australian Romeo 7 on board
2016-nov-14
Deployment
L421 HMNZS Canterbury Kaikoura Earthquake relief operations diverted from Auckland to assist in earthquake relief off Kaikoura. Main offshore platform for NZDF relief effort. Returned to Lyttleton on 20 Nov with 192 evacuees, for re-tasking.
2017-mar-24
Port Visit
L421 HMNZS Canterbury anchored off Raoul Island in Kermadec Group, to assist in maintenance of the Tsunami Early Warning System.