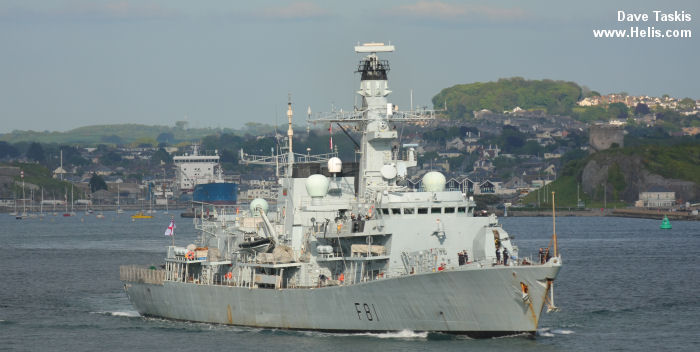 | | |
| --- | --- |
| Flight Deck: | SU |
| Call Sign: | GCOZ |
Add new event for this unit

| | |
| --- | --- |
| Year: | |
| Month: | <- (1/12) Optional |
| Day: | <- (1/31) Optional |
1992-jan
Ordered
1993-oct-14
Laid down
1996-mar-9
Launched
aka The Fighting Clan.
1997-jul-4
Commissioned
2002-feb-6
Aircraft
815 NAS Lynx HAS.3 XZ694, air freight to join ship near Veracruz, until Apr 2002
2002-feb-12
Deployment
departed HMNB Devonport for Atlantic Patrol Ship (North) deployment
2002-mar
Port Visit
Puerto de Veracruz week long visit to Veracruz, for the Port 100th anniversary celebration.
2002-mar-27
Port Visit
anchored offshore for 1 day visit to Montserrat
2003-jun-9
Deployment
Operation Telic to support post-combat and reconstruction operations in Iraq, completing 3 Dec 2003.
2006
Trials
conducted trials of ScanEagle reconnaissance UAV
2006-nov-5
Deployment
Salalah International Salalah relieved HMS Kent at Salalah, Oman on Persian Gulf and Indian Ocean mission
2007-apr
Deployment
Shatt al-Arab platforms assumed role of Flagship of CTF 158 in the northern Persian Gulf
2007-dec
Refit
Ready for Merlin towed array sonar Type 2087 at Babcock Marine in Rosyth, until 14 Nov 2008 for extensive refit including Seawolf mid life upgrade and new Type 2087 towed array sonar.
2010-may
Deployment
Exercise Auriga 2010 Participated in Joint exercise in Western Atlantic, until Aug 2010.
2010-jun-28
Port Visit
Bedford Basin Fleet Review: 100th anniversary of Canadian Navy visited Halifax for MARLANT Fleet Review
2010-nov
Aircraft
assigned 829 NAS Merlin HM.1 ZH863 as /501
2011-apr-8
Deployment
Libyan coast Gulf of Sirte Operation Unified Protector deployed from HMNB Devonport to Mediterranean and Arabian Gulf operations
2011-oct-18
Port Visit
Tower Bridge Upper visit to the Pool of London alongside HMS Belfast until 22 Oct.
2011-oct-25
Deployment
Staff College Sea Days 2011 Demonstrated anti-submarine techniques in the Solent.
2011-oct-25
Aircraft
noted with 829NAS Merlin HM.1 ZH841/502 aboard, while departing HMNB Portsmouth.
2012-jul-5
Deployment
Operation Kipion Departed HMNB Devonport for a 6 month maritime security deployment in the Indian Ocean with 829 NAS Merlin embarked, to relieve HMS Westminster. Relieved by HMS Northumberland and returned to HMNB Devonport on 15 Dec 2012.
2013-sep-6
Port Visit
Royal Victoria Dock DSEI2013 visit to London for International Shipping Week, alongside at Excel Exhibition Centre until 15 Sep. Wildcat ZZ396 onboard
2013-oct-7
Deployment
North Western Approaches Exercise Joint Warrior 13-2 participated in two week exercise off NW Scotland
2013-oct-11
Port Visit
Hamburg Port visited Hamburg, including Ship open to visitors, departed 14 Oct
2013-oct-28
Refit
surface and low level air search radar Type 997 commenced planned 11 month refit at HMD Devonport, to include a new command system and the Type 997 Artisan radar. After re-flooding the dry dock in May and emerging from the covered complex in early Oct 2014, completed refit in Mar 2015.
2015-mar-24
Trials
departed HMNB Devonport for sea trials following an extensive multi-phase refit and life extension programme. Rejoined the Fleet on 25 Sep.
2016-mar-3
Deployment
Cold Response 2016 In Norway for NATO exercise Cold Response 16
2016-aug-26
Port Visit
Islands Regatta Shortly after tasking as Fleet Ready Escort, arrived off St Marys IoS as Guardship for Scilly Isles Regatta, departed 30 Aug
2016-dec-5
Deployment
Fleet Ready Escort As FRE, escorted RFS Vice Admiral Kulakov through English Channel en route eastern Mediterranean
2016-dec-16
Deployment
Fleet Ready Escort As FRE, escorted RFS Yaroslav Mudry through English Channel
2017-jun-29
Deployment
off Dunbar joined Queen Elizabeth in the Firth of Forth, as escort, during her pre-Commissioning manufacturers trials.
The Max option implies only aircraft of this model onboard

Yarrow, Scotstoun