1950s Highlights

July, 1950:
First North American Helicopter Transcontinental Flight

July 12, 1957: Dwight Eisenhower became first US President to fly in helicopter



Kaman K-225: First World's turbine gas powered helicopter (1951)


Sikorsky S-55: First World's certified commercial transport helicopter (1951)


Sikorsky S-55: First transatlantic crossing WITH STOPs (1952)


McDonnell XV-1: First successful conversion from vertical rotor lift to horizontal winged flight (1954)


Sud-Aviation SE313B Alouette II: First turbine helicopter enter production (March 12,1955)


April 27, 1955 Jean Ross Howard Phelan establishes the Whirly Girls


Kaman QH-43: First World's remotely piloted rotor vehicle (1957)


Hiller X-18: World's first transport-size VTOL aircraft (1959)


IPD BF-1 Beija Flor :
(Brazil)
Designed by Heinrich Focke. One unit built. First flight January 1959.

XE-II
(Czechoslovakia)
Their first flying private design, had two-bladed main and tail rotor and relatively simple construction, consisting of steel tube framework and tricycle landing gear. Only one flying prototype ( OK-FYA ) was often updated (modification A through E) and was destroyed during an accident in 1952.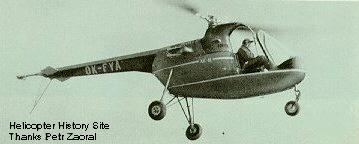 VZLU HC-2 / HC-102 Heli Baby
(Czechoslovakia)
After three year of construction (by
Mr. Slechta
) this helicopter fly for the first time in 1954. It was a really good helicopter at that time and set several international records (120 km/h at closed circuit, 114 km/h at stright line - 27.6.1959).
The serial production started at Moravan Otrokovice factory in 1958 and a small number of HC-2 were delivered to the army.
In 1961 they were returned to the factory and were later converted to HC-102.


Matra - Cantinieau MC - 101
(France)

Aerotecnica AC-12 / 13 / 14
(France)
Derivate from the MC-101 built in Spain

Bolkow Bo-46 / 102 / 103
(Germany)

Cierva W.14 [Saunders-Roe Saro Skeeter]
(UK)

Fairey Ultra Light
(UK)

NHI Model 3 Kolibrie
(Netherlands)

FIAT model 7002
(Italy)
Unique helicopter designed
by this italian company.
It was canceled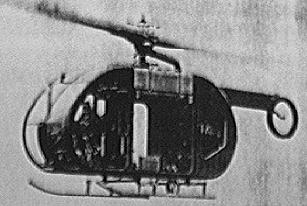 Manzolini Libellula
(Italy)
not produced

Aer Lualdi Models L-55/57/59

PZL BZ-4
(Poland)

Yakovlev Yak-24 Horse
This model is the unique tandem-rotors helicopter to enter service in the Soviet Union.

Apostolescu Universal Helicopter Co. Inc
(USA)
A least-known American inventor and helicopter pioneer was Stefan Apostolescu, of Rumanian origin.He has been associated with the rotary-winged industry since early 1940. Several U.S. patents were granted to him, concerning helicopters, convertiplanes and advanced aircraft systems.
In 1955-1956, Apostolescu set up his own company, the "Apostolescu Universal Helicopter Co. Inc.", at 55 West 42nd Street, New York, and started the development of a four-to-five passenger amphibious roadable helicopter, with collapsible blades, called a
"Helimobile"
. The company had plant facilities at Hicksville, Long Island.
Thanks Denes Bernad.

McCulloch MC-4 (YH-30)
Development of the Jov-3

McCulloch J-2 Gyro Plane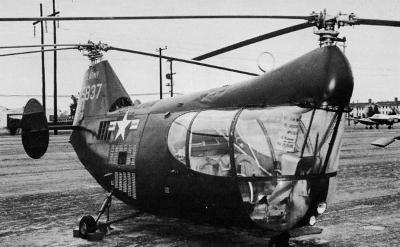 1954, Long Island, New York, USA :
Helicopter Case Baffles Nation

Transcendental Model 1G

Transcendental Model 2
An improved (1500 Kgs) successor to the Model 1G, powered by a 250 h.p. Lycoming 0-435-23 engine mounted behind the cabin and driving two fully articulated rotors was tested in 1956-57, but the US Air Force decided to not fund it further in order to pursue the competing Bell XV-3. A
Model 3
has been projected. I will also be convertible and designed to take two gas-turbines.

Rotor Craft RH-1
With a max weight of 181 Kg can reach 100 km/h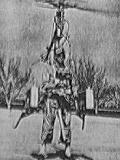 De Lackner DH-4 / 5 Aerocycle
Single seat in which the pilot and engine were located in a small platform above a pair of contra rotating rotors. Below was a tubular skid landing gear

American XA-8 [XH-26]
The US Army and US Air Force jointly evaluated the five XH-26 prototypes from 1952 to 1954. The machines were found to be robust in construction and relatively simple to operate, but neither service procured the type in quantity.
American XH-26A Jet Jeep serial number 50-1840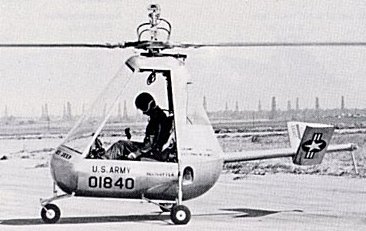 Detemple DH-28

Brantly B-2 (YHO-3)

Goodyear GA-400R Gizmo
Well known for its airships, the Goodyear Aircraft Corporation developed a small open-frame single seat helicopter which made its first flight on 9 May 1954. This prototype (N62N) was designated GA-400R Gizmo and followed classic lines with the pilot seat on the forward frame, a narrow tailboom with a tail rotor and the 32hp Mercury 55 engine mounted amidships and driving a two-blade main rotor. It was followed by the GA-400R-2 and GA-400R-3 (N69N and N53A) which were powered by a 38hp Johnson two-stroke engine. Like many contemporary ultra-light helicopters the GA-400R did not progress beyond prototype stage.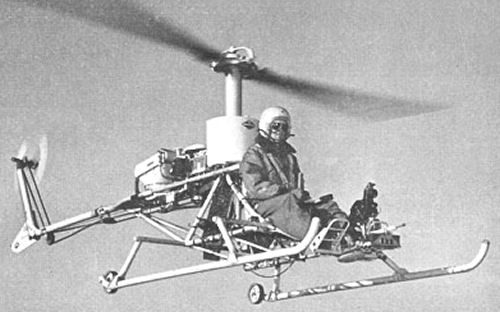 Doman :
In 1945, Glidden Doman founded the Company. The first prototype was the LZ-1, a development of the Sikorsky R-6 that later was improved as LZ-2.
With some of german 's Flettner patents and owns ideas Doman completely built the LZ-4 and soon the derivative LZ-5 that was tested by the US Army in 1953 as
YH-31
but was not accepted
Hiller acquired the production rights of the LZ-5 that year
The Company was re founded as Caribe Doman and his last intents were the D-10 and D-19.
Omega BS-12
Four prototypes tested between 1956 and 1960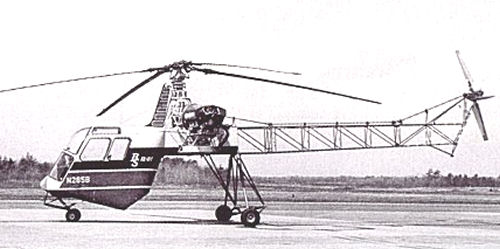 Marquardt Model 14

Bensen X-25 Gyro-Copter
In the early '50s, Igor Bensen, an engineer who works for Kaman Aircraft, founded his own company. He made the kit B-8 Gyro-Glider that it can be "made by yourself" . For more than 30 years, thousands of this machines were produced. Other models were the B-9 Little Zipter and the B-10 Flying Platform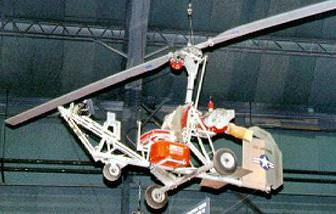 Doak Model 16 (VZ-4)
Experimental tiltrotor for the US Army. Only one built and tested until 1963 when the program was cancelled and transferred to NASA. In 1973 was put in storage at Fort Eustis, VA and then restored for display at the e US Army Transportation Museum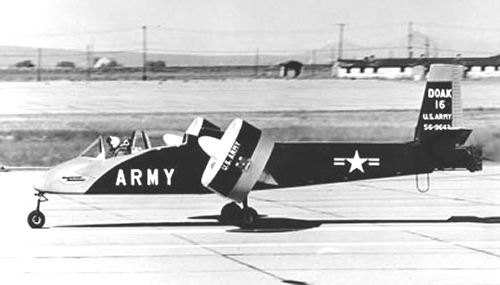 Seibel S-4 Sky-Hawk (YH-24)
Was not selected by the US Army but later, in 1951, received civilian certification.
Charles Seibel
began his helicopter career at Bell buffalo, then began his own company in Wichita, Kansas and sold it out to Cessna in 1952. He became chief engineer of the Cessna Helicopter Division and was responsible for the development of the remarkable Cessna CH-1 design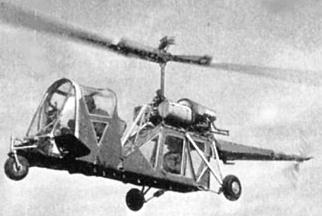 Cessna CH-1 Skyhook ( YH-41 Seneca )
Cessna entered the helicopter market following its acquisition of the
Seibel Helicopter Company
in 1952
In the summer of 1959, the CAA ( predecessor of today's FAA ) approved the CH-1C for certification and after a few minor additional modifications, the CH-1C became the first helicopter CAA-certified for flight in instrument conditions.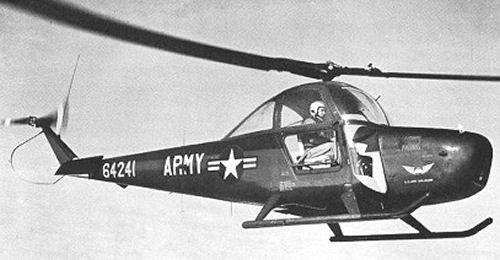 Ryan Model 92 Vertiplane (VZ-3)
Experimental Tiltrotor built for the US Army. First flew December 29, 1958 and completed 21 flights until it crashed in 1959. Repaired and handed over to NASA. Currently on display at the United States Army Aviation Museum.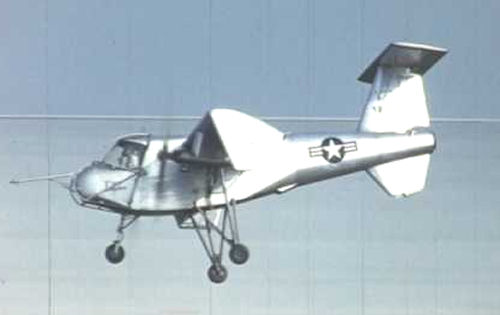 Curtiss-Wright Aerial Jeep (VZ-7)
Flying test vehicle, serial number 58-5508 currently at US Army Aviation Museum in Fort Rucker, Alabama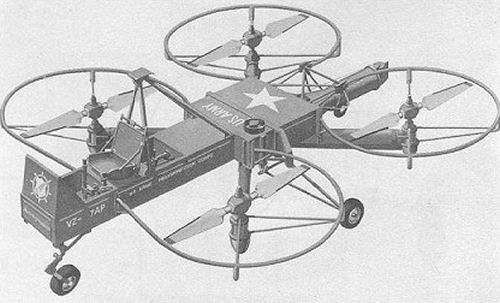 Kellett / Hughes XH-15 / XH-17