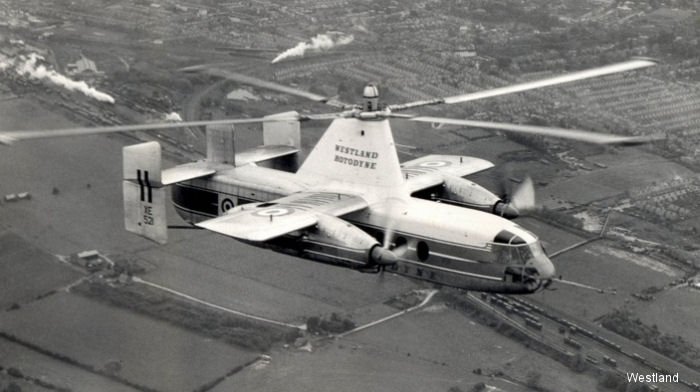 The Fairey Rotodyne was a compound helicopter of unprecedented size at the time of it's first flight on 6 Nov. 1957, having originally been ordered by the then British Ministry of Supply, later the ministry of Aviation, in August of 1953.
A development of the earlier Fairey Gyrodyne prototypes, which had established a number of British helicopter records, the Rotodyne featured a large rotor powered by air bled from two wingtip mounted Napier Eland turboprops, using the rotor for vertical take-offs, landings and hovering, while full power was applied to the tractor propellers of the turbo props for forward flight.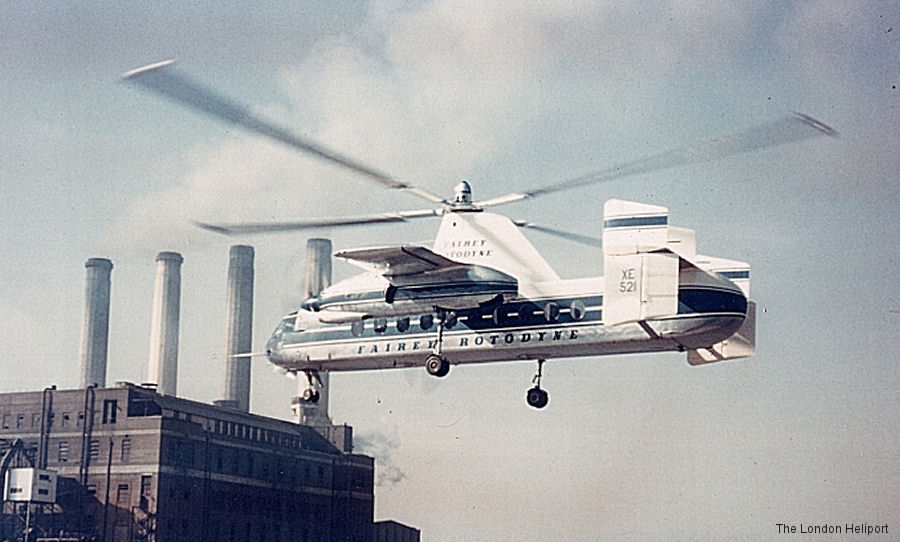 The first flight using the tractor propellers was on 10 April 1958, while on January 5th 1959, the Rotodyne established a helicopter speed record over a closed circuit of 307 km/h. The prototype Rotodyne was a three-crew, forty-passenger machine, itself a remarkable achievment for it's day but on the acquisition of Fairey,
Westland Aircraft
proposed to develop the Rotodyne into a production aircraft capable of carrying between 57 and 75 passengers and using two of the new 5,250 shp Rolls-Royce Tyne turboprops to give a cruising speed of 370 km/h, and the ability to carry up to 6.700 Kgs of freight including standard-width British Army vehicles.
However, an initial order for twelve production Rotodynes for the Royal Air Force did not materialize, and after initial interest from British European Airways, the state owned domestic service and European international airline, did not develop into a firm order, the project was abandoned in February 1962


First Flight : November 6, 1957

Engines: 2 * 2.800 hp Napier Eland NEL7
Cruise Speed: 300 km/h
Range: 700 km
Weight: Max: 14.900 Kgs
Rotor Span: 27.43 m
Length: 17.88 m
Height: 6.76 m
Disc Area: 591 m2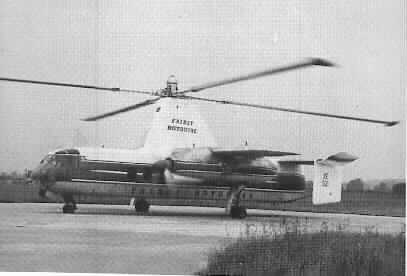 Fairey Rotodyne at Farnborough photos :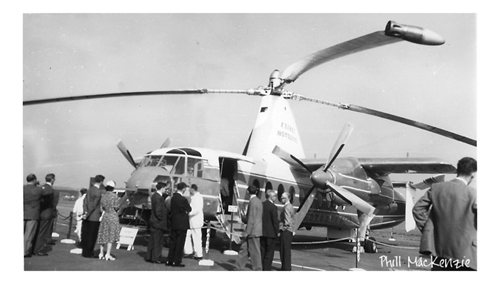 Contribution:
Philip MacKenzie