Designed by Donald Hillberg, the Rotermouse first flew on April 1993. The design parameters were sheet metal stressed skin, with a turbine power plant, single seat and light weight. It flew in Oshkosh 1995 and was featured in N.K.G. Television in Japan. In 1996 flown in Sun & Fun Lake Land Florida.
Was involved in two accidents from testing and pilot error. Repaired and the test program continued. After 150 hours and a repaint to military color the Mouse was semi retired ,now in the middle of restoration to the second paint style. A two place Mouse is in the works and has 29 plans kits in the world going together.
Don Hillberg also designed a turbine version of the
Rotorway
Exec. Walt & Dave Domanske saw the Rotermouse at an air show and ask him to know if a turbine power plant would work in a Rotorway Exec. He drew a quick drawing on a paper napkin ,and explained what was needed to start, With a little work Dave and Walt made it work installing it on Walters ship and with Don Hillberg s help, a retrofit kit was put into service.
In 1994 at Corona Air Port a Rotorway Exec airframe came together and a prototype of the original design was started but the Exec was owned by another person who later reworked his airframe beyond the design criteria and at this time it is unknown if it ever flew.
Specifications:

Fuel cap. 32.9 gal

Height 7 ft

Length 20.1 ft

Span 20 ft

Disk Area 314.2

Weight 625 lbs empty / 1370 max (with a hook)

Cruise speed 160 mph

Vne 212

Engine 36-55-C AiResearch A.P.U. from AH-64, 145 hp

Rotor blades from QH-50
Aluminum stressed skin fuselage,Crash resistant fuel system,28 volt electrical system.
Turbine Exec: an Exec air frame with a solar T-62-32 turbine engine: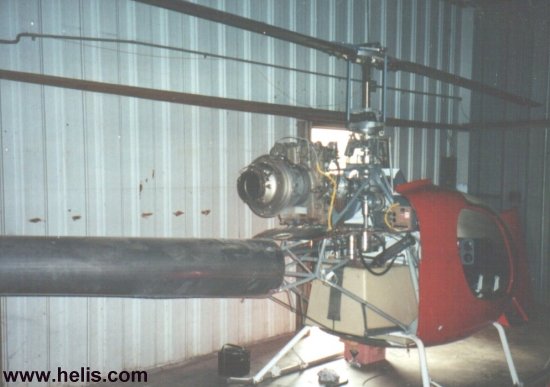 Donald Hillberg Helicopters at the Corona Airport late 1990s : EH 1-01 Rotermouse, Brantly B-2, Robinson R-22, Enstrom F-28, Hughes TH-55, Hughes 500D, Bell 206, Piasecki H-21 and Sikorsky S-58