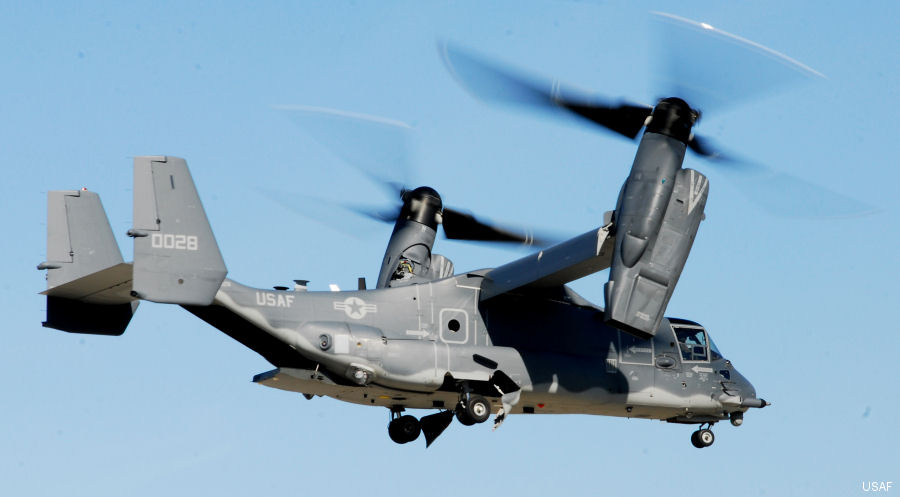 End of more than
50 years of experiences
the V-22 Osprey was the first tiltrotor to enter in production.
The US Department of Defense began the V-22 program in 1981 under Army leadership but later the Navy/Marines took the lead in developing what was then known as
JVX
or Joint-service Vertical take-off/landing Experimental aircraft. Full-scale development of the V-22 tilt-rotor aircraft began in 1986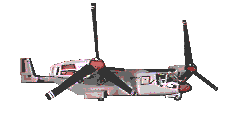 Original plan contemplates 360
MV-22
for the US Marines to replace the
CH-46 Sea Knight
as their main air assault transport with deliveries to accelerate from seven per year in 2000 to 30 per year in 2004. The US Air Force was to acquiring 50
CV-22
Ospreys to replace its fleet of
MH-53J Pave Low
helicopters used to insert and extract special operations forces covertly from hostile areas. Procurement of the first production CV-22s was scheduled to begin in 2001 with deliveries in 2003 and an initial operational capability expected in 2004. The US Navy planed to acquire 48
HV-22B
for combat search and rescue, special warfare and logistics support.
But after several accidents the program was delayed ( see details below )
As of 2004, the V-22 Osprey tilt-rotor has been back flying for over two years, with 18 aircraft currently on flight status. More aircraft are added to the fleet every month with flight-testing continuing for another 16 months before the Osprey enters operational service. The US Government has authorized Bell Boeing to continue low rate production of at least 11 per year which will grow to 48 per year after 2011. Including FSD, EMD and Operational Evaluation (OPEVAL), V-22 aircraft have flown approximately 7,000 hours, participated in extensive ground-based and shipboard tests, achieved speeds of 342 knots (402 mph; 647 km/hr), altitude of 25,000 ft., gross weight of 60,500 lbs. and a G maneuver load factor of +3.9 at 260 knots. External loads of 10,000 lbs. have been carried 50 nm at 230 knots.
On June 3, 2005, the United States Marine Corps helicopter squadron, HMM-263 stood down to begin the process of transitioning to the MV-22 Osprey, and reactivated March 3, 2006 as the first MV-22 squadron, re-designated VMM-263.
On September 19, 2005, the first CV-22A was delivered to the US Air Force.
The US Navy is scheduled to receive their first Osprey for
COD
in 2020
First Flight : March 19, 1989
Mission: Assault, Cargo

Engines: 2 * Allison T406-AD-400 Turboshafts
Speed in Helicopter mode : 185 km/h
Speed in Airplane mode : 509 Km/h -- Max : 638

Rate of climb: Max: 707 m/min
Service Ceiling: 7925 m
Range: 953 km

Weight: Empty: 14800 kg -- Max: 27442
Max Internal Payload: 9072 Kg
Cargo hook capacity: 4500 Kg

Width: 25.55 m
Length: 19.09 m
Height: 6.63 m
Rotor Span: 11.58 m
Disc Area: 105.36 m2 each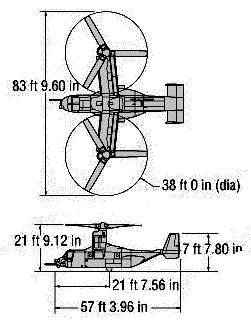 Osprey Evolution:
Database:
V-22 Production List
Program First Steps:

British - U.S. study affirms V-22 Osprey effectiveness
1999

CV-22 Osprey Simulated Scenario
2000

US Marines Introduce New Helicopter
Sep 8, 1999

Osprey 's big cousin excites Pentagon
Sep 26, 1999

MV-22 concludes successful sea trials
Oct 11, 1999

Third Production MV-22 delivered
Nov 15, 1999

Northrop Grumman to built V-22 panels
Mar 16, 2000

CV-22 Osprey Block 10 Upgrades
Mar 24, 2000

MV-22 Crash
Apr 9, 2000

US Marines declare V-22 safe
May 10, 2000

Reports of pilot error are false May 10, 2000 [MV-22 Crash]


MV-22 resume operational evaluation Jun 05, 2000 [MV-22 Crash]


23 deficiencies in the V-22 Osprey
Jun 27, 2000

V-22 searching to reduce costs
Aug 22, 2000

US Marines ground 3 types of aircraft
Aug 27, 2000

CV-22 flight testing set to begin at Edwards AFB
Sep 19, 2000

MV-22 declared operational over land
Oct 13, 2000

MV-22 deemed suitable for Shipboard Operations
Nov 14, 2000

MV-22 ready for Full-Rate Production
Nov 30, 2000

Marines MV-22 Crashes in North Carolina
Dec 12, 2000

V-22 grounded and production delayed Dec 13, 2000 [MV-22 Crash]


Probes to delay MV-22 Decision-Pentagon
Jan 25, 2001
Program resumed:

V-22 Osprey to resume flight testing
Feb 28, 2002

MV-22 resume flying, all ok
May 29, 2002

CV-22 enters Benefield Anechoic Facility
Jul 15, 2002

MV-22 Aircraft #21 Arrives at Patuxent River
Oct 18, 2002

Osprey Reaches 100-flight hour Mark
Nov 08, 2002

Rolls-Royce Ships 100th Engine for V-22 Tilt rotor
Dec 04, 2002
Program maturity:

Bell Boeing deliver 1st production CV-22 Osprey to Air Force
Sep 19, 2005

DoD Approves V-22 Full Rate Production
Sep 28, 2005

CSAR-X
Bell Boeing V-22 retired from CSAR-X competition
Oct 20, 2005

Bell Boeing Delivers First V-22 Block B
Dec 08, 2005

VMMT-204 graduates first Osprey crew chiefs
Feb 08, 2006

VMM-263 become first operational MV-22 Osprey squadron
Mar 04, 2006

USMC MV-22 Osprey completes non-stop flight
Jun 16, 2006

Bell-Boeing Team Begins CV-22 Support at Hurlburt Field
Nov 17, 2006

Bell Boeing Meets V-22 Delivery Goals for 2006
Jan 9, 2007

New V-22 Hydraulic Automated Test System
Jan 23, 2007

V-22 Fatigue Test Surpasses 20,000 Flight Hours
Mar 07, 2007

V-22 Fleet Passed 25000 Flight Hour Milestone
Apr 04, 2007

MV-22 on track for Initial Operational Capability
Apr 04, 2007

MV-22 Osprey Lands on UK Aircraft Carrier for First Time Jul 11, 2007

Further Development: Quad Tilt Rotor



Osprey 's big cousin excites Pentagon
Sep 26, 1999

Tiltrotor Airlift Technology for Army Transformation
Jul 19, 2004

Bell Boeing Wins JHL Contract
Sep 19, 2005

Wind Tunnel Testing Completed on Bell Boeing Quad Tiltrotor
Sep 13, 2006