1945-1950 Highlights

US Congress criticized the US Navy for largely ignoring the helicopter's enormous military potential during a 1943 Senate investigation chaired by Harry S. Truman



Piasecki PV 3 Dog Ship: First world's successful tandem-rotor Helicopter (March 7,1945) See Boeing


Bell 47: First world's certified civil helicopter NC-1H (March 8, 1946) See Bell


Mc Donnell Little Henry: First world's ram-jet helicopter (1947) See See Mc Donnell Douglas


Sikorsky S-52: Metal blades rotor (1947) See Sikorsky


Hiller 360: First civilian helicopter to cross the United States (1949) See Hiller


Sikorsky S-51 HO3S-1G US Coast Guard H035-l completed the longest unescorted helicopter ferry flight on record. The trip from Elizabeth City, North Carolina, to Port Angeles, Washington, via San Diego, California, a distance of 3,750 miles, took 10 1/2 days to complete and involved a total flight time of 57.6 hours. (April 6,1949)


1942, June 29 : Following an inspection of Igor I. Sikorsky's VS-300 helicopter on 26 June, Lieutenant Commander F. A. Erickson, US Coast Guard, recommended that helicopters be obtained for antisubmarine convoy duty and life-saving.

1942, July 24 : The US Bureau of Aeronautics issued a Planning Directive calling for procurement of four Sikorsky helicopters for study and development by Navy and Coast Guard aviation forces.

1943:, US Congress criticized the US Navy for largely ignoring the helicopter's enormous military potential during a Senate investigation chaired by
Harry S. Truman

Frank Piasecki PV 2 :
His first project (not built) , the PV 1, was a NOTAR class helicopter, but the time 1940 technology wasn't ready for that advancement yet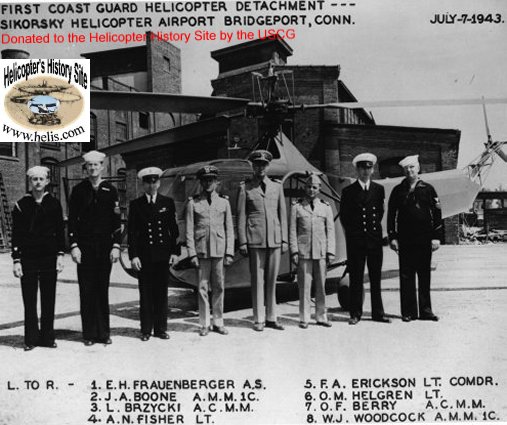 February 15, 1943 :
First USCG helo detachment
The Commander in Chief US Fleet assigned responsibility for sea-going development of helicopters and their operation in convoys to the Coast Guard and directed that tests be carried out to determine if helicopters operating from merchant ships would be of value in combating submarines.

Doblhoff WNF 342 :
(Austria)
Built in Germany by Friedrich Von Doblhoff, A. Stepan and Theodor Laufer was the first to take off and land using slade-tip jets to drive the rotor

May 4 : To expedite the evaluation of the helicopter in antisubmarine operations, the Commander in Chief, US Fleet directed that a "joint board" be formed with representatives of the Commander in Chief, US Fleet; the Bureau of Aeronautics; the Coast Guard; the British Admiralty and the Royal Air Forces. The resulting Combined Board for the Evaluation of the Ship-Based Helicopter in Anti-Submarine Warfare was later expanded to include representatives of the Army Air Forces, the War Shipping Administration and the National Advisory Committee for Aeronautics.

May 7 : US Navy representatives witnessed landing trials of the XR-4 helicopter aboard the merchant tanker Bunker Hill in a demonstration sponsored by the Maritime Commission and conducted in Long Island Sound. The pilot, Colonel R. F. Gregory, AAF, made about 15 flights, and in some of these flights he landed on the water before returning to the platform on the deck of the ship.

Arthur Young
's
Bell
30. invention of the stabilizing bar for the main rotor

June 10 : Lieutenant Commander F. A. Erickson, US Coast Guard , proposed that helicopters be developed for antisubmarine warfare,
"not as a killer craft but as the eyes and ears of the convoy escorts."
To this end he recommended that helicopters be equipped with radar and dunking sonar.

October 16 :
The US Navy accepted its first helicopter, a Sikorsky YR-4B (HNS-1), at Bridgeport, Connecticut, following a 60 minute acceptance test flight by Lieutenant Commander F. A. Erickson, US Coast Guard.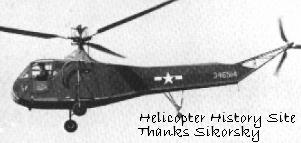 December 18 : On the basis of his belief that tests indicated the practicability of ship-based helicopters, the US Chief of Naval Operations separated the pilot training from test and development functions in the helicopter program. He directed that, effective 1 January 1944, a helicopter pilot training program be conducted by the US Coast Guard at Floyd Bennett Field, under the direction of the Deputy Chief of Naval Operations (Air).
1944

Nikolai Kamov
(USSR)
The Ka-8 Vertolet, a single-seat helicopter with a 27 hp M-76 engine, boosted to 45 hp by using alcohol for fuel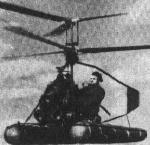 January 3 : The first US recorded helicopter
lifesaving operation

January 16 : Lieutenant Graham, US Coast Guard, while en route from New York to Liverpool in the British freighter Daghestan made a 30 minute flight in an R-4B (HNS-1) from the ship's 60 by 80 foot flight deck. Weather during the mid-winter crossing of the North Atlantic permitted only two additional flights and, as a result, the sponsoring Combined Board for Evaluation of the Ship-based Helicopter in Anti-Submarine Warfare concluded that the helicopter's capability should be developed in coastal waters until models with improved performance became available.

Cierva-Weir W.9
:
This helicopter was rather unique in its use of jet thrust to counteract rotor torque reaction and the rotor lacked any collective pitch control, rotor thrust was controlled by changing rotor speed as in the pre-war Weir W-5/6 models. The W-9 crashed during a test flight in 1946.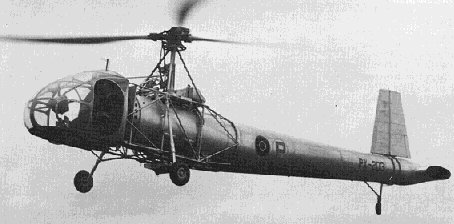 July 4 :
Stanley Hiller
XH-44 First world's successful all-metal rigid-rotor blades helicopter

Bendix

September : First helicopter school in the United States is created at
Freeman Field
, Seymour with Sikorsky R-4B helicopters flown direct to the field from the factory. The school was transferred in December 1944 to Chanute Field, Rantoul, Illinois.

Kellett YO-60 Autogyro
could take off without a forward run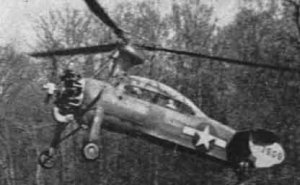 1945

Czech industry is nationalized and all factories producing aicraft and motor vehicles were formed into a state consorcium known as
"Ceskoslovenske automobilove a letecke zavody".
The
VR-1
is built from salvaged spare parts of German Focke Angelis 223 Drache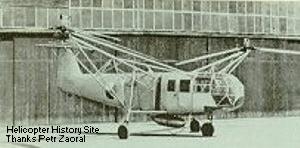 March 7 :
Piasecki PV 3 Dog Ship
: First world's successful tandem-rotor Helicopter
1946

Brantly B-1 :
(USA)
N.P.Brantly was one of a number of engineers experimenting with helicopters in the immediate post-war period. In 1946, he started flight testing his Brantly B-1 helicopter which had been constructed by his employer, the Pennsylvania Elastic Company. In common with other designers, he decided on a counter-rotating co-axial twin rotor layout and the B-1 prototype (NX69125) was powered by a 150hp Franklin engine buried in the tube and fabric fuselage of the craft.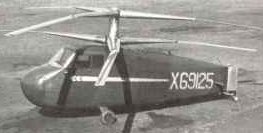 Aerocentre NC 2001 / 2002 Abeille
:
(France)
Experimental twin rotor helicopter


Firestone Model 45 (R-9 / H-9)
:
(USA)
XR-9B received serial number 46-001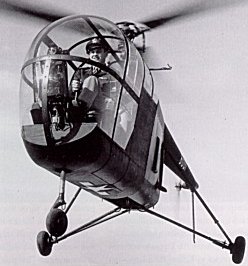 Cierva-Weir W.11 Air Horse
(UK)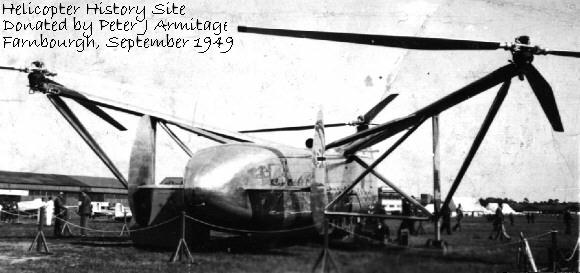 Landgraf
(USA)
Single place twin rotor helicopter with a hinge-less rotor blade for the US Air Corps

March 8 :
Bell 47
:
(USA)
First world's certified civil helicopter ( NC-1H )
1947

January 1st : Aviation pioneer Martin Jensen establishes the
Jensen Helicopter Company
on his ranch in Tonsaket, Washington, USA where he developed the Model 21.

January 10 : UK
Westland
signed a licence agreement with United Aircraft Corporation to manufacture the Sikorsky S-51. This event signalled Westland's move into the helicopter business.

:
Sud-Ouest SO 1100 Ariel
(France)|
The first Sud-Ouest (later
Aerospatiale
) helicopter, was an all metal, two-seat with Tip jet powered rotors.

July 7 :
SGVI
: First helicopter made in Canada.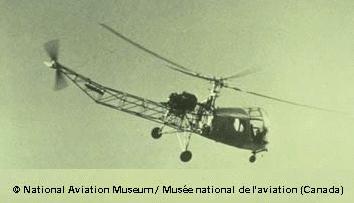 July :
E-1
:
(Czechoslovakia)
A model of this project worked out at Karlin was shown at Brussels in July 1947. It had two intermeshing two-bladed rotors, the hubs of which were very close together. Also provided was a tricycle landing gear with the rear wheels directly below the twin vertical fins. The project was later canceled.

Mc Donnell Little Henry
:
(USA)
First world's ram-jet helicopter

Sikorsky S-52
:
(USA)
First world's helicopter with metal rotor blades.

December 7 :
Fairey FB-1 Gyrodyne
:
(UK)
This compound aircraft used a propeller set on the end of a stub wing to provide both propulsion and antitorque reaction.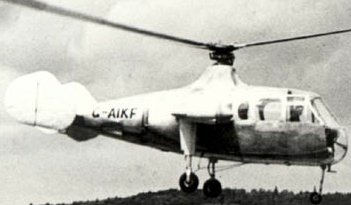 Kellett XR-8 / XR-10 ( XH-8 / XH-10 )
(USA)
A twin engined developed for the USAF, held 10 passengers.

1948

Sud-Est SE 3101 / 3110
(France)
The ancestors of Aerospatiale Alouettes

HERC Jov-3
:
(USA)
Designed by Mr. Jovanovich, before he moved to McCulloch


Robert Stierlin
(Switzerland)

Yakovlev Yak-100
:
(USSR)

August :
Mil Mi-1 Hare
First helicopter to enter series production in the Soviet Union.

October 5 :
Westland
WS-51 Dragonfly
(UK)

Baumgartl
:
(Brazil)
After WWII, the austrian engineer Paul Baumgartl moves to Brazil where he designed and built the PB-60 (1948), PB-63 (1953) and PB-64 helicopters.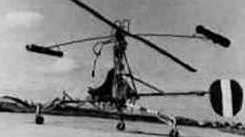 1949

Hiller 360
: First civilian helicopter to cross the United States

Breguet G.11E:
(France)

April 6 :
Sikorsky S-51 HO3S-1G
:
US Coast Guard
H035-l completed the longest unescorted helicopter ferry flight on record. The trip from Elizabeth City, North Carolina, to Port Angeles, Washington, via San Diego, California, a distance of 3,750 miles, took 10 1/2 days to complete and involved a total flight time of 57.6 hours.