Helicopter Boeing-Vertol UH-46A Serial 2144 Register 152495 used by US Navy (United States Naval Aviation). Built 1966. Aircraft history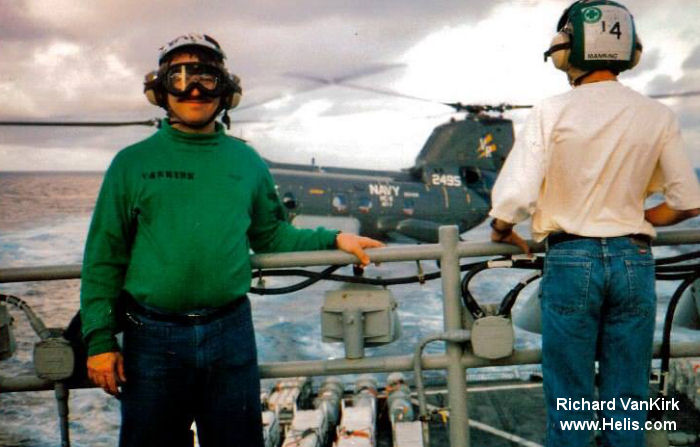 ID
New Layout

152495


US Navy
Boeing-Vertol UH-46D
BV-107M, c/n 2144, ff?
del USN as UH-46A 152495, 11Apr66
xfer HC-3, Det 103 (USS Camden), SA-02, unk
participated in search for survivors from UH-46D 153410 crash, 26Mar70
conv UH-46D unk
xfer HC-11, Det 1, VR-52
stor AMARC as 1J0014,  22May03
SOC  08Jul03.

152495


US Navy
27nov67 HC-7 Det 102 aboard USS Mars (AFS-1) - off loading ammo from grounded USS Clarke County (LST-601). Lost engine, ditched, crew rescued by whale boat and HC-7 Det 102 helo.

152495


US Navy
NOTE: [conflicting info] on 27Nov67, UH-46A 152495 was NOT recovered, at blade stop, blade cut fuselage, helo sunk. UDT divers tried to locate the next day, current swept them to sea, were resuced...

152495


US Navy
1996/1997 still in active service on USS Rainier (AOE-7) tiger Cruise. I believed at the time was HC-11 Det 2 run by AT1 Patricia Kelly... Later AVCM

152495


US Navy
The information about the loss of 152495 is wrong. At the time (27nov67) this helicopter was with HC-3. The crash relates to 152490.
| | |
| --- | --- |
| | |