Helicopter Sikorsky HH-60J Jayhawk Serial 70-651 Register 6003 used by US Coast Guard USCG. Aircraft history and location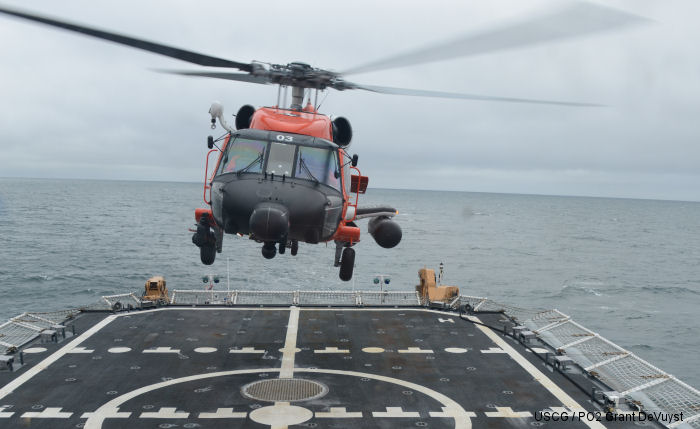 6003

US Coast Guard
USCG BuNo 163803
1997 at CGAS Astoria Coast Guard Air Station Astoria
2003 at CGAS Borinquen, Puerto Rico Coast Guard Air Station Borinquen
2010 at CGAS Clearwater Coast Guard Air Station Clearwater
2014-09

A

PADQ

Sikorsky MH-60T Jayhawk conv MH-60T type
at CGAS Kodiak Coast Guard Air Station Kodiak
2014-09-10
10sep14 asg CGAS Kodiak taking off from Coast Guard Cutter USCGC Stratton (WMSL-752) in the Chukchi Sea. A/C forward deployed to Barrow as part of Arctic Shield 2014


2016-01-15
15jan16 at CGAS Astoria in yellow paint scheme as part of the centennial celebration of Coast Guard aviation representing colors used in the late 1940s and early 1950s by the USCG and US Navy Coast Guard Air Station Astoria Yellow Jayhawk to Celebrate Coast Guard Aviation Centenary
2017-06-08

B

61J
09am left helipad at 33 NW Davis St, Portland, OR 97209 heading south.