c/n 1209
Year 1972 to 2002
Helicopter Aerospatiale SA330E Puma Serial 1209 Register XW234 used by Ministry of Defence (MoD) RSRE (Royal Signals and Radar Establishment) ,Royal Air Force RAF. Built 1972. Aircraft history and location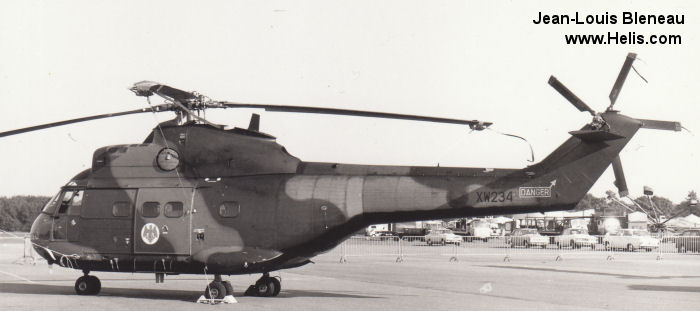 XW234

Royal Air Force
1970s


1978-03

A

EGVW
Radar Research Flt By Mar 1978 with Radar Research Flt at RAE Bedford
RAF Puma HC1
1982 damaged in Voss, Norway ( Gazelle XW905 ), repaired
1995 230Sqn
2002-01-21

B

EGQB
Accident w/o struck the ground on approach at Ballykelly, Northern Ireland
Ministry of Defence (MoD)
1973-09

C

Pershore
in use with the RRE Pershore, RSRE RSRE
-
2008-07

D

Eight Acre Lake
Dive wreck Sunk as Dive attrraction in ex gravel pit. Scuba Dream, nr North Cave, E Yorks. Still present Oct 2017.