Helicopter Boeing-Vertol CH-46F Serial 2475 Register 155306 used by US Marine Corps USMC. Built 1968. Aircraft history and location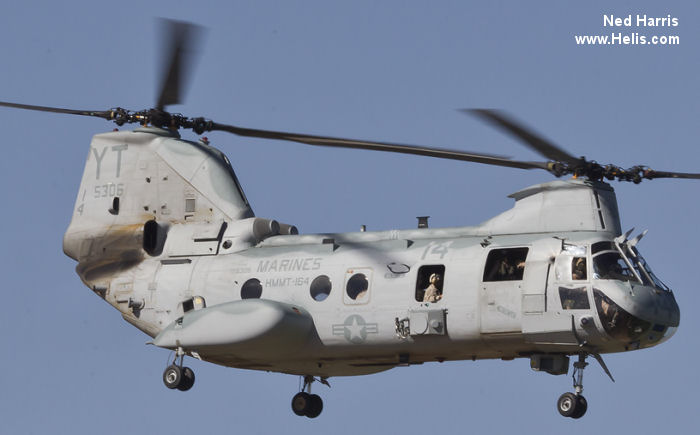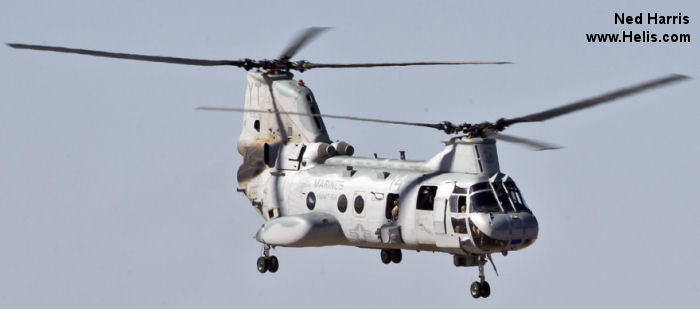 155306

US Marine Corps
1968-10-21

Boeing-Vertol CH-46E BV-107M, c/n 2475, ff?
accepted BuWepsRep, FR, Morton, PA as CH-46F 155306 21Oct68
xfer HMM-162 15Nov68
xfer HMM-265 16Sep69
xfer H&MS-26 04Feb71
xfer HMM-263 10Jun71
xfer HMM-263, Det 1, 28Jul72
xfer HMM-263 01Feb73
xfer H&MS-26 22Jan74
xfer HMM-264 22Mar74
H&MS-26 10Dec74
xfer HMM-264 31Mar75
further unit xfers unk
conv CH-46E unk
unit xfers unk
noted HMM-261, EM-9, Oct06
xfer HMM-365, YM-06, unk
xfer HMMT-164, YT-19, Sep08. HMM-162
1979-11-30

Boeing-Vertol CH-46E 30nov79
2012-10-19

A

KNYL
as HMMT-164 /YT-14 during a non-combatant evacuation exercise at Yuma, AZ HMM-164


2014-04-16

A

KNYL

Boeing-Vertol CH-46E HMMT-164 /YT-14 at Yuma, AZ HMM-164
2014-08-21
21Aug14 Modex changed to /YT-00. Replaced 152562 as CO bird
2015-04

B

KNFG
one of the last two CH-46 (the other was 153369/YT-11) to serve with HMMT-164 before the unit retired the model in Apr 2015.