Helicopter Westland Lynx HAS3 Serial 270 Register ZD258 used by Fleet Air Arm RN (Royal Navy). Built 1982. Aircraft history and location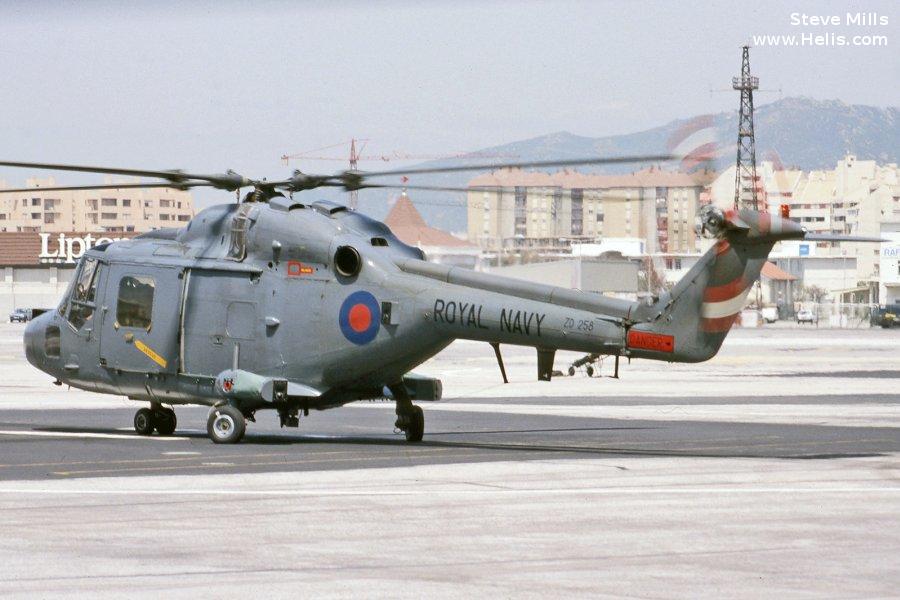 ZD258

Fleet Air Arm
1984-08

A

LXGB
stored from delivery in Mar 1983 until Feb 1984
delivered by sea to Gibraltar Jul 1984 as Gibraltar Flt/321, until May 1990

Westland Lynx HAS3S to Fleetlands by Nov 1990 for conv to HAS.3S
assigned as Brazen Flt /330-BZ by Jun 1991 until c Oct 1993
702 NAS/633 by Apr 1994 until c Aug 1997

Westland Lynx HMA8 (DSP) to Fleetlands c Aug 1997 for conv to HMA.8
702 NAS/673 by Jun 1999
assigned as 815Sq Newcastle Flt/345-NC by Jul 2003
assigned as 815Sq Wave Knight Flt/345 by Feb 2005, until c Nov 2005
RN in 2007 type:HMA.8 /672 702Sqn. 702 NAS

AgustaWestland Lynx HMA8 (DAS) to Fleetlands by Sep 2006 for mods to DAS std
702 NAS/672 by Oct 2006
815Sq 221/Cornwall Flt /412-CW by Dec 2008 until c Dec 2009
1989-04-21

A

LXGB
operated by Gib Flight, uncoded, used to carry out surveillance of shipping as it passed through the Gibraltar Straights as ships left or entered the Mediterranean.